The hand we were dealt
Pandemic defining election year in Coppell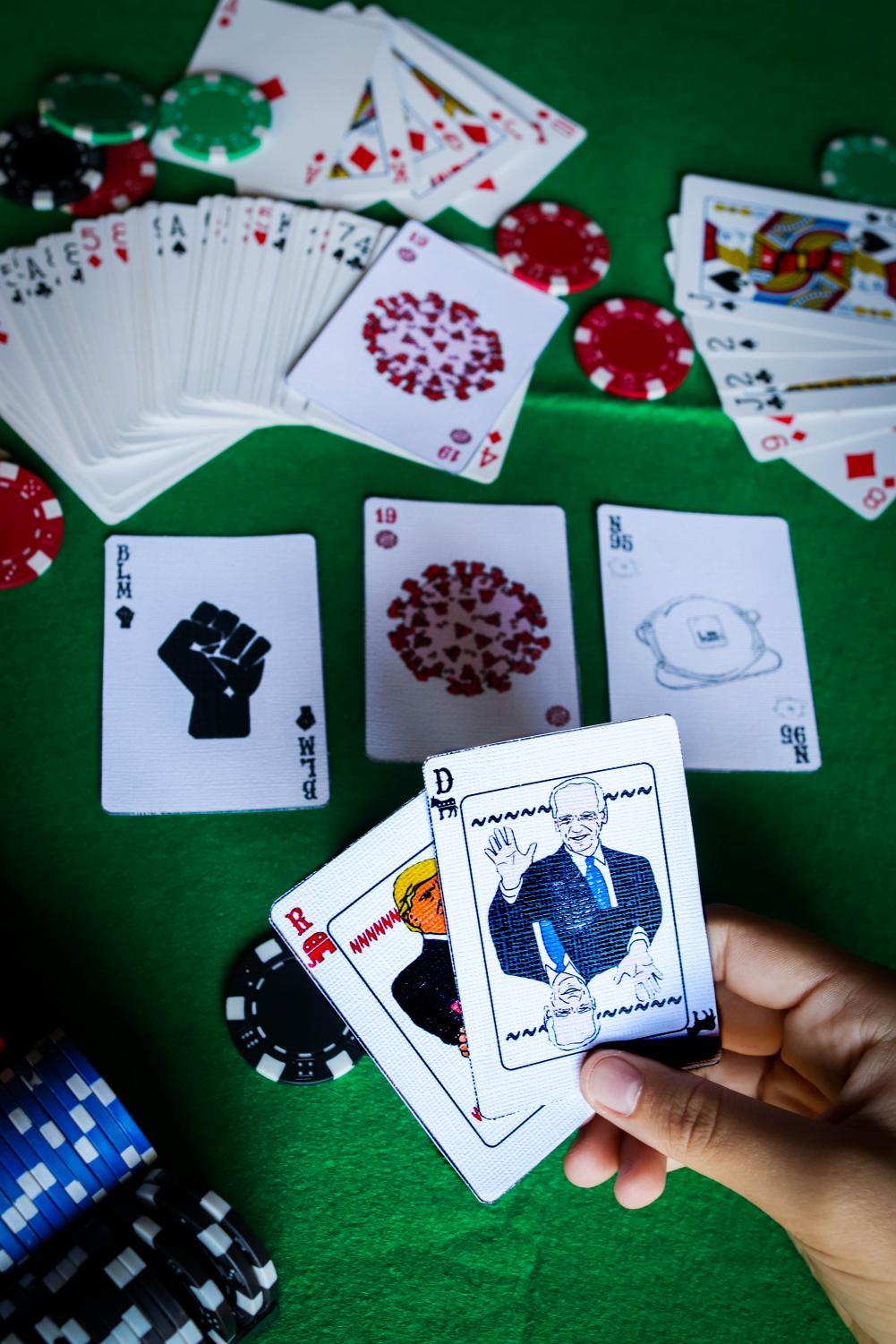 It was meant to be the best of times, it was warped into the worst of times, it was the age of social activism, it was the age of polarization, it was the epoch of pandemic, it was the epoch of politics, it was the season of scientific discovery, it was the season of environmental disaster, it was the spring of change, it was the winter of resignation. 
It was the year 2020. 
The beginning of a new decade brought hope to many for a new period of prosperity. Instead, COVID-19 hit the United States in March and has not left. A postponed Olympics, a presidential impeachment and a wave of new awareness and activism through protests marked a year of ups and downs. As the west coast is scorched by wildfires, the east coast is battered by hurricanes, and even places like Arlington, Texas, which saw a tornado touch down in late November, are afflicted by natural disasters. Election season across the nation heightened political tensions – tensions which have yet to settle despite the election being over. 
Protests and riots alike took place throughout Texas in the wake of George Floyd's death over the summer. North Texas Food Bank gave away more than 600,000 pounds of food in November, with thousands of cars lining up. Coppell High School released for spring break on March 6 and has yet to see its full population return to campus.
It was a year of analyzing and playing the cards dealt, a year of weighing options and gambling accordingly, a year of persevering and refusing to fold.

CHS senior Maggie Castranova had her high school dreams come true during halftime on Oct. 30 at Buddy Echols Field. Donning her Lariette attire and mask, she was crowned homecoming queen by CHS Principal Laura Springer.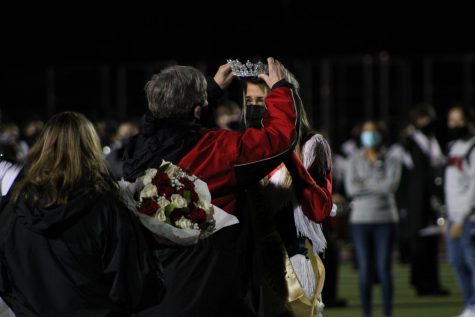 Exactly a week later, she tested positive for COVID-19. 
"I was asymptomatic for the first week of it," Castranova said. "I got tested because I knew I was in contact with other people who got it. I went in on Nov. 6, and ended up testing positive, which was a shock to me because I felt 100% fine at the time. Symptoms hit later that week."
Castranova is only one of more than 100 CISD students and faculty who have tested positive for the coronavirus in the span of the school year. The total number of cases has risen since in-person school began and took a sharp rise over homecoming weekend, which coincided with Halloween. Castranova experienced symptoms for one week after testing positive and some lingering symptoms, such as her sense of taste, and she is now fully recovered.
"I had one pretty bad night where I had a really bad piercing headache," Castranova said. "I know it affects everyone's body differently, but the way it affected my body was more so through headaches and congestion. And of course, I had the loss of taste and smell, and I can't complain about that. It could have been a lot worse."
Coppell ISD offers a hybrid model of learning in which students may choose online learning, in-person learning or online learning where a student attends physical school for specific classes, such as fine arts or athletics. At the beginning of the school year, 73% of students were virtual. 
"The biggest thing is engagement, teaching teachers how to engage students," Springer said. "And with hybrid, you know that group sitting in front of you, teachers are so used to performing to their students when they're sitting right in front of them. When [students] show up on Zoom, the majority of people are just staring at you, and they're on mute, so trying to get that engagement on both sides has been a huge challenge."
Springer became principal of CHS for the 2019-20 school year, ending it distant from her students. She returned to CHS, where she was an assistant principal and coach, after serving as principal of Coppell Middle School East for 12 years.
"It was a beautiful start and I just enjoyed it so much, and was so thankful to be back here on campus, loving kids and getting back around teenagers again," Springer said. "Then to leave for spring break and then never come back, that was so tough. Some people go, 'We'll be out a couple of weeks,' and try to keep extending and then not having a prom; if you were going to see us run around like chickens with their heads cut off on the right place to have a graduation for everybody and still be able to socially distance people, it was crazy."
With students not in the building, CHS's renovations were completed during the end of last school year and over the summer. Updates to the auditorium, flooring, walls and stair railings were put into place. However, most students have not had the chance to view these renovations in person, with many current sophomores having not yet had a class in the high school building at all.
 CHS sophomore Amanda Zhang has not seen the full extent of CHS, though not just because she is a sophomore. Zhang moved to Coppell from Chapel Hill, N.C. at the end of October and began school in CISD on Nov. 2. Though moving itself was not as different in the pandemic compared to when she had moved nearly a decade ago from Maryland to North Carolina, acclimating to her new home has been a different process.
"It was easier to adjust because with virtual school, sometimes your teachers don't require your cameras to be on," Zhang said. "Sometimes, your classmates don't even realize there's a new person. The classwork here is a lot harder because back in North Carolina, we had left school because of the pandemic. We were trying to schedule it to where we only have four days of school, so the school work was a little harder to adjust to."
Zhang's experience in Coppell has been limited, as she is a virtual learner apart from marching band, in which she plays the clarinet. Her first high school football game was on Nov. 6, where she played alongside the only classmates she can physically meet.   
"It's harder to make friends because of the pandemic," Zhang said. "You're expected to stay so far apart and wear masks. It's hard to make friends when the only way is to basically yell at each other, and because I'm a very quiet person, putting a mask on doesn't help that." 
For teachers, the experience with virtual learning has been a series of adjusting teaching styles to fit the new format. Initiating classroom discussions and building the same connection with their students over a screen has not been easy. CHS social studies teacher Shawn Hudson teaches both AP comparative government and politics and AP world history – the former being a single semester class.  
"I hate the fact that we are never ever going to have an in-class experience where most of us are in the room," Hudson said. "I'm always going to regret not having that interaction that would come from having the face to face. I don't know that [the second semester classes will] get that second semester either. All my classes may fall into that category this year." 
With Pfizer's vaccine approved for emergency usage on Dec. 12 and Moderna's vaccine approval on Dec.18, there is a chance more students may be able to attend school in person again. Until that point, CHS simply has to take in each new change and keep in mind the constants that remain even in these times of uncertainty. 
"One case in February, to a complete shutdown to no toilet paper to hospitals at max capacity. Seeing trailers outside hospitals with an eerie feeling knowing that they're just stacking bodies to the opening up of restaurants at 25%, then at 50% to America almost appearing like nothing was wrong, to right back at it – does the timeline have months and dates? Sure, but I don't know where they are," CHS AP U.S. government teacher Kimberly Lee said. 

Intertwined with the virus, yet prominent in 2020 for a larger reason, politics was the predicted defining area of the year. Though "unprecedented" had been the word used to describe COVID America, the 2020 Presidential Election was historic just the same. 
Either former Democratic Vice President Joe Biden and Republican incumbent President Donald Trump (the only impeached president to ever run for reelection) would be the oldest president to take office in American history with a victory. In addition, Senator Kamala Harris (Biden's vice presidential nominee) would be the first woman of color to hold the position. The results of the election would be historical, no matter the victor.
"
You have every right to support him and I will back that 110% but you are not going to come through our buildings and degrade other people because they have a different opinion."
— CHS Principal Laura Springer
Biden's 306-232 electoral win over Trump, called by the Associated Press on Nov. 7 (four days after Election Day), was uncertain. With votes in states such as Nevada, Wisconsin, Michigan and Georgia still being counted, it sparked controversy around the nation as to whether the results of the election were valid due to concerns of voter fraud and miscounts from larger amounts of mail-in ballots. 
"The general population, for the most part, has accepted the result, there's just a small group of Trump supporters that, even though they know it's a done deal, [will not] say that yet," Lee said. "And so they're going to be to the very end, and then after that, some of them will say 'oh, it was rigged,' so you're going to have a small portion of the population that's never going to accept the results, which is unfortunate because that is the democratic principle that we have: we win with grace, we lose with grace."
CHS senior Calen Halcom voted for the first time this election. Halcom believes that though the city of Coppell is conservative, the student population of CHS leans liberal. This is supported by the results of Coppell ISD's mock election, in which the Biden/Harris ticket won with 65.2% of the vote, followed by Trump/Pence at 27.6%, then Hawkins/Walker (Green Party) and Jorgensen/Cohen (Liberatarian) at 4.3% and 2.9% respectively. 
Seen even more in recent months with student-organized protests in support of the Black Lives Matter movement, there has been a new wave of social activism seen in Coppell, a trend represented across America.
"At least over the years that I've been in school, I've definitely noticed a shift towards the progressive side," Halcom said. "I know that a lot of expression amongst the gay community, as well as LGBTQ+, has seen a a recent rise over the years. And that's a great thing, because it's showing the rigidity of richer cities are going away." 
However, political expression does not always flow as free. America has grown more politically polarized, and especially in a school environment, there can be heightened tensions in addressing anything political.
"I watched a U.S. history teacher bring up the Chinese Exclusion Act in class in and compared it to the Muslim ban," Hudson said. "Not harshly, but just to point out that we have placed restrictions on immigrants in this country before. So this one is similar to the restrictions that are being placed by the Trump administration, you know, and afterwards, the teacher got chewed out by this kid, who was like, 'I really don't think, you know, you should be talking about Trump's immigration policy like that.'"
The negative connotation of the Chinese Exclusion Act had transferred onto the Muslim ban, prompting the student to believe it was an attack on the Trump administration. 
"The kid was upset about it," Hudson said. "I was just like, 'Oh geez, man, who's sitting in my classroom that's gonna, be really upset or [whose] parent is gonna be really upset if I say anything?'" 
There have been instances where political expression goes too far, even in school. Despite the fact that most students are virtual, the election period brought about a different atmosphere on campus. 
"I had to really watch some of our young men, when that election went down," Springer said. "They were walking our halls with Trump flags and Trump signs and yelling at other people. I brought them in and made it very clear that you have every right to support him and I will back that 110% but you are not going to come through our buildings and degrade other people because they have a different opinion. That is America, that's what we have our freedoms for: to be able to have our own opinions and you are trying to take that right away from the people that have that right. And I said I will not allow that." 
Moving forward, Coppellians will see a mix of old and new. As Biden takes the presidential office, Texas Republican John Cornyn keeps his seat in the Senate. On the Board of Trustees, Dr. Neena Biswas defeated incumbent Thom Hulme for Place 4 and incumbent David Caviness ran unopposed for Place 5. City Council keeps incumbent Wes Mays for Place 3 and after a runoff race against Jim Walker, newcomer John Jun takes Place 5. All officials, returning and newly elected, have a lot of work to do in the wake of this year's events. 
"You have an economy to rebuild following a pandemic," CHS associate principal Melissa Arnold said. "You have an educational system that has basically been broken down to the bare bones that you got to ensure is built back up to where it needs to be to support all kids. The next president of the United States is going to have an uphill battle to make sure that we're OK as a country and to ensure that we come out on top of all that has happened because of 2020."

Just prior to Thanksgiving Break, Hudson asked his students to fill out a Google Form. 
It was in place of the physical papers he had asked his students from the previous year to write on, papers he gathered, balled up and burnt in what he refers to as "Ventsgiving." The instructions for the anonymous form read:
"Identify or describe things in your life, at school, in the world, wherever that are causing frustration, making you angry, or just annoying you enough that you want to see them go up in flames."
Hudson received the anger, sadness, exhaustion and pain of 2020 in the near 60 responses he had to his form. 
As the fire engulfs each crumpled slip of paper, each source of frustration does not go away. It does not disintegrate into ashes or blow away in the wind. The defining moments and experiences of 2020 will remain influential in the state of the nation and its people, vividly seared into memories. Entering 2021 will not erase all that has happened, and the return to what is perceived as a more normal state of life may take many months to come.  
Still, with each printed word swallowed by the flames, the year is left behind and people move forward. With an incoming president and projected mass distribution of vaccines, 2021 symbolizes a new round, another hand to be dealt.  
One can only hope the cards are more in our favor. 
Follow Sally (@SParampottil) and @CHSCampusNews on Twitter. 
Leave a Comment