COVID-19 calls for amending athletic trainer duties
The days of meeting with athletes and making casual appearances in the training room have changed in hopes of keeping up with the safety of staff, students and athletes at Coppell High School.
In order to meet COVID-19 guidelines held by the Centers for Disease Control and Prevention, the sports medicine department has undergone several adjustments and challenges involving in-person/distance learner student training, workload and the athlete's perspective towards the changes they must face now.
A big change for the department is the role of the student trainers, who have been split into three categories: in person event/in person learner, in person event/online learner and online learner only. For many of the online learners, fulfilling their roles as a student trainer is specifically difficult, as hands-on activity is limited.
"There are some things you cannot replace. If I asked you to play the piano, you can practice playing the piano, but I won't let you have the piano," head athletic trainer Yvette Carson said. "Until you're in the moment, and that kid has to get back on the field, people are all around you, [you're] in the hustling mindset – you can't recreate that. You just can't."
Not only has online learning been a challenge to face for athletic training, but so has satisfying the athlete's needs.
"There's a bit more wait time. We've drastically reduced the number of people we allow in the training room at one time so we can ensure social distancing. Previous to the pandemic, athletes would come in and do a lot of their daily care," Carson said. "There was much more of a quick [environment]. Unfortunately, we aren't very quick right now. Everything has to be done very methodically. It can be frustrating."
CHS senior football and wrestling student trainer Trish Nguyen – an in-person learner –  senses a similar perspective when discussing the topic of hands-on learning in regards to newer student trainers learning to navigate the sports medicine field.
"Within our first few years, we had an idea of how the [student training process] was going to be done," Nguyen said. "Now, the underclassmen have to work more and end up getting an idea of how to work as a student trainer really quickly." 
CHS senior football and girls basketball student trainer Taylor Evans – also an in-person learner – recognizes how the training process for first and second year student trainers has taught them to adapt quicker than usual.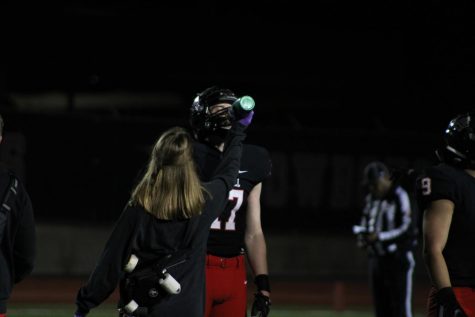 "[The underclassmen] are given as many opportunities within certain limits," Evans said. "We didn't get much experience early on, but our underclassmen are forced to adapt quickly [due to the current circumstances]. I'm proud of them for that."
With the emphasis on adapting, CHS senior head volleyball student trainer Josh Finkle – in-person learner as well – thinks the pace and workload certainly has a different impact on student trainers during COVID-19.
"There's a lot more patience involved," Finkle said. "From what I have experienced so far, there's a lot more work [now], compared to last year. We do appointments now, which we didn't do before. The cleanliness was definitely enforced last year, but now it's really important. We have to spray down everything once someone enters the training room and uses something. Before practice, I ask [the team] what they need afterwards, and I prepare it for them after practice."
Follow Sreehitha @sreehithaMorav and @SidekickSports on Twitter.