What is Empire Trust? Christian organization awards student athletes through scholarships
Video by Blake Snawder and Samuel Dumar
By Alex Nicoll
Editor-in-Chief
@NicollMac
What is Empire Trust?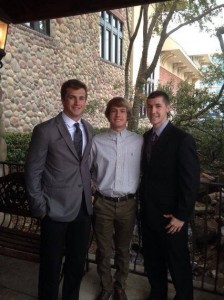 This is the question so many Coppell athletes and students have. The organization has a large following on social media and while kids love the "shoutouts" they get, not many know the mission behind this organization.
"We really try to give [scholarships] to that Christian leader who goes through their high school career and no one really acknowledges them, and they just do that good work of being a light," Empire Trust executive director James Imhoff said. "We want to encourage them and let them know they are appreciated."
Empire Trust was not always prevalent in Coppell. In fact it did not even originate here.
"We started out as a little church club scholarship and we grew out from there," Imhoff said. "It grew into one of the biggest scholarship opportunities in our county [in Ohio]. Then it started to [subside] a little bit. We were a Christian organization, but it didn't center on anything; it was more of a good student thing.
"Four or five years ago, we changed it to more of a Christian sports organization and that's when [Coppell] picked us up somehow."
Even though it serves the Coppell community, Empire Trust is based out of Ohio, servicing Wayne County for over a decade.
Imhoff's theory is that an athlete in Wayne County was friends with an athlete from Coppell and that started the connection. Empire Trust had no direct contact with anybody from Coppell until resident Elizabeth Adkins contacted them about nominating an athlete for the Pay it Forward scholarship.
Once the organization started to grow, they began to expand from the Grace Lutheran Church of Wooster, Ohio, its involved church and became its own entity. Now Empire Trust works with Coppell, Wayne County and Pulaski Academy, a private school in Little Rock, Ark.
The organization provides numerous scholarships for athletes described as expressing "Christian honor, integrity and kindness in high school sports". The Athlete's Club Scholarship is unique to just Wayne County and Coppell. It cannot be applied for and recipients are chosen based on the discretion of the organization's board. While this scholarship has been available since 2004 in Wayne County, it is fairly new to Coppell, dating back to 2014.
CHS 2014 graduate and football standout Chris Adkins earned the scholarship, as well as this year's recipients, senior Parker Wilson and former CHS student Quentin Dormady, who is a senior at Boerne High School. Wilson was also selected as a finalist for the National Football Foundation Gridiron Club of Dallas 2015 Scholar-Athlete Award.
"I felt very honored whenever I received the award," Wilson said. "I knew Chris Adkins who won it last year, and also I knew Quentin Dormady so to be recognized among those guys is a big deal."
While there is no application for Athlete's Club Scholarship, the Athletic Integrity Scholarship does include an application process. By sending in just a letter describing one's testimony and a recommendation from a community leader, an athlete can win a scholarship of $500. This scholarship is between both Wayne County and Coppell and the sole winner from Coppell is 2014 graduate Killian Bresnahan last year.
Parents and coaches can be involved in the scholarship programs by participating in the Pay It Forward Scholarship by nominated and athlete themselves for a chance for a $250 scholarship. This year's winner includes CHS senior Jacob Pierce.
"Empire Trust, if anything has been a motivator for me to act in certain ways that are honorable to my community and my Christian faith," Wilson said.
The organization tracks student athletes through student representatives at each respective school. For Coppell there are four: senior Connor Galloway, junior Hunter Bureau, sophomore Ryan MacDonald and freshman Pierce McFarlane.
"They give out scholarships to student athletes who are Christian and have great character, so mainly what I do is to keep track of kids that are on [Empire Trust's] radar and if [the athletes] do anything bad I let them know that and things you can't tell from just looking at their profiles," Galloway said.
Galloway got started in the organization mainly because he was approached first from the organization.
"They said 'Hey you seem like a good kid. Do you want to be a student advisor for us?'," Galloway said.
Empire Trust has provided multiple opportunities for kids in its Ohio hometown and more surprisingly, Coppell.
"Our following in Coppell is bigger than our following in our own county," Imhoff said.
Besides just the birthday shout outs and the scholarship chances, Empire Trust has had more profound effects on kids that they might not even be aware of.
"It's made me be a better person because there is someone watching me and what I do," Galloway said. "I am able to be an example for others, which makes me a better person."