With most Division I commits in recent years, football dominates National Signing Day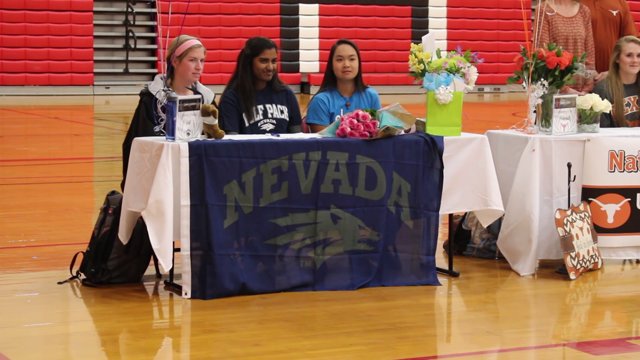 Video by Nick Wilson.
By Alex Nicoll
Editor-in-Chief
@NicollMac
With an energy that was felt as soon as you walked in the doors this morning, the Coppell High School gym had families buzzing, athletes signing and one happy athletic director.
"It just makes me throw my chest out and just be extremely proud to what we have going on here at Coppell High School," athletic director John Crawford said.
Twelve athletes signed their letters of intent Wednesday, nine of them coming from the football program. All nine players are Division I bound, the most in one class at CHS in recent years.
"Its a testament of those young men and their hard work," football coach Mike DeWitt said. "Obviously they have to be a pretty good football player but they also had to take care of their school work. They worked tireless hours not only on the field but in the classroom too."
While college is a time of discovery and new experiences, a few athletes will have their high school teammates along for the ride.
Seniors Parker Wilson, Drew McAdams and Bryce VonZurmehlen committed to the United States Air Force Academy. While all verbally committed before National Signing Day, VonZurmehlen was the latest addition to the Falcon recruiting class.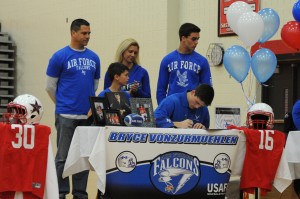 "I was pretty excited coming in because today was the official day," VonZurmehlen said. "Especially since Parker [Wilson], Drew [McAdams] and I are doing it together. I know it's a high responsibility but it's going to be fun."
Also verbally committing early, seniors Scott Huntsman and Charles West will both be attending Brigham Young University. West picked BYU over Southern Methodist University and San Diego State University.
On a day that saw the athletes beaming with pride, DeWitt had one more lesson to give them.
"Graduate," DeWitt said. "Football won't last forever but your education will."
Football was not the only program represented on signing day; girls soccer, girls golf and volleyball each had one signee. Senior Sarah King committed to Baylor University for soccer and senior Chaithra Katamneni committed to the University of Nevada.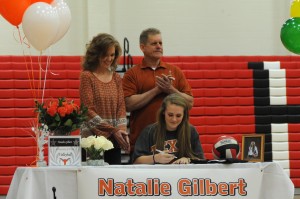 Senior Natalie Gilbert committed to the University of Texas, last ranked No. 2 in the nation. Gilbert signed as a recruited walk-on and not as a scholarship player. A recruited walk-on is a player who is guaranteed a roster spot but without the commitment from the school to pay for tuition and other costs.
"When I talked with the coaches, they had their class filled up and all their scholarships given out," Gilbert said. "But the coach had never seen me play."
That did not stop Gilbert from having a day to remember.
"Today is the first day it's felt real," Gilbert said. "I knew I was going [to Texas] but it's more official now. I'm more excited because it means it's coming sooner and it's just the next step forward."
| | | |
| --- | --- | --- |
| Name | Sport | College |
| Chaithra Katamneni | Golf | University of Nevada Reno |
| Sarah King | Soccer | Baylor University |
| Natalie Gilbert | Volleyball | University of Texas |
| Charles West | Football | Brigham Young University |
| Scott Huntsman | Football | Brigham Young University |
| Drew McAdams | Football | United States Air Force Academy |
| Parker Wilson | Football | United States Air Force Academy |
| Bryce VonZurmuehlen | Football | United States Air Force Academy |
| Jacob Murray | Football | Northwestern University |
| Jordan Murray | Football | University of North Texas |
| Chris Biggurs | Football | Southern Methodist University |
| Bo Anderson | Football | Texas State University |