Cowboy Soccer battles for second straight title at State tournament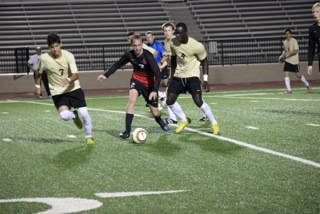 By John Loop
Sports Writer
After a rousing 2-0 victory over District 5-5A rival Flower Mound Marcus in Region I final match on Saturday, the Coppell Cowboys will make a return trip to Georgetown for the 2014 UIL Class 5A State tournament.
Coppell (20-1-2) will travel to Birkelbach Stadium on Wednesday to prepare for Thursday's state semifinal match against McKinney Boyd. Kickoff is scheduled for 4 p.m.
The Broncos come into Thursday's game boasting a 15-4-6 record, which was good enough to win District 10-5A, but lost to the Cowboys  5-1 in their only meeting this season back in January.
Broncos fans have watched their team take down Richardson Pearce, The Woodlands College Park, and most recently Lake Highlands to reach their first state tournament in program history.
Though Coppell may have beaten them by four goals in January, but Boyd still has the offensive firepower to be competitive. Junior midfielder Braeden Andrews, junior forward Kyle Bennett and senior midfielder Pablo Jaimes all scored in the team's 3-1 win over the Lake Highlands Wildcats.
Coppell comes into this tournament a different team from last year's state championship squad. With 14 seasoned seniors contributing to last year's 24-2 team, Coppell coach Chad Rakestraw and the coaching staff expected to lean on the program's younger ranks.
Led by the play of junior forwards Austin Michaelis (eight goals, four assists) and Colten Clark (ten goals, five assists), the Cowboys coasted through one of the toughest soccer districts in the state. With only one loss to Marcus prior to the regional victory, the Cowboys appear ready to make it two in a row.
However, the Cowboys would not be in the position they are in, competing for consecutive state titles, without the senior leadership of forward Chris Madden, who proved to be the hero in last year's title match, and defender Kellen Reid, who has anchored a stout Coppell back line this season.
A lot has changed from four years ago, when 20 freshman soccer players, Madden and Reid included, joined the Cowboy soccer program. Now that only eight seniors remain from that group, it is a special time for them knowing that that this weekend will be the end of their career in Cowboy red.
"It's definitely hit me," senior midfielder Jack Burns said. "I've grown up with these guys, and to think that this game, or these last two games, will be the end for a lot of these guys, it has hit hard for sure."
The other side of the bracket is not as well known in the DFW metroplex, as Fort Bend Clements (Houston area) and Brownsville Lopez. Both teams sport 20-plus wins and a state tournament pedigree. Lopez is heading to Georgetown for the third time in the last decade, while Fort Bend Clements makes only its second trip to Birkelbach.
Coppell is arriving in Georgetown anxious to retain its place atop Class 5A soccer, and the team is ready for another magical journey to a championship.
"Winning state was the greatest feeling last year, and I just hope we can do it again," senior forward Justin Todd said.