Cowboys stay on track to playoffs with win over Lewisville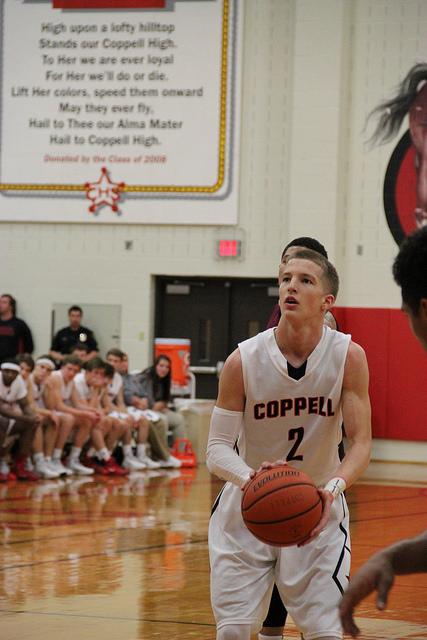 By John Loop
Sports Editor
Landon Goesling came to play Tuesday night.
Coppell's senior point guard scored a career-high 27 points to lead the Cowboys (19-11) to a 67-62 victory over the Lewisville Fighting Farmers (18-7).
The Cowboys got off to a strong start in the first quarter, outrunning and outsmarting the Farmers in their own transition offense, while stifling Farmers junior post Anthony Davis in the paint.
But what the Cowboys did to defend Davis, they couldn't seem to replicate the same for senior guard Diamante Langston. Langston finished with 26 points on the night, most of which seemed to come from the free throw line.
Goesling did everything in his power to keep his team in the game from start to finish, knowing that a Cowboy loss would mean the team's first season in 14 years without a spot in the playoffs.
"The reality is, our backs are kind of against the ropes," Goesling said. "To make the playoffs, we basically have to win. I just treated this game like a playoff game."
Coppell took a 32-22 lead at halftime, but stumbled through the first few minutes of the third quarter.
Davis, Langston and junior guard Marquis Williams took advantage of Coppell's lethargic approach to roar back into the game, tying it at 39 late in the quarter.
But Goesling answered as he had all night, knocking down a pivotal three-pointer to put the Cowboys up for good.
"Of late, I think we are looking at about four games ago, he was trying to do way too much, and our team was struggling for it," Coppell head coach Kit Pehl said. "I'm proud of him because he simplified his game and being simple has been good for us. He was obviously a bell cow this evening."
Coppell's second half free-throw shooting played a big part in Tuesday's win. The Cowboys shot 80 percent (16-of-20) from the line over the final two quarters.