Seasonal flavors come together in this tasty pasta dish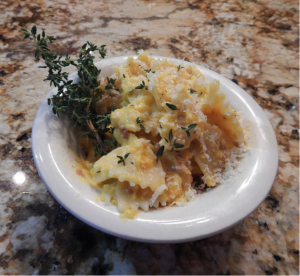 By Chloe Moino
Staff Writer
@_chloechristine
Farfalle with pancetta and butternut squash
This is one of my favorite fall dishes to make. It is a recipe that is warming and has the Thanksgiving flavors that you crave during this season. Crispy pancetta (Italian bacon) along with other herbs are added to mashed butternut squash to compose a sauce for the cute bowtie pasta.
14 ounces farfalle pasta
1 tablespoon olive oil
2 cloves of garlic
3 ounces (usually the amount that comes in packages) pancetta
1 ½ cups of butternut squash, cubed small
1 cup of low sodium chicken broth
½ tablespoon fresh chopped thyme
¼ tablespoon fresh chopped sage
2 tablespoon fresh chopped parsley
¼ tablespoon cinnamon
½ cup of heavy cream
Finely grated parmigiano reggiano to taste
Salt and pepper to taste
TIPS
Make sure the heat is on low when sautéing garlic. Garlic burns easily, and there is nothing worse than burnt and bitter garlic.
The squash is cooked when you can easily pierce through it with a fork and it is soft.
Always cook the pasta one or two minutes less than the directed time on the pasta box to make sure it is "al dente".
Bring a large pot of salted water to a boil for the pasta.
Add one tablespoon of olive oil to a large sauté pan on medium heat and saute the pancetta for about five minutes, or until the pancetta starts to get crispy. Remove the pancetta from the pan and place it on a paper towel. Turn the temperature to low and add the garlic and cubed butternut squash. Let this cook for five minutes, then add the chicken broth, chopped thyme and sage. Cover the pan and let the butternut squash cook until soft or for about 15 minutes.
When the squash is done, mash it together with a potato masher. Stir in the cream slowly and continue to cook on low heat until it thickens or for about five minutes. Season with salt, pepper and cinnamon.
Boil the pasta in the salted water. When the pasta is done cooking, do not drain it. Add the pasta from the pot to the pan with the sauce with a slotted spoon. If the sauce appears dry or too thick, add a little bit of pasta water until you've reached the desired consistency. Crumble the pancetta and grate the cheese on top and serve.