Flood the Walls set to release debut album The Blueprint
By Shruthika Pochampally
Staff Writer
Coppell alternative/indie rock band Flood the Walls releases its debut album, The Blueprint, in April. The band consists of lead singer and Coppell High School sophomore Adreesh Roy, guitarist and CHS junior Prashan Jeyarajah and Coppell Middle School East sixth grader and drummer Aneesh Roy, Adreesh's brother.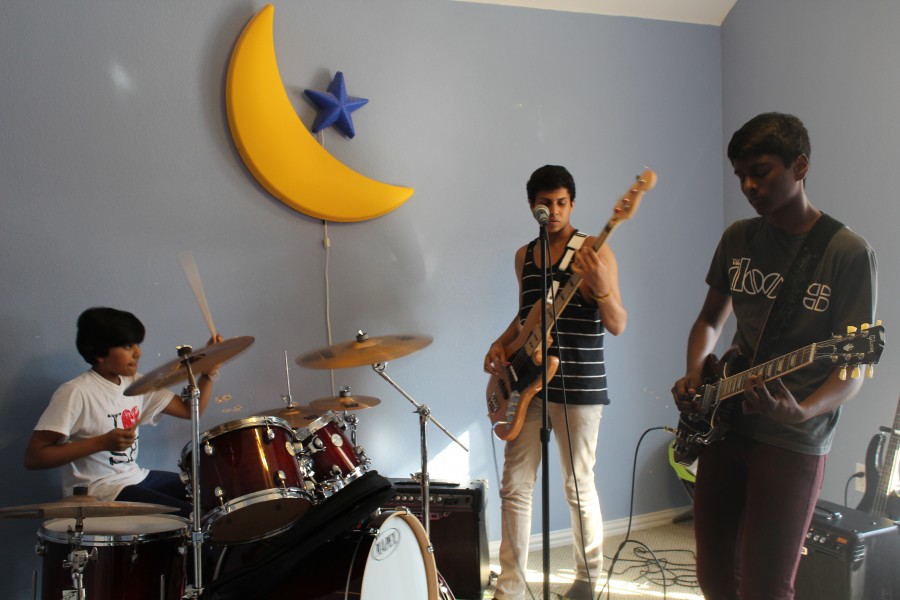 The group started working on its album in December.
The album, which took three months to complete, is a mix of everything the band members have learned and love about their favorite artists- primarily Led Zeppelin, Arctic Monkeys, Red Hot Chili Peppers and The Black Keys, among others. While Flood the Wall's album touches those of these well-known artists, they maintain a unique and original sound.
"Musically, their sound is organic and raw which is the approach we emphasized on the album," OneTake Studios Dallas owner Mark Cozart said.
After realizing how much original material it had, the band decided to record an album.
"A lot of work went into this album," Adreesh said, "We wanted something that the people could listen to off their iTunes or Spotify libraries whenever they want."
The band has 22 original songs, but had to select the 11 they wanted on the album. After selecting the songs, the band worked with Cozart and Alex Gerst of Empire Sound Studio in Carrollton, TX to edit and record the songs in the studio to make them album-friendly.
"I met [Flood the Walls] about five years ago and have worked with them and booked them on a couple of my shows. So, when they approached me with original material, it was a no brainer for me to produce their first album," Cozart said.
Soon after approaching Cozart, the band began the process of making their album.
"It was a matter of getting used to the studio and it's procedure; playing with a metronome, layering tracks with two guitars, playing multiple drum fills, and singing harmonies multiple times are just a few of the many tedious things that went into the recording process itself," Adreesh said.
Though the song, "The Blueprint" is a relatively slow song, the majority of The Blueprint consists of fast-paced, catchy and edgy tunes. Regardless of the members being so young, the songs are full of experienced lyrics and depth. Jeyarajah's guitar and Aneesh's drums supplement Adreesh's vocals in a way that makes this band seem as if they have performed and recorded for years; though in reality, they are all relatively new to the music business.
"The hardest song to record would have to be 'Black and Blue'. The beat in that song is very hard and keeping time was a hassle," Adreesh said. "Chiko, being a drummer, had to split his body into different parts; his hands, arms and legs all have minds of their own. Keeping time with all of them takes a lot of focus and it's easy to see why it was more difficult for him. I was elated once he finished the track and gave him a huge bear hug as a reward.
Along with the band, many Coppell residents are excited for the release of this album, with many students looking forward to seeing their peers on the iTunes store. The Blueprint does not have a fixed release date, but is expected to be released mid-April.
"Fans and Coppell residents should be looking forward to hearing the music off of The Blueprint. I am beyond stoked for their album to drop," sophomore Marisa Thakady said. "Watching [Flood the Walls] grow over the past two years has been an amazing experience."
The band not only hopes to send The Blueprint to record companies and get noticed, but also to soon begin recording its second album.
Though Flood the Walls is busy with being an up-and-coming local band about to release its first album, the band continues to play concerts once in a while. The band's next performance will be on April 5 at The Door Dallas. Tickets are priced at $8 to $10.