The crowd anxiously sits at the edge of its seats as the Flower Mound volleyball team blocks the ball and scores another point. Tension builds in the air as the crowd chants louder and louder, anticipating a comeback from the Cowgirls, but then Flower Mound scores, securing the final set.
It was a tough defeat for the Cowgirls as they lost,  25-17, 25-13, 25-12, to Flower Mound in District 6-6A action Tuesday at CHS Arena.
"I think that tonight showed them that they have a lot of work to do this week," Coppell coach Robyn Ross said. 
The team did well with communication on the court, but struggled with positioning.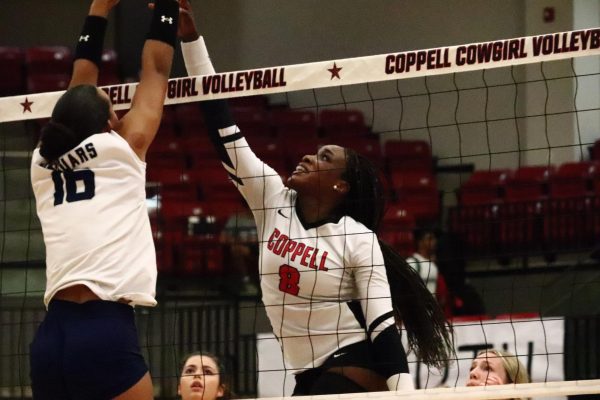 "Our blockers weren't helping our defense and it was just everywhere," Coppell senior outside hitter Daki Kahungu said. "It could've been better, but I will say that we were together at some point." 
While the match resulted in a loss, there were some strengths. Kahungu in particular performed well, scoring the first point of the game for Coppell with a spike.
"Our serving was definitely our strong point of this game since we went on a six point run," Senior libero Kate MacDonald said. "Getting them out of system was definitely a huge part of the game since they had strong hitters and getting them out of system limits the amount of balls they can put down."
Follow @SidekickSports on X.