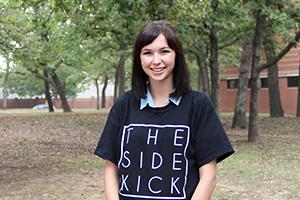 Mallorie Munoz is a senior at Coppell High School and managing editor of The Sidekick newspaper. She will attend the University of Missouri in the fall, majoring in journalism. Munoz loves dogs, peanut butter, the color black, Death Cab For Cutie, yoga, and girl power.
To contact with questions/concerns:
twitter- munoz_mallorie
email-
[email protected]
or leave a comment below.
Mallorie Munoz, Managing Editor
Apr 29, 2016

Underrated sport warrants recognition, lacrosse players work harder to play

(Story)

Apr 12, 2016

Common misconception dispelled, students come together for school dance

(Story)

Mar 10, 2016

Band gaining "world class" experience through London trip

(Media)

Mar 02, 2016

Clinton rally draws small crowd, allows for more intimate setting

(Story)

Feb 23, 2016

Student Journalism Week allows for student reflection and appreciation

(Story)

Feb 19, 2016

Different kinds of dancers showcased at Lariette and Silver Star Showoffs

(Media)

Feb 17, 2016

The Life Of Pablo released on Sunday

(Story)

Feb 12, 2016

Valentine's Day cynicism diminished by girl power

(Story)

Feb 03, 2016

12 athletes from Coppell sign letters of Intent, will play at collegiate level

(Media)

Feb 03, 2016

12 athletes commit on National Signing Day

(Story)

Jan 27, 2016

The wait is over: new arena nearing completion

(Media)

Jan 27, 2016

B.O.B. and Neil deGrasse Tyson engage in unexpected rap battle

(Story)

Jan 22, 2016

People of color actors/actresses robbed of recognition second year in a row

(Story)

Nov 17, 2015

Shah, Straus explore lives of drama students through podcast

(Media)