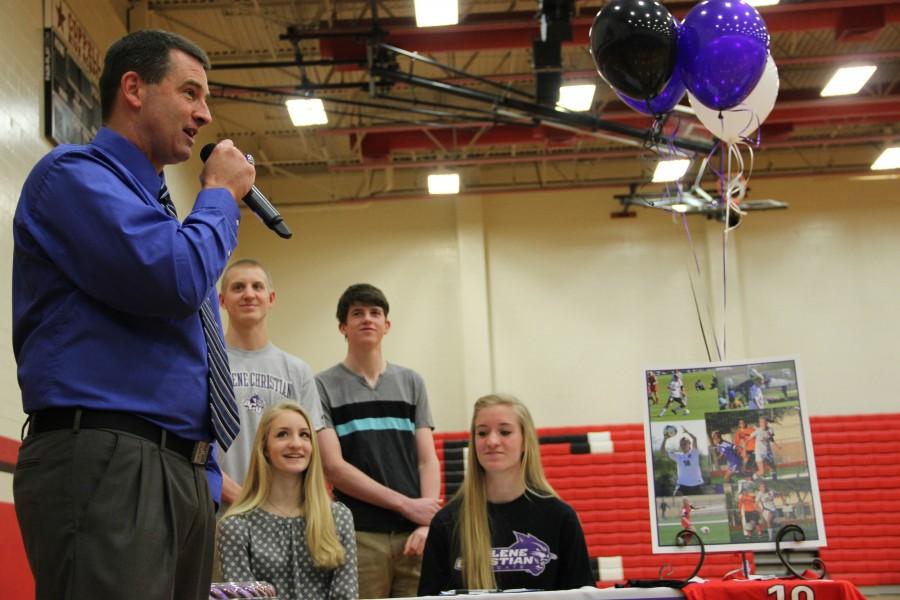 12 athletes from Coppell sign letters of Intent, will play at collegiate level
Coppell senior Shay Johnson, along with 10 other Coppell senior athletes, took a pen and signed her name on a sheet of paper, like she had hundreds of times before.
But this signature meant a little more. This signature gave her a soccer scholarship to play at Abilene Christian University.
"It's really exciting," Johnson said. "I'm really looking forward to playing at ACU. It's a big stress relief and a huge weight lifted off your shoulders. It's all just really exciting."
As part of National Signing Day festivities, all the signees signed their letters of intent this morning inside the big gym at Coppell High school.
Coppell offensive line coach Blake Johnson coaches two of the signees, full Uzoma Osuji and Dylan Galloway, and is extremely proud of his two athletes.
"It's just awesome," Johnson said. "To have two young men work hard that have come so far and have the ability to compete at the next level while furthering their education brings a bunch of joy to my heart. I'm really proud of Uzoma and Dylan."
Yet unlike most of the signees, Osuji has a different story of how he got to behind a table at the gym this morning.
"Uzoma was about 5-11 as a freshman and grew to be a 6-7 monster," Johnson said. "In the spring this last year, he tried to quit. He knocked on the coach's door and tried to talk to me about quitting but coach Foster shut the door in his face. Now we fast forward nine months later and Uzoma is getting a free education to play football in college."
Former CHS girls soccer coach Chris Stricker also is proud of his two former athletes, Shay Johnson and Madeline Guderian, on their commits.
"It's such a great testament to how hard each of them have worked," Stricker said. "I've known those girls for a very long time. But I'm just so proud of them for all the hard work they've put in and now they finally have arrived at the moment where they're officially playing college soccer."
Johnson, a four-year varsity letterman and senior captain, not only picked ACU because of the soccer program, but because of the area of study she is interested in.
"I want to minor in vocational missions," Johnson said. "As a Christian University, ACU offers a great program for that, so that's why I picked them."
Each of these senior will be some of few that get the honor to play at the collegiate level, all while representing Coppell High School.