The wait is over: new arena nearing completion
It's almost here.
After several delays over the last few months, the new Coppell High School multi-purpose arena, a part of a $79 million bond passed in 2013, is finally nearing completion.
Originally, it was planned to be finished before the 2015-2016 basketball season. However, several setbacks in construction forced considerable postponement in the finishing date. It is now estimated to be completed sometime in early to mid-February, according to basketball coach and facilities director Kit Pehl. Barring a drastic change in the current schedule, it looks as if it will be finished for the final home boys basketball game of the season.
Finishing and painting the floor, putting in the video board electronics and installing the plumbing are some of the final touches that need to be made before the arena is ready for regular use.
The new arena, complete with seating surrounding the entire court, floor seating on the baseline and a videoboard hanging from the middle of the stadium, is sure to draw a crowd as one of the most advanced facilities in the area.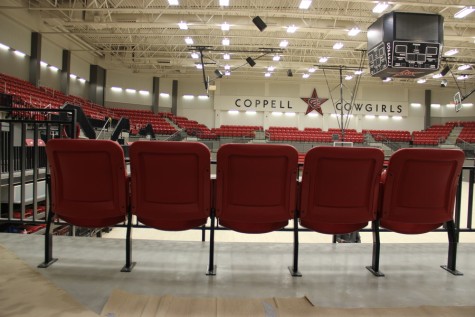 It will be able to hold a multitude of events, including basketball and volleyball games, pep rallies, the senior awards banquet and, according to Pehl, the possibility of basketball playoff games in the future.
After nearly three months of postponement, 16 months of construction, and millions of dollars, the long-awaited arena will be sure to impress.