How MTV's VMAs kinda got its groove back
By Chris Nguyen
Features Editor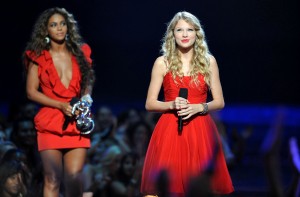 After several years of pain in Miami and Los Angeles with a listless ceremony in New York in between, last night's VMAs on MTV rebooted itself back in New York City. MTV kept the stage big, the celebrities camptastic and the performances coming. It's far from the glory of, say Madonna's "Like a Virgin" performance, but it did keep my celebrity-hungry brain with a lot of nourishment to keep watching. Here's a recap of the amazingly awesome, the bad and the excruciatingly painful (I'm looking at you, Kanye!):
The Good
Michael Jackson tribute
Madonna opened up the show with a simple and fitting remembrance of pop icon Michael Jackson. She recounted a date with Jackson and kept the focus on his impact as a human, not a pop star. It was nice and all, but for a man who made others speechless with his voice and moves, words were superfluous to the actual performance that cam after. Dancers reenacted some of Jackson's best dances, from "Thriller" to "Smooth Criminal." And then, Janet Jackson made her entrance, performing her only duet with Michael, "Scream." Fierce and strong, all she had to do was hit those moves for us to know she will always remember him and his memory will live on forever.
Taylor Swift's subway ride
Minutes after Kanye West's slap in the face (see below), Taylor Swift took to the streets. Seriously, she began performing "You Belong to Me" in the New York subway station before jumping into the subway. She ran through to a crowd of people and cars, before jumping on top of a cab. It was a nice moment of defiance for Swift that playfully played to Swift's fantasy world. In the end, she got the last laugh when she spoke near the end of the ceremony.
Lady Gaga's "death"
Oh, Lady Gaga. How empty the pop world would be without you! Taking the stage from her "Paparazzi" video, she hit those notes with sass and owned that crutch. But, of course, that's all in the video already. What she needed to make her mark was to first, pound the piano for a minute and then, have blood splashed all over here before she was taken into heaven. This, my friends, is a performance for the books.
P!nk gets real high
P!nk was brought into the air and did crazy acrobatics in one awkward costume. What it had to do with her song "Sober" I don't know, but it was cool to look at. Isn't that what really matters on MTV?
Jay-Z
Arriving with swagger as he does just minutes before his performance, Jay-Z ended the night with his pop masterpiece from his new album The Blueprint 3 "Empire State of Mind." Alicia Keys hit all the right notes while Jay-Z proved he is in the king of the city. Finally back in New York, it was a fitting ending to a largely enjoyable awards show.
Beyonce
The baddest diva made "Single Ladies" sound as fresh and cool as it did nearly a year ago with a performance that brought in a lot of single ladies. Beyonce owned and copyrighted those now-infamous moves and kepy the audience engaged. It was plain talent, with not extras needed. What made her really stand out that night was her graciousness after winning Video of the Year. She said a few words before handing the mike back to Taylor Swift to let her finally say her acceptance speech. All the more for me to love Beyonce.
The Bad
Eminem's Win
I've got nothing against Eminem, but for him to win Best Hip-Hop Video for "We Made You" is just in bad taste. The song was atrocious enough if not for the terrible, tired pop culture-laced video. It's not 1999 anymore, Em.
Muse's performance
Maybe I'm just a Muse hater, which I fully am, but the band's performance felt flat, surprising given the theatrics Muse brought to their new song "The Resistance."
Lil Mama's invades the "Empire"
All was well for Jay-Z's performance until the end when Lil Mama came out of nowhere to jump onto the stage. Jay-Z tried to play it off and act cool, but his look of annoyance was front and center. Maybe Lil Mama doesn't know the rules of the game, so let me recount them for her. Number one: you do not join Jay-Z and Alicia Keys on stage unless you're the awesome Beyonce. Number two: you don't that especially if you're name is Lil Mama.
The lack of bad
This year's ceremony flew by pretty breezily in a scant two and a half hours, which is a great accomplishment. But the VMAs are notorious for the awkward, embarrassing and the just plain bad. Host Russell Brand had some naughty jokes, but nothing really that would incite a Parents Television Council protest. Only Kanye West was brave enough-or stupid enough, really- to bring it to the show. Now that the VMAs have some momentum going, here's hoping for some scandal for next year's.
The Ugly
Kanye West's interruption
Kanye West is no stranger to speaking his mind. At times, it can even be endearing-although, it's usually not. But to take the mike from newly minted "Best Female Video" winner Taylor Swift to announce that Beyonce had the better video. Now, that's just wrong on so many ways. After West jumped off stage, Swift was left to stand there looking like Bambi witnessing her mother die. Whenever West's name was ever announced later in the show, a parade of boos was soon followed. Also, rumor has it that he and his date were escorted out shortly after.
What did you think of the VMAs this year? Will you boycott Kanye's music? How crazy do you think Lady Gaga is?
Correction: Muse played "Uprising" not "The Resistance."