Intronaut continues to evolve with new album Habitual Levitations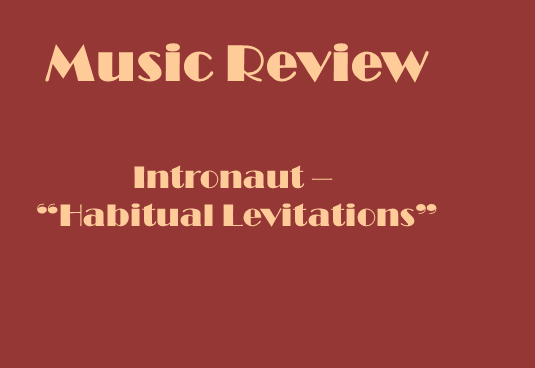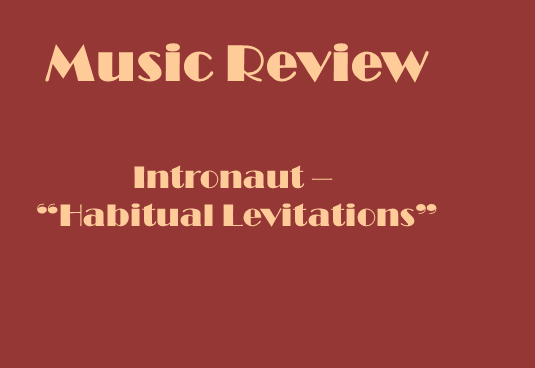 By Thomas Hair
Opinions Editor
2013 is a year that has generated a lot of hype from music fans who are projecting it to be one of the best years for music of the 21st century. With a slew of huge bands in every genre due for new albums this year, it is easy to see why. For fans of progressive metal, March 19 has been a date circled on the calendar for months. Why? Tuesday, March 19 is the day Century Media will release the new Intronaut album, "Habitual Levitations (Instilling Words With Tones)", to listeners worldwide.
Intronaut quickly emerged as a pioneering band in heavy music in 2008 with their breakthrough opus Prehistoricisms. Their acclaimed 2010 follow-up Valley of Smoke solidified their place as one of metal's most innovative up-and-coming bands. The band consists of harsh and clean vocalist Sacha Dunable, guitarist Dave Timnick, drummer Danny Walker and bass guitarist Joe Lester. These four musicians have wildly different musical backgrounds, allowing Intronaut to incorporate a wide variety of influences into their music. Their primary genre is often described as "atmospheric sludge metal", but they include audible influences from genres as diverse as jazz, progressive rock, doom metal, and Indian, African and Asian rhythms. Their songs often include both heavy metal portions with aggressive guitars as well as softer progressive, jazzy interludes. Their sound is unique and unparalleled by another band out there today.
It is easy to see why fans were eagerly anticipating the young band's new work after a three-year silence. But Intronaut refused to be predictable, adding new elements to their sound, including soft, clean vocals and increased experimentation with post-rock atmospheres. As a fan of Valley of Smoke, I was eager to hear Habitual Levitations for myself. Below is a track-by-track review, summary and rating.
1. Killing Birds With Stones – The infectious pounding groove and creative primal drum beats of this opening track immediately immerse the listener in this prehistoric atmosphere. They are quickly broken up by the most obvious new addition to the band's sound: clean, harmonized vocals. These trade off with Dunable's typical trademark low, raspy shouting vocals. This eight-minute song is complete with wispy jazz-influenced bass lines, percussive riffing and lighter ambient sections. Though it becomes repetitive in the second half of the song, this is a well-balanced track that sets the stage for the rest of the album. (4/5)
2. The Welding – An awesome intro that begins with rhythmic beeping gets your head bobbing and then wows the listener with by adding some of the grooviest bass guitar pulses and drum beats you'll ever hear. The bass guitarist, Joe Lester, truly is the all-star of this album – something of a rarity in modern rock music. The intro climaxes with the low, down-tuned riff, reminiscent of pure stoner metal. The eastern-influenced guitar solo and the epic riffage that follows it (about two-thirds through the song) is a shining moment on the album. (4/5)
3. Steps – This track immediately makes itself unique with its odd time signatures and precise, technical playing. The riffs evoke an eerie atmosphere, showing off the band's doom metal influence. The high-pitched chanted vocals add to this effect, making for a very dark, ominous song. This was an intriguing idea for a song, but it sounds unfinished. About a few minutes of this, it breaks into an ambient section with light drumming and bass rumbling. I kept expecting this soft section to build and crescendo into a huge "moment" but it didn't. It simply ended. (3.5/5)
4. Sore Sight For Eyes – This track is sandwiched in the middle of the album and there is nothing about it that pulls me to it. When I listen to this album, I can't help but skip this seemingly-filler track. The riff at the beginning is alright, but nothing special compared to the quality that has already been displayed on the first three tracks. The rest of the song contains lots of chords and melodic vocals that seem like they're supposed to be catchy…but aren't. It is performed well by all musicians, as always, but is lacking in the songwriting department. The low point of the album. (2.5/5)
5. Milk Leg – This track is the lead single from the album, which was released as a teaser prior to the rest of the album. It begins with a rather typical, but still good, rolling chromatic-scale riff that reminded me of Baroness. The rumbling bass lines (a treat for the ears as usual), extended ambient section and entirely clean vocals later in the song remind me of Tool, which is a new sound for this band. This song could be considered the pinnacle of the band's new sound. I still feel like they're at their best when going all-out and shredding on their instruments and shredding their vocal chords, but you can't fault them for trying to evolve their sound — and this song is a fine attempt at that. (3/5)
6. Harmonomicon – This uniquely titled song begins with some highly impressive plump and juicy bass guitar free-styling that reminds me of Cynic. A crescendo of pounding drums takes center stage – getting my hopes up for an impending big moment – but letting me down by relenting and sliding into slow, softly sung vocal lines and technically impressive but tedious instrumental prog noodling. This album is beginning to overuse the soft, ambient instrumental sections, though this one was the most effective on the album. (3/5)
7. Eventual – This track features soaring shouted vocals and one of the more memorable riffs on the album. A solid track that hearkens back to their previous albums. (3.5/5)
8. Blood From A Stone – A brief interlude track almost entirely consists of high-pitched clean vocals and soft guitars. It seems rather pointless. (2.5/5)
9. The Way Down – This song sounds like Tool. In the verses, Dunable uses that same sickly-sweet yet powerful tone that Maynard James Keenan is known for. The rest of the song turns into an extended instrumental jam session, which is pleasant and actually manages to build up some momentum. A 5-second silence ensues after this instrumental and the listener initially believes that the album is over. Suddenly, some electronic noises enter and, over the course of a few minutes, they slowly decrescendo until all that is left is the fading beat of a bass drum, pounding slower and slower, like a dying heart. A rather anticlimactic but strangely fitting end to the album. (3.5/5)
Summary: The album begins on a high note, with three consecutive great songs. However, the remaining six songs are largely mediocre and contain none of the memorable moments Intronaut are usually so good at producing. All of the musicianship is top-notch, as always, but the music itself was lacking this time around for Intronaut. Habitual Levitation is as good as neither of the two albums that precede it, Prehistoricisms and Valley of Smoke. If you're interested in this band, start with one of the aforementioned albums. Intronaut is an incredibly talented band, but 2013 is not their year. The new album comes off as a little too dull and a little too flat, with the shining moments too few and far between to merit listening to it all the way through more than a couple times.
Overall Rating: 3.2/5
Standout Tracks: Killing Birds With Stones, The Welding, Steps, The Way Down