Where my passion and I collide
Elza van den Heever was the toughest opera singer I had ever met. But there she was, moved to tears.

After missing only one day of rehearsal to mourn the sudden loss of her triplet brother, she had returned to the stage of the Dallas Opera to sing the role of Norma to a packed audience. But when she came to the opera's signature aria, her voice suddenly gave way to tears. For a verse, she stood shaking and sobbing, before finding her sound once more and carrying on.
It is almost never easy to stand on a stage and sing.
But I want to spend the rest of my life doing just that.
The first time I had to stand on a stage and sing, I was terrified. Even in front of only a small handful of people I quivered like a leaf. But I did not stop singing. In fact, my passion for music grew exponentially those first few years. I purposely subjected myself to something that triggered a fear I had no control over. I chose over and over again to stand on a stage and shiver.
What I discovered, through each terrifying performance, and through Heever's display of perseverance, was that passion was a lot stronger than most challenges I, or any other singer, would face.
Singing is immensely personal. Your voice is a part of you, and sharing it is like opening your heart to strangers. It is vulnerable in a way almost nothing else is. It is vulnerable in a way that drips with all of your insecurities, right out in the open. But my passion is stronger than my insecurities.  
As a shy introvert, I struggle talking to strangers. But as a singer I have to introduce myself to people all the time. I approach my idols, my future teachers and directors I admire. And while my arm shakes as I reach out to shake the hand of a stranger, I do it because I am following my purpose. My passion is stronger than my personality.
My first role in an opera was far from glamorous. At age 12,  I played a lion's butt in the "Magic Flute" by Wolfgang Amadeus Mozart at the Dallas Opera. The costume was older than I was, and was filled with wires that scratched my back and arms each time we performed. But despite my miniscule part in the show, I was honored. I spent each break learning different pieces of the opera for the chorus director so that she would notice me. In the next show I had a singing role. My passion is stronger than my ego.
Being an opera singer is an extremely competitive job. I may never have a steady income, I may never have a steady job. This lack of guaranteed stability is petrifying. What if I do not have money? While I was taught from a young age, 'find a job you love and you'll never work a day.' It took me almost eight years of uncertainty to realize that passion is stronger than money.
By no means did I realize this all at once. By no means did I face my fears whenever given the chance. I cowered, I pretended not to care, I insisted I was not going into opera for eight years. But something struck me when I saw Heever cry. Or perhaps it was not then, but when she carried on. It is worth every tear, every fear, insecurity, uncertainty and embarrassment.
I am passionate.  In the end that is all that matters. In the end, passion is all you need.
Follow Amelia @ameliavanyo

Hang on for a minute...we're trying to find some more stories you might like.
About the Writer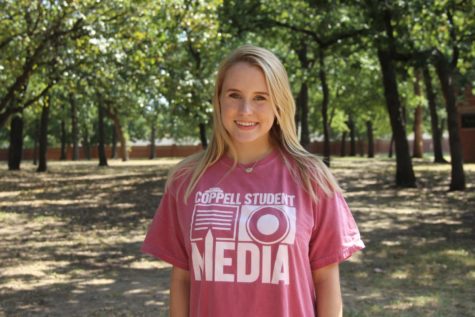 Amelia Vanyo, Editor-In-Chief, Executive News Editor
Amelia is a senior and has been a part of The Sidekick for two years. This year she is serving as the paper's Editor-In-Chief and Executive News Editor....