Wet n' Wild: Cowgirls soccer downs nationally ranked Byron Nelson, 1-0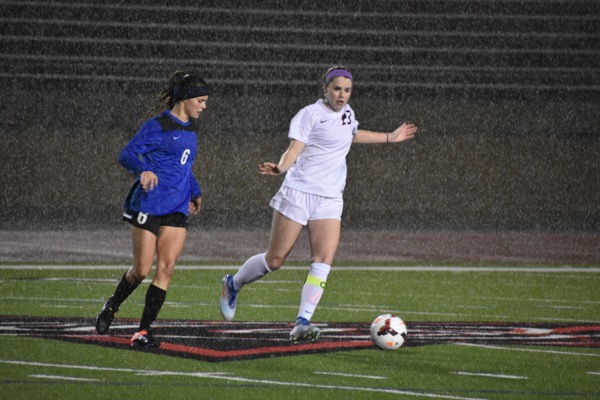 Hang on for a minute...we're trying to find some more stories you might like.
The No. 3 nationally ranked Coppell Cowgirls soccer team topped no. 15 Byron Nelson Lady Bobcats 1-0, in a rainy win on Tuesday at Buddy Echols Field that was like a Monet painting: pretty from afar but a downright mess up close.
"With all the rain coming down I could barely see anything," Coppell junior midfielder Tyler Runnels said. "The field was very slick and slippery so we had to adjust how we played balls and really get in front of them instead of just controlling it with our feet like normal."
Coppell (6-0) put less than five shots on frame, as did Nelson (3-1-1), with the seldom goal being scored with nine minutes left in the match by Coppell sophomore Ryley Andrews who met some rough play by a Lady Bobcat defender with an outside-the-box strike that went upper 90.
"She was all over me," Andrews said. "Tugging on my jersey and pulling my hair, so I cut the ball in and just let if fly."
The first half had no major attacks by either side due to the monsoon-like weather, as there were a plethora of misplayed balls and girls on both teams simply just losing their footing. Yet, the second half was all Cowgirls, and they played and aggressive style that eventually culminated in the win.
"At halftime, [the coaches] reiterated to the girls to get back to the gameplan and do what we do best," Coppell coach Ryan Dunlevy said. "They really responded and made the adjustments and started to play much more our style in the second half."
Playing a nationally ranked team in Byron Nelson was Coppell's first big test and it responded as a top five team should, with a clutch goal and a clean sheet.
Coppell has not allowed a goal in any of their six matches to start the season, which is no small feat.
"We are undefeated and haven't allowed a goal all season yet this team will not turn around and be cocky," sophomore midfielder Nicole Henry said. "We know that this is a long season and we cannot afford to be anything but humble."
Coppell takes on the Cedar Hill Lady Longhorns 7:30 tonight at Buddy Echols Field, as it looks to stay undefeated and record another clean sheet after this impressive non-district win.
"We will take momentum," Dunlevy said. "We are trusting in what we are doing and doing quite well with it. Beating this talented team that goes to the playoffs and does well every year is something that we can absolutely build on."