King, Gaither take second game in series with a combined shutout for Cowboys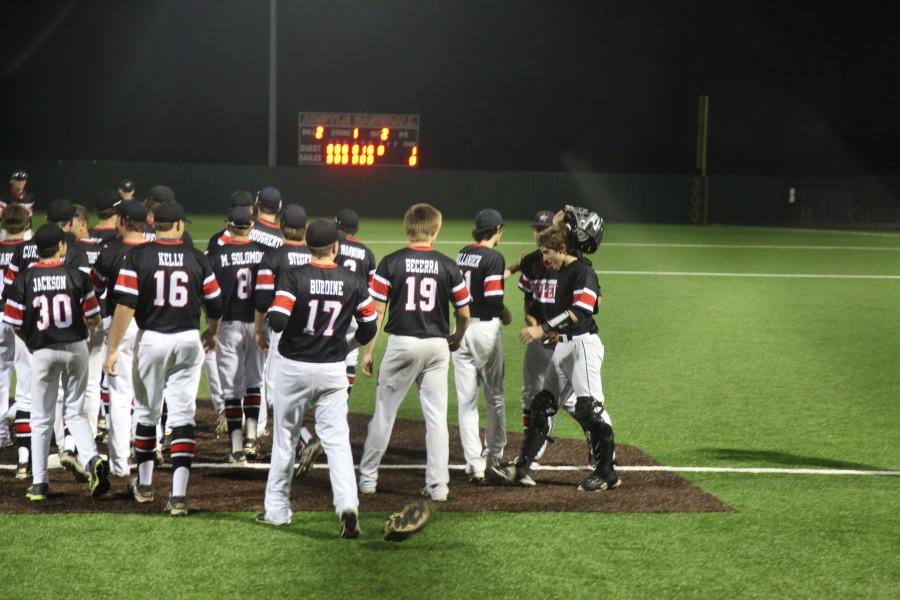 By Alex Nicoll
Editor-in-Chief
@NicollMac
When junior second baseman Ty Manning crossed home plate, the Coppell dugout was rocking.
Not only did the team score its first run in the playoff series against rival Southlake Carroll, they knew it was the only run needed by junior pitchers Charles King and Ray Gaither needed to secure the 1-0 win on Friday at Argyle High School in Game 2 of the best-of-three series.
"We went crazy," Gaither said. "We knew it was ours from then on out because our pitching was just going to give it to them and they couldn't do anything with us."
A day removed from being blown out 6-0, Coppell rallied to force a tiebreaker. For the players this outcome was expected not hoped for.
"Honestly it wasn't a big deal to us," Gaither said. "Last night, they got a lot of lucky hits-a lot of bloopers that fell in-but it was a tough game for us. We bounced back really easily. We're like goldfish, we have short attention spans and we forget about it real quick."
After only recording three hits the night before, the Cowboys, led by sophomore shortstop Jacob Nesbit's three hits, tallied seven hits and three walks. The scoreboard did not do Coppell justice as they stranded nine batters on base.
"We knew that we had to get on the plate and take that outside pitch away," Coppell baseball coach Kendall Clark said. "We didn't get as many runs as how we hit it and we hit better than the one run it showed for but we made that adjustment."
The sole run came in the top of the fifth inning when Manning lead off with a double down the left field line. Junior center fielder Myles Paschall put down a sacrifice bunt but a costly error by Carroll's catcher scored Manning after the catcher overthrew first base.
King only surrendered three hits and one intentional walk to "hot, hot, hot" batter Eric Cole, according to Clark, over five innings and finished with three strikeouts.
Coming in for relief and for the save opportunity, Gaither was faced with the daunting task of keeping the one run lead intact with a hot-hitting Carroll team at bat.
"I'm use to it since it has kind of been my job the whole year," Gaither said. "I had to come in a similar situation earlier in the year against Southlake [Carroll] at their place. I'm pretty comfortable with it. The main goal is to just challenge them and make it easy for them to lose."
Gaither finished the game with a strikeout and only gave up one hit-by-pitch and one hit. Nesbit also had two stolen bases to go along with those three hits and sophomore designated hitter Trey Becerra went 1-2 with a walk and stolen base.
Carroll pitcher Kevin Cramer completed the game giving up seven hits, three walks and five strikeouts.
Game 3 has been moved to 1 p.m. Saturday at Prosper High School. Junior pitcher/first baseman Hayden Kettler will be on the mound for the Cowboys.