Final Four brings basketball fans of all team colors together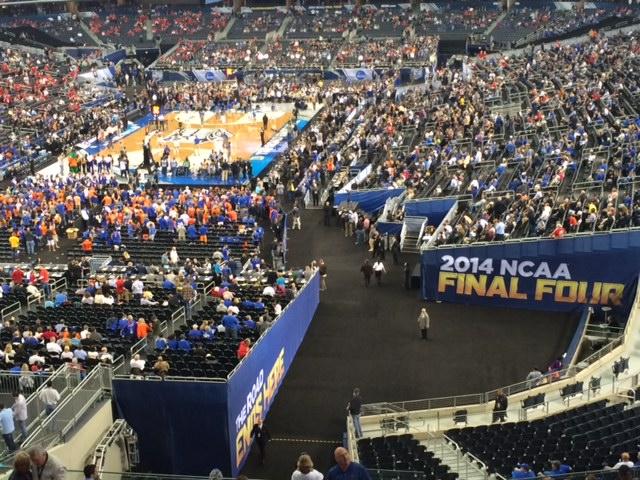 By John Loop
Sports Editor
It was a remarkable sight.
As four college teams, hordes of national and regional media, and, seemingly, the entire world of college basketball descended upon the Dallas-Fort Worth metroplex for the NCAA Men's Basketball Final Four, I saw a side of college basketball that no television broadcast or paid expert could describe.
The fans sporting the blue of the Kentucky Wildcats, the red of the Wisconsin Badgers, the white of the UConn Huskies or the orange of the Florida Gators were out in full force.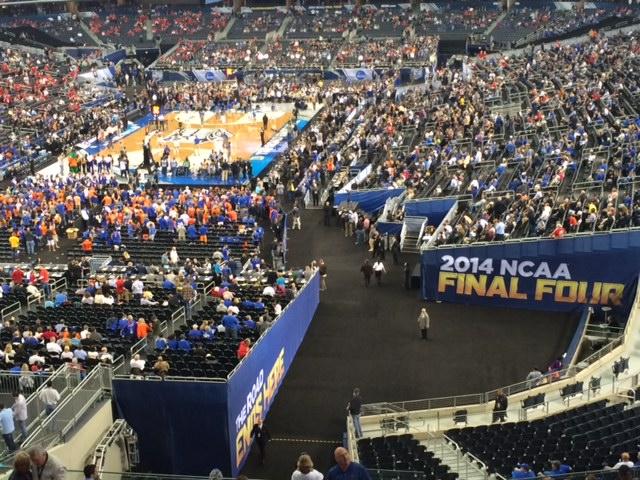 However, that was not why I was surprised.
No matter where I walked, if I did not cross paths with a Wildcats, Badgers, Gators or Huskies fan, then it was a proud alumnus of another reputable collegiate basketball power. It was amusing to observe fans in their 'true colors'.
The Texas schools (Baylor, Texas, and even Stephen F. Austin State) showed a strong following, but it was not uncommon to spot someone sporting Arizona Wildcat red, Michigan Wolverine maize or Jayhawk blue perusing the concourse, heading up the escalator or standing in line to order an overpriced hamburger.
That is what was amazing about this weekend's events. Fans set aside school allegiances and in-conference rivalries and banded together to create an atmosphere any college sports fan would have lovingly embraced.
As I sat in Section 347 of Jerry World on Saturday for the national semifinal and again on Monday for the national championship, I could not help but remember that my dad was in this exact same position in 1986, towards the end of his senior year at Lake Highlands High School, taking in the best that college hoops had to offer. Of course, that was back when Reunion Arena was still standing.
The game itself has changed a lot in these thirty years between Dallas' hosting of basketball's biggest collegiate stage. The national championship, in which UConn and its seasoned veterans defeated Kentucky and its preseason No. 1 overall recruiting class, 60-54, served as Exhibit A. Gone are the days of four-year seniors leading a team to a title. Replacing them over the last decade has been the heavy recruitment of the next big stars at the high school level who head to the NBA after one year in a college program, the aptly titled "one-and-dones". Yet, it is still basketball, and it is still my favorite college sport.
The organizing committee could not have rolled out the red carpet more perfectly than they did. Yes, they got a trial run in hosting the 2013 South Regional Semifinal and Final games (Sweet 16 and Elite 8 for those basketball fans keeping score at home). That did not change the fact that their marketing package and overall fan interactive experience was phenomenal.
Most importantly, however, me and the rest of the fans that turned out this weekend for the Final Four brought more than enough team spirit to fill the arena. I can proudly say I am able to check off attending a Final Four from my seemingly infinite sports "bucket list."
And maybe, just maybe, in 30 years time, when DFW is again gearing up for the 2034 Final Four, I can share the same experience with boys of my own.