As the sun sets over Buddy Echols Field, Coppell junior quarterback Edward Griffin likes to take a moment in the locker room to sit in quiet reflection. His mind churns as he listens to the booming beats of NLE Choppa and runs over the game plan.
He stands up and removes his earbuds to deliver a speech that will inspire his team and lead them in prayer, readying them for the uncertain night ahead. He does one last check to make sure he has his lucky socks, towel and undershirt on as Coppell coach Antonio Wiley teases him about his superstitions.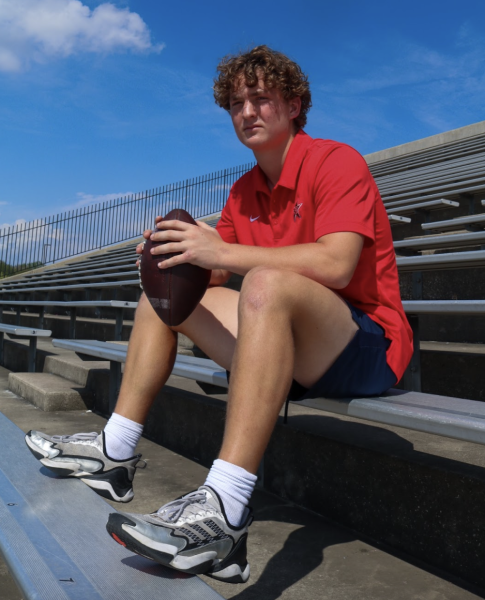 He runs out of the tunnel and is greeted by a crowd of adoring fans; fans who have watched him grow up from taking his first steps on a field as a 4-year-old playing flag football to now, leading his team as the starting quarterback for Coppell High School.
From the moment class of 2023 CHS graduate Jack Fishpaw graduated, Griffin has been preparing for the day he would start.
"It was during the fall practice when the coaches came to me and said, 'Hey, you are going to take the first team reps from now on','" Griffin said. "I tried to prepare the whole offseason like I was going to be the starter, so when it happened it was kind of a confirmation of what I already believed."
Griffin fought for the job and his coaches took notice. Griffin's determination and kind spirit won him the role of starting quarterback.
"He is tough," Wiley said. "He is really tough. He will stand in there and take a shot right under the chin and not blink and he is always walking around with a smile on his face. If you saw him you would say, 'He is the quarterback?' That's just the type of kid he is; he is going to do everything you tell him to do, no if, ands or buts about it."
Edward did not always start out as the quarterback. His journey into football started when he was 4, playing wide receiver on his flag football team.
"He would run 20 yards down the field, the coach would throw him the ball and he would catch it," Edward's father, Patrick Griffin said. "He had so much joy being on the field running around trying to pull flags, catching the ball and interacting with his teammates. Even at that age, Edward took winning seriously."
Throughout his football career, Edward would go on to play tackle on defense until becoming the quarterback at Coppell Middle School East. From that moment, Edward made a commitment to football that continues to this day.
"Edward was playing in sixth grade at Coppell Middle School East and by that time he had demonstrated commitment to his off field preparation including a stretching regimen, healthy eating habits, reading books on leadership, working out, watching game film and throwing routes outside of practice with his teammates," Mr. Griffin said. "Edward's development as a football player has been an intentional, self-motivated journey focused on being the best quarterback he can be in an effort to support his team's success."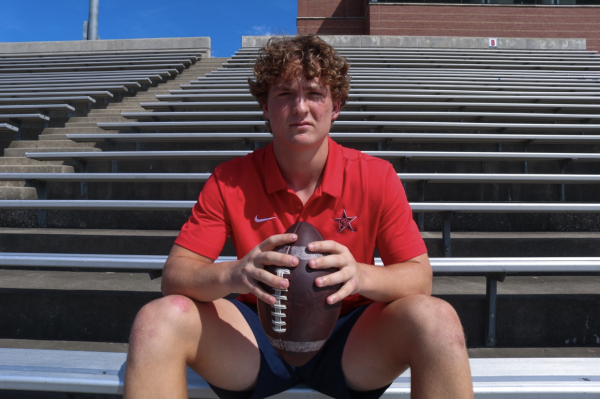 Having played many positions, Edward has a special appreciation for quarterback.
"Throwing the ball is really fun," Edward said. "I have been blessed to have that ability but also the leadership aspect of the quarterback position is really cool. It has a lot of impact and knowing that the team is going to perform the way that you perform is something that I enjoy, I like the pressure."
Edward is not someone to brag about his accomplishments. He chooses to put in the hard work and let others take notice of the results.
"Edward never came home and told us, 'I'm the starting quarterback,'" Edward's mother, Adrianne Griffin, said. "We found out the night of the first game when he took the field on the first possession. Edward believes that he needs to work hard each practice, be a leader and be prepared for each game; in essence his mindset is to earn the starting position each and every week."
Edward carries that mindset to this day and earned respect from his teammates. 
"He has the best work ethic on the team," senior wide receiver Ian McKinnon said. "He is a true leader, he cares about everyone and does not put himself before anyone else."
For Edward, there is no offseason. He is constantly putting in the work to take his game to the next level.
"In season, watching film and knowing your opponent definitely helps because I don't like to see stuff that I am unsure about or feel unprepared," Edward said. "Out of season, I throw routes with receivers and try to get chemistry with them. Part of the fun of the game is the relationships with teammates in the locker room."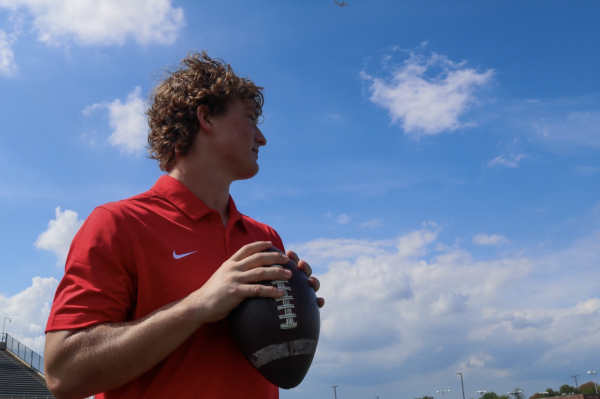 Edward actively works to command the room, leading the team and bringing everyone together.
"His confidence has skyrocketed since I met him," McKinnon said. "He is able to speak in front of the entire team and holds people accountable for their actions. Over the years, watching him develop has been amazing to see, and he has become such a role model for anyone who wants to achieve greatness."
The journey of an athlete can be somewhat of an odyssey and Edward knows it. He prioritizes both his athletic and academic career with hopes of playing at Notre Dame and partaking in their religious activities and academic program.
With his positive attitude and an optimistic mindset, Edward hopes to make it to the NFL one day. 
"I want to keep playing for as long as I can, I really enjoy it," Edward said. "However long I can keep on going, I am definitely going to. That is the dream."
Follow Nyah (@nyah_rama) and @SidekickSports on X.