New Season of "Parenthood" brings mixed feelings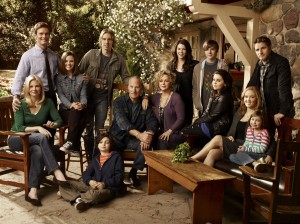 By: Renee Rohani
Business Manager
           NBC's Pilot episode of "Parenthood" aired Tuesday night, leaving me unsure on whether I actually liked it or not.
          The show includes an great cast of Lauren Graham, Peter Krause, and Craig T. Nelson just to name a few. Yet it seriously lacks any originality in plot. I personally found the storyline somewhat bland and essentially overdone. It felt like a re-run of "7th Heaven".
          The storyline follows multiple generations of a family and the ups and down of their lives. Graham plays a divorced mother with two rebellious teenagers. Her brothers, (played by Peter Krause and Dax Shepard), and her sister, (played byErika Christensen) all have their own family troubles as well, and the show jumps from plot-line to plot-line.
         While the show may be called sappy , it truly did have some very heartfelt moments that really hooked me into the plot. For now, I'm not really sure if my overall opinion of the show is a positive or negative one, but I'll definitely be tuning in next week to see what else it has to offer.