The Big Bus Switch: What it means for the students who ride the buses, and for those who drive them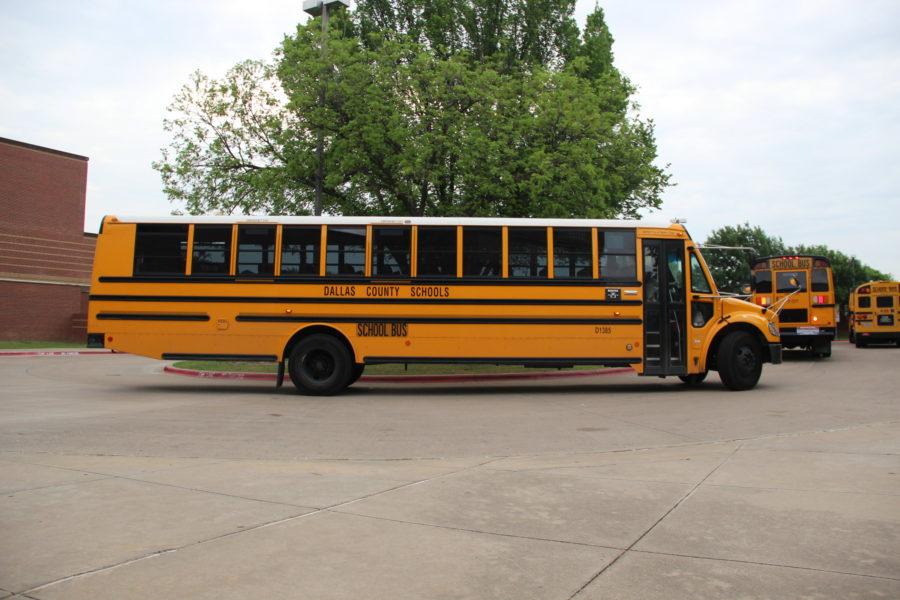 When Tracy Denton's daughter turned 3, she took her along to work – a memory both she and the students on her daily school bus route enjoyed. In her 13 years of driving school buses for Coppell students, Denton could never dream of doing anything else.
Now, she's not so sure.
"It's hopeful in that I know we have got to get things fixed, but personally I'm really torn up," Denton said. "I really can't tell you what I want to do."
After coverage by local media earlier this year regarding arising issues with Dallas County School (DCS) buses, the Coppell School Board of Trustees voted last month to terminate the contract with DCS after over 30 years of service and award the student transportation services contract to Durham School Services (DSS) beginning with the 2017-2018 school year.
The decision is already starting to impact those on all sides of the change, from the students who take the bus to the individuals who drive them.
"The process of looking at alternative solutions occurred early on in the year, because…once you've figured out that this is a situation that can not be rectified internally with the current service provider, you have to look at other options… Durham wasn't the absolute slam dunk, but it was one of the considerations," Board President Anthony Hill said.
Coppell High School Principal Mike Jasso has confidence in the district's decision.
"Dallas County had served our district well for a lot of years, and for any number of reasons, their service wasn't meeting the needs that we had, especially here at our campus, as we know," Jasso said. "We have tremendous trust in the district to have made a decision that's going to wind up providing better service for our students."
In a presentation to the Board prior to voting, assistant superintendent for business and support services Sid Grant shared "the primary reason for a change": chronic bus driver shortage.
With the job market doing well, the pull for many towards a part-time jobs such as bus driving has weakened; however, the challenge of hiring drivers is one Durham has anticipated.
"We do a lot of aggressive recruiting," DSS director of corporate communications Kate Walden said. "We do everything from social media and local advertising to job fairs, to make sure that we are staffed in any cases that we can. It's our own personal [goal] to overstaff, to staff at, if possible, 105 percent, so we have spare drivers."
In her experience, Denton has seen Dallas County recruit through billboards, posting information in schools and reaching out directly to parents and teachers with little success. She voiced some of these concerns during a meeting with current bus drivers and DSS on April 4.
"I said, 'What is it that Durham thinks they've got, what's their magic bullet that makes them think that they can staff Coppell when Dallas County hasn't been able to do it now for several years?'" Denton said.
"That's not a criticism, that's not in any way trying to be derogatory, this just isn't an area where you've got a lot of people looking for jobs that are in range. Most of the time when you say school bus driver you scare most of the people off anyway."
According to Denton, Dallas County often pulled drivers in from different lots to make up for the difference in drivers, paying them stipends and guaranteed hours, but not guaranteeing hours to the current Coppell drivers.
"All those people coming in were getting a better deal than we were, and we're the ones that had survived the worst of it," Denton said. "It just felt like we were very secondary, that we really were being almost used. I don't mean to sound so negative, when you watch other situations when you feel like you are being underappreciated or undervalued, you can take it for a while, but then after that it kind of nags at you."
Driver hiring was one of the biggest considerations of the Board when voting on the Durham proposal.
"Another thing is the ability to hire drivers. You have to pay them more because they're competing with other entities that pay a little bit more," Hill said. "[Durham has] the capacity to pay a little bit more above the current wage that is in place today."
How much more exactly? According to its website, Dallas County Schools has a starting wage of $15.50 an hour. Denton, a veteran driver, said she currently makes about $20 an hour. Durham's starting wages for Coppell drivers, according to Walden, is still being assessed and determined.
This does not include a sign-on bonus for new drivers and current drivers who switch to Durham, which adds an additional value still being finalized by DSS to their first-year salary.
"Another consideration is to take on the drivers that are currently working with Dallas County Schools, which is another consideration because they love driving, they know the routes, they know the students," Hill said. "That makes a significant difference.
"The incentive is being offered because of competition. When you think about it, there are other service providers and things like that, they pay a higher rate, so in order to get a driver to get on board and stay with you, you have to incentivise them."
However, Denton's hesitation derives from the years that follow that bonus.
"They plan to give them a raise and a sign-on bonus, but they do not provide medical insurance," Denton said. "Dallas County gives you that option."
Dallas County Schools offers a health care plan covered under Texas Insurance Code Chapter 1579. The plan offers "uniform group coverage" and is paid for by a combination of the state, the district, and the employees.
At this point, Walden said Durham is only offering a 401K Retirement plan, with other benefits yet to be finalized.
Tony Higgins, a five-year bus driver working in the district until his wife, Coppell High School special needs teacher Eileen Higgins, retires, is weighing what Durham offers.
"Driving a school bus is a part-time job," Higgins said. "Both DCS and Durham considered that. You're not getting paid as a normal full-time employee would, but that's not what you're there for. What you might be there for, for example, is Dallas County Schools offers a benefits package that includes insurance and visual care and dental. That's a nice benefit.
"Now you go to Durham, they have a different kind of benefits package that might not satisfy your needs from a health care or dental care [perspective], but Durham has a 401K retirement plan, savings plan, so that might be more appealing."
Both Denton and Higgins left the Durham meeting with some questions answered and some unaddressed.
"They may be able to recruit with the sign-on bonus and the hourly increase, but they're saying that's making up for the benefits that we are now getting from Dallas County. But what about year number two?" Denton said. "If we don't get that sign on bonus again, then we're out all that."
The driver shortage issue was not the only motivator for Coppell to switch bus providers. Another large topic that was swirling in the media earlier this year was issues with safety surrounding many DCS buses.
"[Durham has] a rigorous training program that's in place to educate drivers, which all of those things in place will help considerably improve the service that has been seen this year," Hill said. "Our prior service provider, they had done a good job. This year, [it was] not to the level of the expectations. You have to know when to make a change."
After multiple incidents with drivers running red lights – and the tickets being paid by the district with taxpayer money – Texas Senator Don Huffines filed a bill that would eliminate the Dallas County Schools agency.
"We have a state senator that's been very very adamant about the fact that the provider of service is not functioning at a high level," Hill said. "So we're going to come after them and basically dissolve that organization."
Student safety is an aspect Durham prides itself in, along with trained local management, preventive maintenance programs, and their use of innovative technology.
"Safety is our highest priority, and what we live by, our vision, our mission is we get students to school safely, on time, and ready to learn," Walden said.
Durham drivers go through, as Walden describes, an "incredibly rigorous process before they are even truly hired". Drivers complete 20-plus hours of classroom and behind the wheel training, as well as attend safety meetings each month.
"Safety is a constant, whatever is relevant at the time," Walden said. "If there is inclement weather, even as drivers are grabbing their keys in the morning. It's constant training, and it is continuous training."
Something that appealed to the Board when making a decision was Durham's utilization of technology to connect parents, students, and the company.
Through use of a Zonar, a wand that connects to a GPS system on each bus, drivers can point at certain parts of the bus pre and post trip to check areas such as tire-pressure or to see if doors are working properly.
Another gadget soon to be released is a bus tracker app, which allows parents who download it to see the location of the bus their students are riding on.
"Our drivers are always easy to reach because the district has close contact with us at all times," Walden said. "They can speak to the general manager, and say 'there's a route change here and it looks like the road's closed' or anything that could be occurring."
Because of the additional services and the pay increase that Durham offers, the bus service will cost roughly between $500,000 and $550,000 more than the contract with Dallas County Schools.
"We have been able to build up a fund balance that will allow us to take on that additional expense," Hill said. "A part of that expense will be taken care of because of growth, but that portion that can not be taken care of because of growth… that fund balance will be able to help absorb that difference."
Before co-curricular and field trip costs, the first year of the five-year contract with Durham totals $2,500,000, and may vary based on hours and miles driven.
Another consideration is the impact to students from late buses. CHS freshman Aliaan Alwani rides a bus that often pulls in late and is used to walking into his first period geometry class after the start of school bell.
"The timing, it's unpredictable," Alwani said. "Sometimes is comes early, sometimes it comes late, I'm late a lot to first period. We grade the homework at the beginning of the class and sometimes I miss the questions, and so I never really find out what the answers are."
CHS AP Statistics teacher Michelle Zugaro has had to accommodate students who arrive late to her first period class.
"It seems like every day at least one bus is late, and I feel bad for the students who ride the bus because they have no choice," Zugaro said. "It's not within their control.
"The other problem we're having though is we can't get started on time. We have to wait until everybody gets there, or repeat things, or do things that are a little bit less important at the beginning of the class period. I feel like the first period is getting cheated by not getting a full 52 minutes of instruction, which we need right now especially with the AP [Statistics] test coming up."
The goal of getting students to school on time is not as simple as one might think. Specific times for dropping off and picking up students, as well as overcrowding in certain areas, are factors that must be accounted for.
In Denton's case, schools currently only allow a certain window for pick-up and drop-off of students, leaving little down time for her and other drivers.
"A couple of those huge factors are we're trying to do middle school, high school and elementary all on top of each other, and you're not able to drop your elementary off until 7:30 a.m.," Denton said. "That doesn't give you very much time to try and get your high school kids picked up and to the school."
On an average day, Denton drops her elementary students off at 7:33, picks up her high schoolers at 7:48, has two to three minutes in between to check the bus and pulls into the high school around 8:15.
At the recent Board meeting, Grant acknowledged the timing issues and introduced proposed adjustments for the 2016-2017 school year.
"We have adjusted the school start and end times," Grant said at the meeting. "We've spread them out a little bit. That will help. We are not a true three-tier system because there will be some overlap between some of the routes, between elementary and middle or middle and high school, but we did try to spread those out some in order to bring more relief to that area."
In addition to times, the recent surge in Coppell's population has made it increasingly difficult for drivers like Denton.
"We're bigger now and a lot of these brand new areas that are being opened up are on heavier traffic roads, with morning commute traffic," Denton said. "It's not like driving down Sandy Lake [Road] used to be.
"You can't believe some of the neighbourhoods where we go and pick up kids. We'll fill up three or four buses, just one corner of an area, and the buses are full."
The solution to this goes back to the number of drivers available, which Durham School Services is tasked with bringing in.
"We work with the district to discuss routing, to discuss making sure that the staff is there," Walden said. "In some cases we've actually even called in spare drivers from other locations, to make sure that everybody's staffed up properly."
After working at Durham for the year, Walden is able to speak to the integrity of the company, and its potential to make a positive change in Coppell's community.
"This is kind of a personal note," Walden said. "I have a 14-year-old who gets on the bus every single day, not a Durham bus, but she gets on a bus every day. When you become an employee of a company who does this, you just really, it's an emotional thing, it's a heartfelt thing. We take our student's safety incredibly seriously.
"Our drivers and those folks who will be running the customer service center at the Coppell location, they're parents themselves. They're grandmas and grandpas and moms and dads, so they treat those children just as their own. It's just incredibly important to us to keep those kids safe and treat them as though they're one of our own."
As far as the future for many of the current Coppell bus drivers, there is still uncertainty.
"There's things that drivers are questioning, because basically they are trying to do their homework," Denton said. "Right now, I don't see where half of them are in favor of Durham. I think that's one of the things Durham was banking on, that they were going to be able to keep a lot of us."
As he is solely at the receiving end of student drop off and pick-ups, Jasso is not engaged in discussion about hiring of new and current drivers that drive to CHS. As he departs from his position after the 2016-2017 school year, he will inform his replacement regarding the future of buses.
"My perspective on things is obviously valuable as the guy who has been the leader for the last six years, but there's also assistant principals and associate principals who oversee those operations currently, so it wouldn't necessarily have to be me, that new person will have a wealth of quality people around them to help them be successful," Jasso said.
Higgins has also not reached a decision as to whether or not he will accept Durham's proposal.
"When it comes to the decision to change companies, we have to go along with the flow, and you just have to make your evaluation, how will this affect me if I go here, Higgins said.
"I have a couple of pieces of my decision pie still to be addressed. But, I'm getting there, I'm almost at that point. You don't want to linger too long on this, or you start to get cold feet."
Denton describes bus driving as something that "fills her up", being close to her daughter, CHS senior Alex Denton, and getting to interact with students on a daily basis. At this point, she needs more information before making a final decision.
"I'd miss it," Denton said. "I know it sounds crazy, but, and I'm sure Alex would probably roll her eyes at me, but I've had very very few bad experiences over the years. I've had hiccups here and there, but most of the time, you know how your friends are the ones to pull you up from a bad day, and they put a smile on your face, get you laughing about something, there's a handful of us, that's how we feel about our students."
With all eyes on Durham as they finalize their new contract with Coppell ISD, a lot is riding on the new bus service – and it's not just students.
"It does get frustrating, you do everything in your power to do what you can, and it's still not enough," Denton said. "Going through that again, it's kind of like beating your head against a wall. I don't look forward to that if it's going to be that situation, where we don't have people. I want to be proven wrong, I want to see them get this figured out and make the people happy, but I'm scared."
Note: At the time the interview with Kate Walden was conducted, the contract was not yet signed. Dallas County Schools did not respond to The Sidekick's request for comment.
About the Writer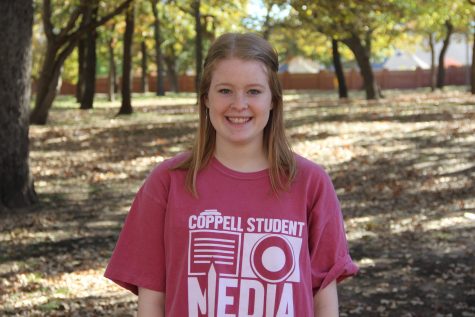 Meara Isenberg, Editor-in-Chief
Meara is a senior at Coppell High School and the Editor-in-Chief of The Sidekick newspaper. She is proud to be a part of a great team of really talented...