College Series: Dorm room hacks to make freshman move in day easier
It is not a secret that dorm rooms are small. Many find themselves sharing a room smaller than their's at home with another person. With space being limited and restrictions on what to bring, it becomes a difficult task in designing a comfortable environment.
Coppell High School graduates deliver their two cents on how to make the most out of their space.
Essentials
Anna Sim, a senior at the Texas Academy of Math and Science at the University of North Texas (better known as TAMS), dealt with the change of a room to a dorm a bit earlier than typical students.
"If your room doesn't come with a mini fridge and microwave, make sure you get one," Sim said. "Food is essential, and you really don't want your leftovers from your favorite restaurant to go to waste."
The quality of that dorm room mattress might not mirror that of the one you have in your cozy bed at home.
"Bring a mattress pad," Sim said. "My mattress pad elevated the comfort of my bed so much. The regular mattress at TAMS is basically a rock. The mattress pad made sure that I got a good night's rest."
Sim adds that extension cords are crucial. Sometimes power outlets can be limited and located in inconvenient places in your dorm, so the cords will make sure that you can use all of your technology wherever you want.
"Paper towels and tissues run out quickly," Sim said. "I have a tendency to spill things, so having those at hand is a necessity for me. Definitely keep them on stock if you can."
Natalie Lopez, a freshman at Brigham Young University and 2016 CHS graduate, said people end up needing random things that they do not think about while packing.
"Don't forget to bring laundry stain remover, cleaning supplies, plastic utensils and dishes," Lopez said. "Although, don't overpack. You'll be surprised by how many clothes you think you'll need, but don't end up wearing. You'll be receiving a bunch of free T-shirts as a freshman, so don't overload on those."
Space Saving Tips
Dorm rooms are small, so storing what your home in Coppell holds in a tight space is difficult.
"It helps to get under the bed organizers, a shoe rack and desk organizers," Lopez said. "You don't realize how many small extra things you will need to store. Having a clean, organized room helps you stay focused and stress free."
Sim agrees.
"My roommate and I raised our beds," Sim said. "This way, we were able to fit way more storage and keep it hidden. We have a shoe organizer hanging on our closet doors because we have so many. "
Maha Haque, a freshman at the University of Texas at Austin and 2016 CHS graduate, said wonder hangers help tremendously with utilizing space in the tight dorm room closets.
"Dorm closets are small," Haque said. "These hangers really help create space for all your clothes."
Miscellaneous
In terms of maintaining a healthy lifestyle where dining room food and ramen noodles constitute a regular college student's diet, Sim said keeping healthy snacks in your dorm helps to avoid that gain of weight that commonly happens to incoming college students.
"If you have chips and cookies in your room, you'll eat the chips and cookies. Keep some fresh fruit and granola bars, so that you can avoid constantly binging on junk food," Sim said.
Many want to create an aesthetic environment to come home to after their classes.
"It's important to have a blend of functional and personal style," Lopez said. "It's a small living space, but you want to make it feel as comfy and close to home as possible. For room decor, I recommend having comfortable bedding, decorations and memorabilia that reflect your style, and a ton of pictures of your favorite people and memories from high school."
About the Writer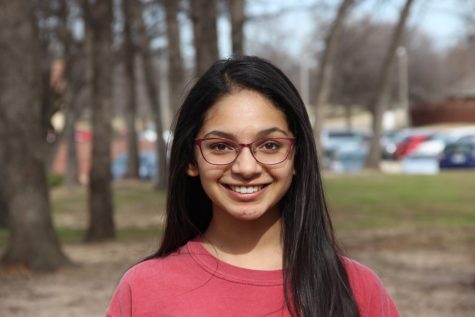 Rutuja Joshi, Staff Writer
Rutuja Joshi is a staff writer for The Sidekick. She especially enjoys writing articles in Opinions and Entertainment. A senior at Coppell High School,...