"We Are One" motto exemplified by spirit representatives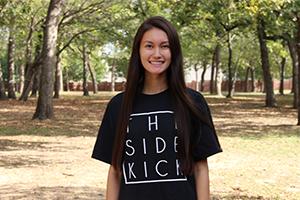 More stories from Maggie Theel
The mascot of Coppell High School, a cowboy, perfectly reflects the spirit of its student body: pioneering, honorable and brave. A cowboy represents an independent spirit, but it also represents a strong sense of loyalty that can be seen in the support and encouragement that is constantly flowing through the hallways of CHS.
CHS offers its students many opportunities to explore their interests and showcase their talents, through successful Class 6A sports programs, award-winning fine arts programs and more. The students participating in these activities receive an outstanding amount of support from their peers.
Many programs at CHS have spirit representatives. Popular examples include fans of the many sports teams like "Football Flirts" and "Sideline Psychos" or "Soccer Studs" for boys and girls soccer, "Courtside Cuties" to support volleyball and "Diamond Dolls" to support baseball.
Students sell T-shirts to their friends; the shirts have catchy names and cute designs with the athlete's last name, and sometimes number, on the back. Their friends will then wear the shirt on the days that the athlete has a game, a meet or another event to show their school spirit – some spirit representatives will even bring treats to their friends.
"My 'Courtside Cuties' help me get excited to play by bringing me candy or baked goods on game days," CHS sophomore and varsity volleyball player Breanne Chausse said. "[They] are some of my closest friends, so having their support really makes playing volleyball that much more special to me."
It is a tradition to have spirit representatives for many of the varsity athletes, but the alliterate T-shirts have spread to many of the other programs at CHS over the years. The debate team has "Debate Darlings", the drumline has "Rhythmic Romantics" and the choir has multiple supporters including "Respira Royalties" and "Mad for Mads".
To participating students in these activities, the support of their friends is very important.
"People are often really surprised that I have stage fright since I'm in choir, but I do get really nervous before my shows," CHS senior and Madrigals Queen Maha Haque said. "Hearing my friends cheer for me and seeing their faces in the audience [is] really comforting. I'm really grateful to have such amazing friends that support me."
For the students wearing the shirts and cheering their friends, being a spirit representative allows them to feel more included in many different activities at CHS, not just the activities that they participate in themselves. Caring for one another and encouraging each other's success is a big part of what being a Coppell Cowboy is all about.
"[Being a spirit representative] lets your friends know that they're loved and supported throughout their different activities,"  CHS junior "Homerun Hunk" and "Backflip Babe" Kyle Whiting said. "To be there, wearing your shirt, and going to their game or event is really special."
Not only do spirit representatives allow students to support each other, but to uphold the CHS motto, "We Are One."
Leave a Comment
About the Writer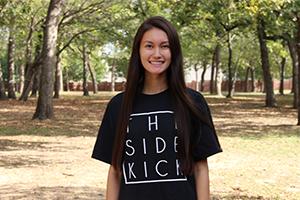 Maggie Theel, Staff Writer
Maggie Theel is 16 years old and she is a junior at Coppell High School. In addition to being a staff writer for The Sidekick, she is a diploma candidate...