Kleptomaniac cats steal kooky items, hearts in 'KleptoCats' app
About a month ago, I was browsing the app store looking for a new fun game to play when I stumbled upon KleptoCats. I was originally drawn to it by the cute cartoon cats in the picture and the clever pun, but the mysterious and slightly insidious items that I began to collect were what kept my attention.
The shift from cute to creepy is so subtle as the game goes on, it is unnoticeable at first.
"When I first started playing, I thought it was adorable," said iTunes user ladeekatt. "Now that I've been playing for a while, it feels more like an adorable, yet creepy mystery."
The cute cartoon cats have a dark side: they are kleptomaniacs and they cannot stop stealing.
The game begins with one cat with a knack for kleptocracy in a room. You send the cat out and it will bring back coins and an item that it has stolen from who knows where. That item will then be automatically placed in the room to begin decorating. Once the cat comes back you can feed or pet it to increase its happiness before you send it back out to steal more goodies for your room.
As you gain coins, you can buy new cats or outfits for the cats you already have. Each cat has a funny description of their personality and you can change their name to match it.
Setting the morality of literal cat-burglars aside, the game is a cute and fun time-wasting app. The premise is similar to other typical cat collector apps such as Neko Atsume, but the items that the cats bring you are far from typical.
"I like how unique it is while at the same time combining aspects of other popular games such as Neko Atsume," Coppell High School junior Lauren Harris said.
The items that the cats steal for you have a wide variety. Some are objects that a real cat might bring their owner, such as a dead mouse, a hair ball or a slipper. Some are outlandish, such as a lava lamp, a book of spells or a toaster. Some are downright creepy as well, but those ones I will let you discover on your own.
A downside of the app is that the time it takes for your cat to return gets longer as you keep playing and it becomes harder to receive new items from your cats. The app has a simple mini game that you can play while you wait, but the cats will sometimes take hours to return. A recent update added a second room with more items, more cats and an additional mini game to play while you wait for your cat to return, but game play does become tedious after you have found most of the items.
If you like cats, mysteries or wasting time with apps, then KleptoCats is the game for you.
"It's a fun, cutsie, and sinister game," iTunes user AsianTofu12345 said. "A little creepiness never hurt anyone anyway. Do I recommend it? Yes. But be warned."
Leave a Comment
About the Contributor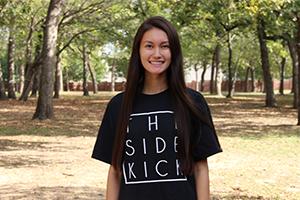 Maggie Theel, Staff Writer
Maggie Theel is 16 years old and she is a junior at Coppell High School. In addition to being a staff writer for The Sidekick, she is a diploma candidate...