Cowboys advance to next round after 31-7 victory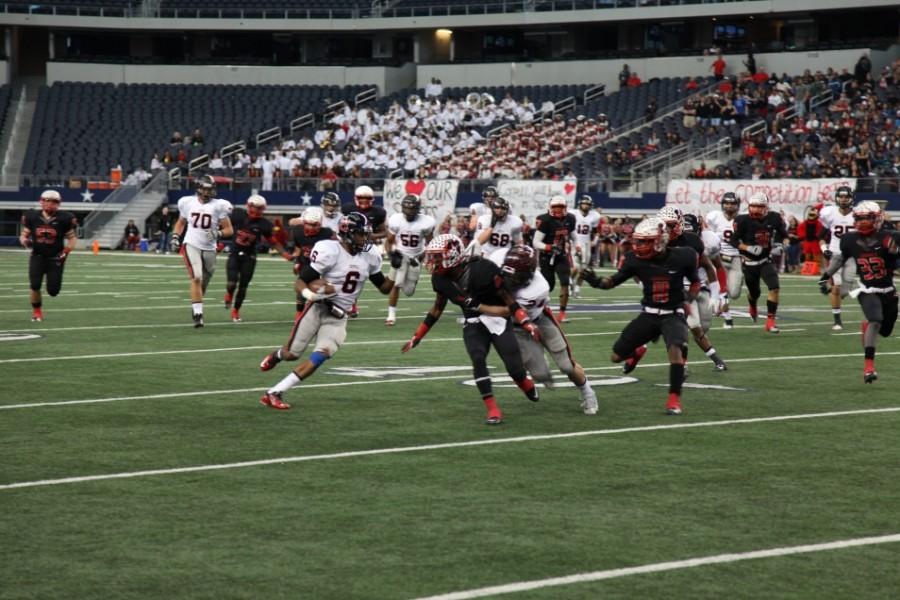 By Alex Nicoll
Sports Writer
In a game one player viewed as a 'must win to show how good we are', the Coppell Cowboys outshined Irving MacArthur Cardinals 31-7 in the first round of the Class 5A Texas state  playoffs.
Coppell came out strong out of the gate scoring a touchdown on their first possession. Senior quarterback Colby Mahon threw a 15 yard strike to senior running back Luke Jenner to put the Cowboys up 7-0.
On a call that nobody saw coming, coach Joe McBride called for an onside kick in the first quarter that Coppell recovered.
"We have been practicing that all year in case someone lines up we feel like we can play it. They did it the first time and did it the second time so we came with it the second time," McBride said.
After a series of plays that included two complete passes from Mahon to senior wide receiver Cameron Smith, sophomore running back Charles West bolted for 15 yards and hurdled a Cardinal player for another Coppell score to put them up 14-0 against the Cardinals.
The usual starting junior running back Gavin McDaniel was held out with an injury.
"We miss Gavin. We held him out this game so that he can be 100% next week, but Charles [West] did a good job pulling the slack," McBride said.
On the resulting drive, Irvin MacArthur ran through the Coppell defense all the way to a two yard touchdown run by senior running back Jourdan McNeil.
The Cowboys next possession was filled with two fumbles, which they recovered, and ended with a punt.
The Cardinals drive ended with Coppell junior defensive end Solomon Thomas busting through the offensive line and blocking Irvin MacArthur's 42 yard field goal attempt. Coppell recovered the ball and rushed to the 46 yard line.
Mahon had one completion on the next drive and junior kicker Adam Centers missed his 46 yard field goal attempt to keep the score 14-7.
The Cowboys next possession was almost stalled but West bolted on a fourth-and-1 play for 34 yards and another score.
Coppell's next drive after half-time led to a Center's 35 yard field goal.
MacArthur struggled to put points on the board and Coppell capitalized by scoring on a one yard scramble by Mahon to put the score 31-7 in Coppell's favor.
McNeil and the Cardinals struggles continued as they were stopped by the Coppell defense inside the redzone in the fourth quarter.
No team scored again in the match and Coppell came out on top 31-7 and advanced in the state playoffs.
Coppell's defense, even though giving up only seven points, struggled to contain senior quarterback Tyler Petrillo and McNeil who combined for 181 yards on the ground.
"They were really good on offense. They read a lot of our defensive players. It was hard to fit and it was real tough," McBride said. "We had to make adjustments and make through the wave of it,"
The Cardinals found holes on the Cowboys defense when they ran option plays to the quarterback.
"We had to change our schemes and we started lining up in different fronts, and I think that really helped us in the second half," junior linebacker John Herubin said.
Coppell contained the MacArthur offense through the air, holding to only 78 yards and sacked the quarterback multiple times.
"Actually their starting quarterback [Sebastian Taylor] was hurt so we knew that the quarterback coming in was previously a receiver, so we knew he would not have the best arm so we could capitalize on that," Herubin said.
West ended the game rushing for 129 yards and two scores.
"Charles has always been a good athlete and a good player and he really stepped up when Gavin was down. He played like he needed to and that was really good to see," Herubin said.
Coppell now turns to its next opponent, the winner of the DeSoto-Killeen Harker Heights game, to play at Allen High School next week.
DeSoto is heavily favored in the game to win.
"If it's DeSoto, we have to play great team defense and just go to work. They are so great and probably are one of the most talented teams in the nation. I do not know if they won, I am sure they did, but we will have our work cut out for us," McBride said.