Red Hot Chili Peppers take care of business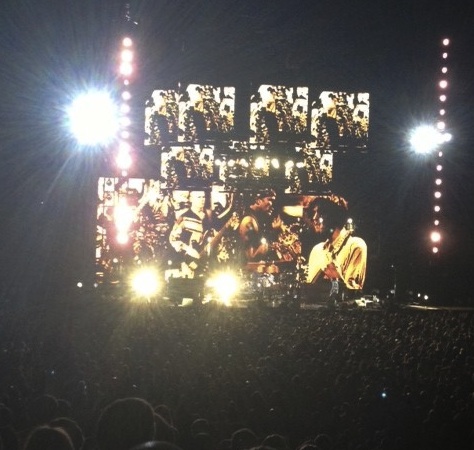 By Stephanie Alexander
Staff Writer
The Red Hot Chili Peppers are a band that can appeal to almost all ages since they've been around since 1983 and are still making new music to this day. August of 2011, the Chili Peppers released their album "I'm With You" and were planning on having a full world tour to go along with it. For RHCP fans, this is a huge deal. This would be their first album since "Stadium Acradium" which was released in 2006.
Last night, Oct 2 was the night of the Dallas concert that was actually supposed to take place last March. The American leg of the tour was put off due to lead singer, Anthony Kiedis, having to recover from foot surgery in early 2012.
Aside from that, Kiedis was all over that stage, springing and bustling around. There was a lot of charisma on that stage, each band member doing there own thing as they always do.
Chad Smith on drums, Flea on bass, and on guitar Josh Klinghoffer. These guys know what they are doing. Even though this is Klinghoffer's first full tour and album playing with RHCP, he fit in perfectly. RHCP is known for having a long string of guitar players trhought the years, and as talented as pervious guitar player Josh Frusciante is, Klinghoffer is a winner.
The opening act was scheduled to be Janelle Monáe, but turned out to be a British rock group named Band of Skulls. This was definitely a better choice since the Band of Skulls are actually in the genre of rock.
The Chili Peppers opened up with one of the singles from "I'm With You", "Monarchy of Roses" and they just kept on going from there. There were occasional pauses and brief conversations with the audience between songs, but that concert was all music and lights. And that is not a bad thing. The concert had strobe lights that went with the beat, interesting visuals on the screen, and of course the fabulous noise.
I was scared at one point during the show, whenever someone threw a water bottle at Kiedis twice. Knowing how some rockstars are, you never know if they'll be chill and dismiss it or if it's game over. But the show went on and Flea had nothing but nice things to say at the end. Having a long concluding speech about how we should support all types of music since it's the voice of the people and that music is the one thing that unites as people. It was quite touching and made me want to go to another concert.
I give the Chili Peppers a solid A. It would be and A+ if they played "Dani California". Why they didn't play one of their most popular songs, is still a mystery.
Setlist:
Monarchy of Roses
Around the World
Snow (Hey Oh)
Otherside
Look Around
Can't Stop
Hard to Concentrate
The Adventures of Rain Dance Maggie
I Like Dirt
Universally Speaking
Under the Bridge
Ethiopia
Higher Ground (Stevie Wonder cover)
Californication
By the Way
Suck My Kiss
Everybody Knows This Is Nowhere (Neil Young cover)
Give It Away