'Albert Nobbs' comes to Fort Worth, recognizes support
By Madison Ford
Entertainment Editor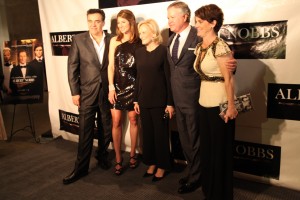 Hollywood came to Fort Worth on Sunday, bringing with it cinematic royalty and a film that is already pushing boundaries and opening minds. Albert Nobbs, Glenn Close's newest film, held a private screening at the Modern Art Museum, where prominent figures in the Dallas/Fort Worth area gathered to get a sneak peak.
In a matter of hours, the entrance to the museum was transformed into a venue that emanated both class and Hollywood glamour. Rose filled vases and subtle Irish tunes set the tone of the evening as guests flooded the gala. With attendees ranging from Dallas Cowboys owner Jerry Jones to Fort Worth Mayor Betsy Price, the event was a hot spot for the Dallas elite.
This occasion was much more than a simple screening of an upcoming film. It was a celebration of years of determination finally paying off, and a recognition of those who made it possible. The release of Albert Nobbs has been decades in the making. Based off of a short story of the same title by nineteenth century Irish author George Moore, "Albert Nobbs" was made into a play in 1982, starring Close as the titular character.
Following this experience, Close began what would be a long journey to get the story produced on film. Finally, in 2012, 30 years after Close's premier performance as the character, the story of Albert Nobbs is finally being shown on the silver screen. This was largely due to the financial support of Fort Worth residents Cami and John Goff, chairman and CEO of Crescent Real Estate Equities.
The Goffs are not the films only ties to Texas. The movie's producer, Bonnie Curtis (Schindler's List, Saving Private Ryan) grew up in Texas and attended college at Abilene Christian University.
Close, Curtis, and director Rodrigo García (Passengers, "In Treatment"), walked the red carpet (which was, incidentally, gray in this case)and openly discussed their passion for the project. As screenwriter, producer, and actress, Close had especially strong feelings about the release of Albert Nobbs.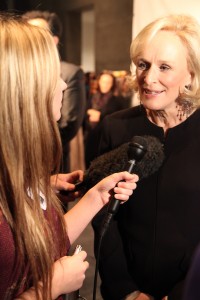 "It's the most wonderful feeling in the world because there comes a time where you have to really ask yourself; 'Are you willing to throw in the towel?' 'Are you saying you're going to give up?" Close said. "And at that point I said 'No I'm not,' and here we are. And it's really exciting. This is a particularly exiting night for me because it was because of John and Cami Goff who, for reasons that I have not really asked them about, they met us and we pitched this movie and they believed in us.
"They decided to risk it with us. And to believe in the story and to believe in the talent that we had assembled, and here we are. And the sense of closure is really phenomenal. I'll never experience this again. This particular chemistry. This particular story."
The film is close to Curtis' heart as well. Having been involved in its production for close to a decade, she could not help but share Close's sentiments towards the project.
"My initial interest was strictly just because Glenn Close handed me the script," Curtis said. "I'm such a huge fan and the opportunity to work with such an incredibly genius actress, who I grew up watching her films was too good to pass up. And then we embarked upon a journey that took us, for my part, about eight years, and during the course of that is think I got as emotionally invested in it, closely to as emotionally invested in it as Glenn did.
"We've ended up with something we're very proud of. We've accomplished something that not a lot of people are able to accomplish now in this economic  environment and it's kind of a brilliant twist of fate that we had to come back to Texas, where I'm from, to get the final amount of money to make the film. We're very proud to be here and were very happy that there seems to be a buzz in the room."
Close's determination and talent was a draw for García when he was faced with the opportunity to direct the project.
"The fact that it was Glenn's dream project [made me want to get involved], that it was something that she was trying to make for years," García said. "So just the fact that she asked me to be a part of that was just, that would have been enough."
However, García also expressed that the story line of Albert Nobbs intrigued him.
"I read the script and I found in it the subject matter where people are trying to survive, trying to pretend to be something that they're not in order to survive," García said. "That I thought was timeless, that I thought was worth telling. And then the character of Nobbs herself, which is very unique, very unusual."
Nobbs is a complex character, who struggles with her identity after disguising herself as a man for the majority of her life in order to make a living in 19th century Ireland. While the film appears to have LGBT undertones, Close explains that the film is not about Nobbs' sexual orientation, but rather her journey to find herself.
"That's what is interesting about Albert, because she's an unfinished person," Close said. "She became invisible when she was 14. She is not a lesbian, she is not a cross dresser, she is not a transvestite. She doesn't know really who she is. But I think there are certainly gender issues. The thing that I think is powerful about this story is that it speaks to all kinds of people. I think [the LGBT] community will really embrace this film because it shows things that you've never seen before in film and I think that is important. I think ultimately, gender should be irrelevant. I think what is important is that human beings can find a place of safety and connection."
This film, set in the 1800s, confronts issues that have faced human beings for centuries.
"It is a period piece because the story is set in a period," García said. "What I thought was timeless about it is that aspect of who you are, what part of yourself do you have to sacrifice in order to fit in, what part of yourself do you not tell anyone about, in order to make it in your world, in order to be accepted. I think that's something that goes beyond time, beyond sexual identity. I think everyone always has something that they have to sacrifice in order to be accepted."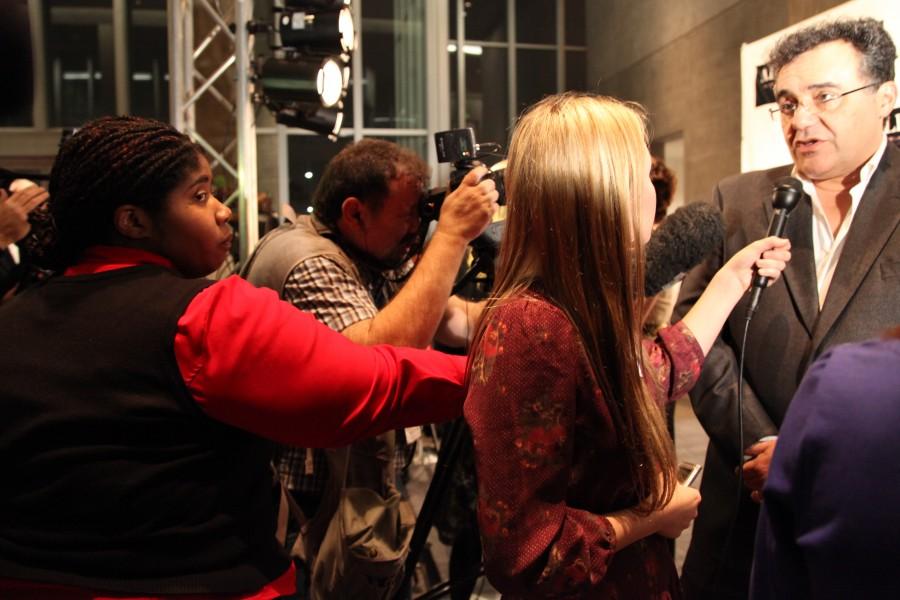 Albert Nobbs has already received high acclaim. Close has been nominated for both a SAG and Golden Globe award for her performance as lead actress in Albert Nobbs.  "Lay Your Head Down", the film's original song, whose lyrics were written by Close herself, is also nominated for a Golden Globe.
"Well you never expect [success and recognition], there are so many things that can go wrong that you can't control," Curtis said. "You hope for it and all you can do as a producer is hire the most experienced, talented, appropriate people for the project, and then hope that the chemistry between the people you hire works. Rodrigo and Glenn are such good people from a human standpoint and they bring that to work. So it really made getting up at 5 a.m. and shooting in the coldest winter Ireland had had one of the warmest experiences of my life."
As the minds behind Albert Nobbs stepped off the "gray" carpet and into the crowd of well dressed movie goers, one thing was certain; Albert Nobbs was finally getting her moment of recognition.