#BlackHistoryMonth: Breaking the race barrier
Jack Johnson. Jesse Owens. Jackie Robinson.
All of these athletes worked tremendous amounts to break the same barrier: race. It wasn't until 1908 that Johnson became the first African-American Heavyweight Champion of the World, even though he defended the colored heavyweight title numerous times. It wasn't until 1936 in the Berlin Olympics that Jesse Owens was able to win four track and field medals as a Black athlete and it wasn't until 1947 when Robinson was able to break the "color line" that segregated baseball by race. 
Breaking barriers
Prior to World War II, African Americans were subjected to racial barriers through laws like the Jim Crow Laws that monopolized on racial prejudice. Even though these laws were abolished shortly after World War II, African Americans continued to face racist ideals into the 21st century. 
For Black athletes, segregation laws and racial prejudices kept them from being able to play with their white counterparts. The majority of sports stayed segregated until the mid–20th century, with integration efforts for the National Football League starting in around 1930 and integration of Major League Baseball in around 1950. 
Earl Loyd became the first African American player to play in an NBA game in 1950 with the Washington Capitols. Kenny Washington made history by becoming the first African American to sign an NFL contract with the Cleveland Rams in 1946. Althea Gibson changed the course of tennis and golf by becoming the first Black female athlete to desegregate both sports. As groundbreaking as these achievements were, each athlete faced their own unique set of challenges. When Jack Johnson claimed the title of heavyweight boxing champion, violent riots followed for days.
Even though these athletes and many more faced certain prejudices, they opened up opportunities for hundreds of fellow colored athletes to follow.
Present day
Over the years, the number of African Americans in the sports industry has increased, while being  limited to a few select sports: basketball and football.
In 2020, around 75% of NBA Players were African American and in 2019, around 60% of NFL players were African American. 
On the other hand, sports such as baseball, wrestling and golf don't have nearly as many Black athletes, with the number of Black athletes in the MLB reaching a low of around 10%.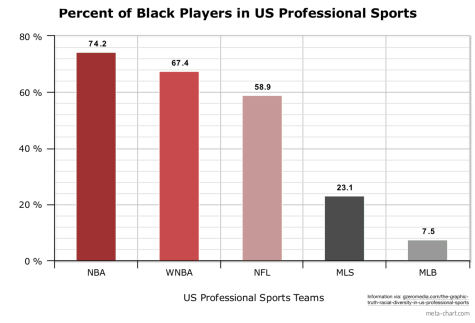 Coppell High School senior athlete Simi Socks, who plays football and wrestles highlights how underrepresentation of Black athletes can be seen in his experience as a wrestler at Coppell. 
"When I think of athletes, a lot of them aren't wrestlers," Socks said. "A lot of Black athletes play football because that's how the demographic lines up for the sport. When I was growing up, most of the people that looked like me played basketball and football, so I played basketball and football. I didn't start wrestling until my sophomore year of high school because I didn't grow up looking at things and thinking 'oh I want to go be a wrestler.'"
Females in sports
While many Black athletes are commonly seen in the Summer Olympics, there was a low number of Black athletes who participated in the recent Winter Olympics. There was, however, a rising number of female Black athletes at this year's winter games.
American bobsledder Elana Meyers Taylor won Bronze at this year's Winter Olympics, earning her the title of becoming the most decorated Black athlete in the Winter Olympics. 
For years, Black female athletes have faced the same setbacks as Black male athletes, due to the belief that females have to meet certain societal expectations. Alongside their male counterparts, they have fought for equality, and have been granted it to certain extents. We see more Black female athletes, such as gymnast Simone Biles and tennis star Serena Williams, participating in sports, pushing for the inclusion of females in male dominated activities.
"
Sports are usually gender based; females don't get enough recognition – the highest paid WNBA player [makes] less than the lowest paid NBA player.
— India Howard
"Gabby Douglas and Serena Williams are two powerful Black women in sports who are really good at what they do and they fight through a bunch of adversity that comes with it," Coppell senior forward India Howard said. "There is an under-acknowledgement of them. Sports are usually gender based; females don't get enough recognition – the highest paid WNBA player [makes] less than the lowest paid NBA player. There is a giant margin, [but] at the end of the day, both teams are doing the same job, they're both doing the same thing; it's harder to do the same job as someone else, knowing you get paid significantly less, so at that point, [the yearning to play] comes just from within."
With the number of Black athletes rising, so is the push for racial inclusion, but it must be kept in mind that racism and unfair punishments are still faced by many who are of different colors.
"There is definitely a lot of underrepresentation for Black athletes," Coppell sophomore track runner Sedem Buatsi said. "[American track and field sprinter] Sha'Carri Richardson, she wasn't allowed to compete because of drug use, and she didn't have the same opportunity as a lot of other people did when they were caught using performance enhancing drugs like the 15–year old Russian skater Kamila Valieva."
Follow Sri Achanta (@sriachanta_) and @SidekickSports on Twitter.
Leave a Comment
About the Contributors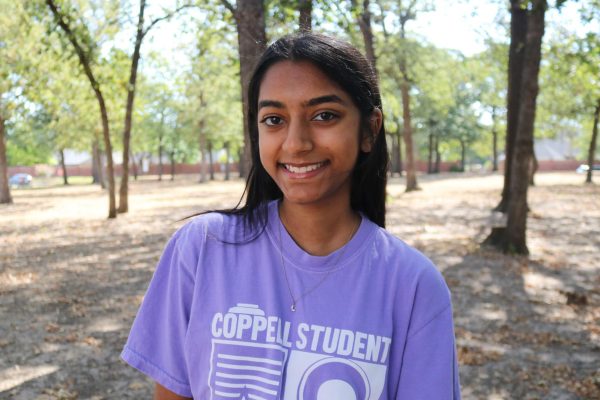 Sri Achanta, Executive Editor-in-Chief
Sri Achanta is a senior and the executive editor-and-chief of The Sidekick. She finds joy in finding narratives within conversations to create compelling...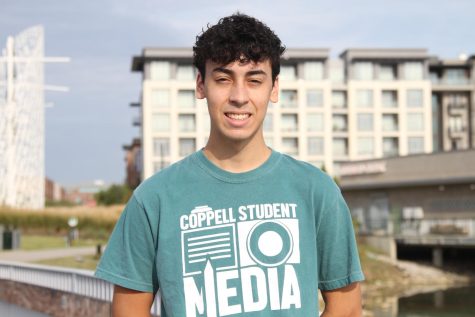 Josh Campbell, Page Design Editor
Josh is a Senior designer, photographer and writer on his third year for The Sidekick, as well as the Page Design Editor for our print issues. He has experience...