#BlackHistoryMonth: The show behind the curtains (with video)
Miller embracing identity, leading in theater
The curtains open and the lights flash. The crowd is full, all eyes on the stage. But the front conveys only half the story.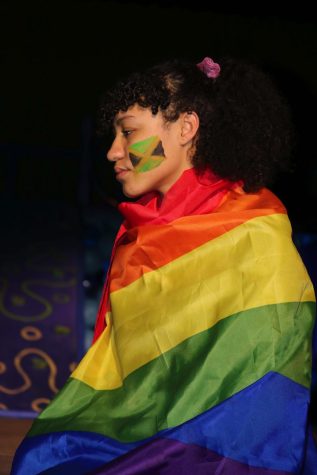 Backstage is where the magic lies. 
Coppell High School senior stage director Kai Miller loves the world of acting. Though they are not on stage reciting dialogues, their effort culminates behind the curtains. Leading plays such as "Trap", Miller oversees all parts of production and leads the various technician crews working on the plays. 
"It's really fun to see things come to life based on what you put into building your entire team," Miller said. "I liked doing "Trap" earlier this year; I was a manager for that. Seeing everything come together in the end and just being proud of all of my actors and all my crew [was] really fun."
According to CHS theater director Karen Ruth, Miller has shown immense growth since their sophomore year, 
"Kai has grown exponentially since I first met [them]," Ruth said. "[They are] extremely talented. I first worked with [them in their] sophomore year, and we were doing this show called 'The Elephant's Graveyard.' It was probably the biggest roll [they] had to date. The quieter person that I had seen before into this really started to be outspoken and energetic, little like a ball of fire. 
Ruth thinks one of Miller's best traits is their ability to take initiative, causing them to get leadership roles in productions. 
"Kai is not afraid to speak up," Ruth said. "They are not afraid to do what needs to be done. They are a terrific role model for [their] classmates. It's been a blast to watch [them] grow because they really are so talented and brilliant."
It is this same quality that allows the theater crew to mesh well with Miller. Coppell junior Austin Morris felt an instant connection with Miller as soon as they met, creating a lasting bond. Miller met Morris last year in theater and have been friends and crewmates since. 
"There's a lot about Kai that's pretty awesome," Morris said. "I feel like I can bond with [them] even when I'm not saying anything."
But there is so much more to them than their role as stage manager. Miller's identity encapsulates two minority groups. With a Black Jamaican mother and a white father from Ohio,  Miller is biracial, but identifies with their one ethnic group. 
"I mostly just identify as Black because of the world we're in today," Miller said. "If I were to go to one of those 'circle one that applies,' and I chose white, people would be like, 'no, that wouldn't line up.' I'm going to choose Black, because that's what the world sees, and that's what I see. I've been raised by my mom; she's Black and that's just who I am." 
Black History Month is a time to honor Black heritage and highlights the cultural significance of historical events that lead to modern social issues. 
With roots from Jamaica, Miller's enriched legacy provides them with the tools to acknowledge the diverse histories that make up the Black community. Miller learned a lot about their cultural heritage by visiting their grandparents in Jamaica over the summers, gaining knowledge on the comings of their family. 
"My history gives me a deeper appreciation for what other people have been through and into my culture," Miller said. "[I] understand there's so many different backgrounds that people are coming from, so many different places, actions, culture and everything that's built them to be who they are, and get a deeper appreciation for that by understanding [my]own background."
During Black History Month, Miller emphasizes the spotlight needs to shine on the unscrutinized Black issues more than ones that are present in textbooks. 
"Black history didn't start with slavery," Miller said. "Sure, slavery is a very big significant part of Black culture and history, but history is about really digging into the origins and [how that leads up to] where we are today."
They apply the same principle to honoring Black leaders.  
"It shouldn't just be the same token Martin Luther King Jr. and Nelson Mandela over and over again, because we already know who those people are," Miller said. "Yes, they're very important, but at the same time, you should be honoring our Black poets, artists [and] writers because that's such a significant part of who we are." 
Coming into terms with their identity was a journey for Miller, but it was their surroundings that encouraged them to fully be themselves.
"I am lucky enough to have a really strong community around me," Miller said. "Especially in theater; we've always been really tight friends. It's been a very accepting area. It's mostly an internal struggle, and there's such a lack of representation everywhere that you don't really feel connected to anywhere. It's been a struggle, but it's also been really empowering for me. You want to be the representation you don't see in the world so other people can look up to you, because you wish you have something to look up to." 
Because Jamaica is an integral part of who Kai is, they hope to sustain those hearty environments by becoming a wildlife conservationist. However, no matter the career path, Ruth affirms notability in Kai's future. 
"You're going to hear Kai Miller's name," Ruth said. "I can promise you. I don't know what Kai wants to do for [their] future. But man, the world is [their] oyster as they say. [They've] got the world at [their] fingertips." 
Follow Sreeja (@sreejamudumby) and @CHSCampus News on Twitter.