I am Iron Man!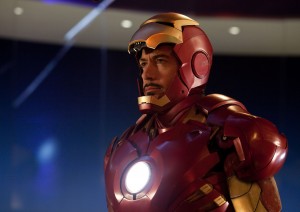 By Wren Culp
Staff Writer
Last night, I attended the preview screening of Iron Man 2 at Northpark Mall. The movie was packed and the crowd was lively. But was the hype of Iron Man really worth it in the end?
On my sheet it said to arrive precisely an hour early, and that's what I did. When I arrived, it looked around the corner as I came up the escalator, only to realize that I was not the only one excited to see this movie.
It looked like people were lined up to meet Iron Man. There were people with lawn chairs, coolers with beverages, and even one person had DVD player watching the original Iron Man.
Now, we move onto the actual movie. The movie itself felt like a total sequel in the beginning. Iron Man made his entrance with the big jump out a plane, flying by fireworks, and landing on a stage.
The movie progresses and you got this "I have already seen this, but it's a little new and refreshing."  The movie came and went as any movie does. When it finally ended, I sat there in my chair pondering for a minute.
I was really surprised by specifically one man's performance, Mickey Rourke. He played the villain in the movie whose name was Ivan Vonke, a nuclear physicist. Rourke filled is roll very well and had some great people behind him to make him seem more "evil".
Overall, I decided that the movie was just "ok". It was nothing too special, but it wasn't that awful.  I recommend seeing it for anybody that likes good action and good acting. And if you're a fan of dialogue, then definitely see the movie.
Overall: 6 out of 10