Pinning the problem: After Mack Beggs controversy, new implications made for future of Texas UIL rules, public debate over transgender issues
The moment the boos were uttered, the entire crowd in the heated Allen High School arena heard it. The coaches. Viewers. Fans. Opponents. The Washington Post, The Dallas Morning News, ESPN, USA Today, CNN.
Almost everyone noticed it.
Except Mack Beggs.
The 17-year-old Euless Trinity wrestler had just won the Class 6A girls' wrestling state title, the first transgender male participant to do so. He had faced such boos from some of his peers for a long time, but since a young age, they pushed him to persevere.
"You'll never be a boy."
He benched 245 pounds.
"Why don't you just wrestle with boys?"
He practiced his pins and throws. That week of the championship, he "trained harder than [he] ever had in [his] life."
For many others involved in the sphere of competitive high school wrestling, the week of the Texas Wrestling State Tournament, Feb. 23-24, was a stressful and intense time.
Media outlets from all over the state and country were present on the mat, in the midst of frenzied debates over controversial issues concerning Beggs' use of testosterone, a performance-enhancing drug, and Texas UIL's contested birth certificate policy.
After overwhelming dissent occurred over the birth certificate policy, which limits Texas high school athletes to competing within the gender listed on their birth certificate, the organization released a press statement concerning the rule prior to the state finals.
On whether the birth certificate rule may change in the future, the UIL states it is possible, as "[all] UIL rules are created by, and subject to change by, the Legislative Council, which meets twice annually." The council will meet in June.
Many affected by the rule are hoping for a change, but the public is divided on expectations of when or how the change may occur.
James Baudhuin, the Coppell attorney who filed a lawsuit against Texas UIL on behalf of a parent whose daughter wrestled and lost to Beggs during regionals, is in support of the birth certificate rule itself.
However, he feels that supplementing the policy with a condition that addresses exceptional cases such as Beggs' is necessary, to ensure fairness for girls in the same weight class who do not have the "competitive advantage of [taking steroids]."
"The problem is that [the UIL] doesn't really have a rule to address [this situation]," Baudhuin said. "[Beggs] truly falls into the gray area. They've got a wall there that says boys against boys, girls against girls, and there's really no remedy in the middle if you're ineligible to compete against the girls because you're taking testosterone."
According to Baudhuin, there is no guarantee that the UIL will be forced by a judge to create a rule to allow Beggs to wrestle boys, if the organization loses the lawsuit. Although Baudhuin is in support of Beggs being able to compete, he intends to argue only the case for the wrestler to be suspended from competing against girls.
Coppell High School wrestling coach Chip Lowery is in agreement with Baudhuin's position on the problem of Beggs' use of testosterone.
"Any athlete, boy or girl, that is on performance-enhancing drugs, has an athletic advantage," Lowery said. "This was never about [Beggs] being [transgender]. It's that a person was performing in high school athletics and taking PEDs."
In terms of the physique of wrestling, Lowery sees the division between boys and girls as very distinct.
"There is absolutely a difference between the strengths of boys and girls of similar sizes nearly all the time," Lowery said. "Once you enter high school, strength becomes a big factor. In the sport of wrestling, if you are significantly stronger, then you have a definite advantage."
Beggs, who started undergoing hormonal therapy in October 2015, is currently at a Testosterone to Epitestosterone ratio of 4:1, which is lower than UIL's allowed maximum of 6:1 for athletes who have been prescribed the steroid "by a medical practitioner for a valid medical purpose".
Beggs acknowledges that there are "obviously some differences" between strengths of boys and girls.
However, Beggs states that, based on experience wrestling with boys at USA Wrestling Greco-Roman events during the last two summers, competitive levels are "kind of the same". Beggs credits extensive training for his prowess, rather than his hormone injections.
Beggs believes the boos he received at the tournament were equally about discriminatory attitudes towards transgender people in Texas, as much as his usage of performance enhancing drugs. Such an issue could be especially relevant in the state now as the new bathroom bill, Senate Bill 6, continues to be debated in Austin, sparking further dispute over transgender issues.
 "Sometimes, there are some really bad comments," Beggs said. "And for a second, [reading or hearing them], I don't want to wrestle anymore. To the people who say these comments, you don't have to be ignorant and hateful; you choose to do that. I urge such people to take a step back for a second and put themselves in a transgender person's shoes."
Sophomore Allie Baudhuin, a CHS varsity wrestler and daughter of James Baudhuin, supports her father's lawsuit, but blames the issue with Beggs in part on a "lack of progressiveness" in female wrestling. Allie is a friend of Beggs and has previously wrestled with him before February's tournament.
"The problem with girls wrestling is that it isn't advanced enough as we want it to be," Allie said. "There aren't even enough schools that provide girls wrestling; there aren't big teams. It's pretty sad that it isn't evolved enough.
"Performance enhancing drugs are obviously against the rules. [The controversy is] also a little about ignorance of transgender people. But the fact that Mack's transitioning, its hard ethically and morally to compromise everybody. Once this situation gets cleared, though, more [such situations] will come, and the culture [surrounding transgender athletes in wrestling] will improve."
With the hearing against UIL being tentatively set to occur in a Travis County Court on April 25, James Baudhuin hopes that the organization will eventually choose to adopt similar policy to the National Collegiate Athletic Association (NCAA). Such a decision will bring significant change to Texas UIL policy for transgender athletes, which is currently classified as 'discriminatory'  by transathlete.com based on requirements for birth certificate or surgery.
The transgender-inclusive policy of the NCAA requires that transgender males taking testosterone participate in a males team, making them ineligible for female teams. Baudhuin advocates this policy as he believes it would engender fairness for the girls' wrestlers.
"If you are a female becoming a male, the first time you get a shot, you're not a boy, from the standpoint of competition," Baudhuin said. "I don't care if it's one little shot of testosterone – you're no longer wrestling or swimming against females. You're one step towards being a boy; well, that's one step farther than all the other girls are."
Beggs previously requested UIL to be allowed to compete with boys; however, his request was denied. In August last year, 95 percent of the UIL-member school superintendents voted in favor of the birth certificate rule.
With such an overwhelming majority of support for it, Beggs does not expect that he will be able to wrestle boys his senior year of high school. But he hopes the change will occur sometime in the future.
"Texas is a really conservative state, and everyone was hoping they would pass the birth certificate rule – because, I mean, it was either that or we don't compete at all," Beggs said. "People say [transgender athletes] can compete at an outside league, but those don't exist; they're not at the level as what we want to be at. Why do we have to conform with people who don't understand or are afraid to understand?
"I hope to try to make them see that the policy that they have put in place is not a good one, and it doesn't work and will never work. It won't stop transgender athletes from competing. They will continue to transition and they will continue to be who they are."
Amidst the boos, however, there is also significant positive support for Beggs and his struggle.
"I've gotten so many messages from other transgender athletes, saying 'I could never do that, I'm glad you're advocating for us," Beggs said. " I don't even know how I'm doing it, but one person has to do it sooner or later. And I guess that person's me. It's really good to advocate for kids who don't have that sort of support, but now, in the future they'll be able to do what they want to do."
With decisions yet to be made by Texas UIL and state courts, it remains in question whether Beggs, and in coming years, other transgender athletes in Texas, will be allowed to compete against the gender they identify as.
View Comments (8)
About the Contributor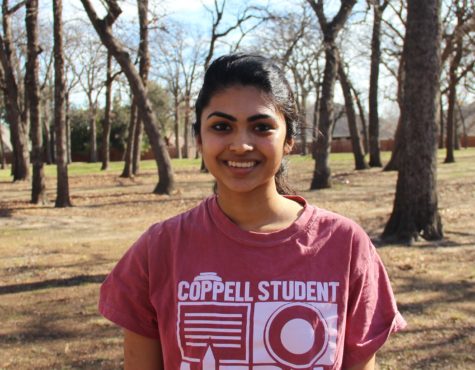 Meha Srivastav, Social Media Manager
Meha Srivastav writes, or rather, passionately consumes the wee hours of night writing for The Sidekick. When not writing for The Sidekick, she can be...