Local production of Little Mermaid is a sea of costumes, stage makeup (with video)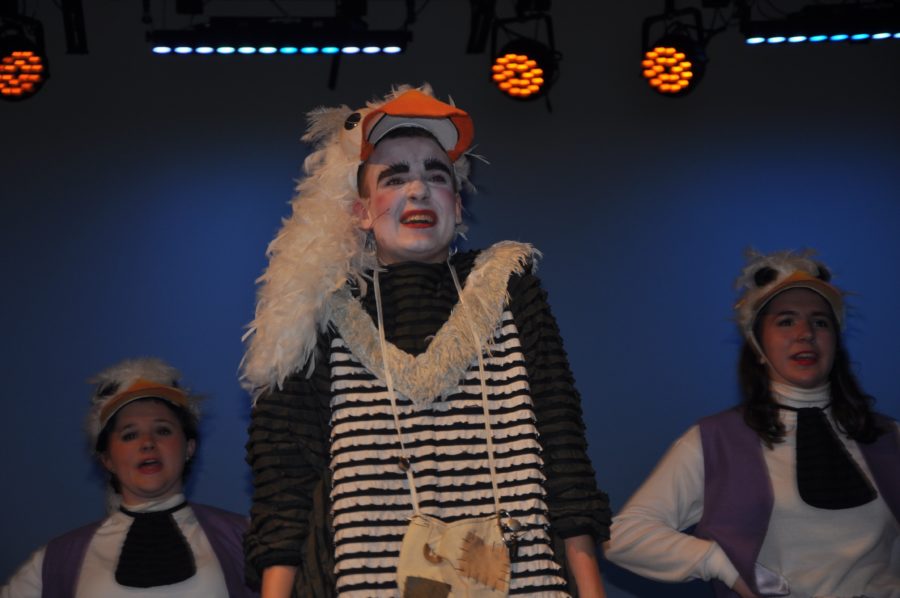 Heelys may be long out of style for the rest of us, but a whole new world of fashion took shape at First United Methodist Church of Coppell's production of "The Little Mermaid".
The musical, which ran from Thursday to Saturday, was directed by Music Ministry Director Ricky Mitchell and second grade teacher at Pinkerton Elementary, Emily Baker. It follows mermaid Ariel's (Coppell High School junior Katie Love) love for a human, Prince Eric (CHS senior Ken Simmons) and their struggle to overcome their differences in order to be together.
The actors and actresses not only performed with clarity, portraying their parts as if they fit into the character's personalities like gloves, but also looked the part in elaborate costuming and makeup.  
"It's so crazy but fun," CHS senior Allison Davis (Ursula, the evil villain who gives Ariel legs) said about her spectacular attire.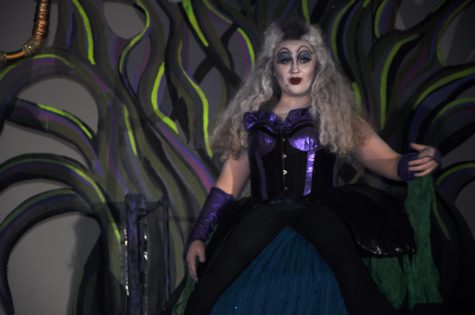 The costumes and makeup were the work of dedicated parents and overseen by costume coordinator Jennifer Harper.
"The costumes are really kind of the first thing people see," Harper said. "So even before you hear words come out of their mouths you see the costumes and so for this show since it's so bright and vibrant, it just adds a little more color."
Some of the most elaborate costuming included Ursula's gown, the eels' (Ursula's slippery sidekicks played by Coppell Middle School North eighth grader Jamie Welsh and seventh grader Emma Harper) flashing ensembles and silver heelys and Flounder's (Ariel's best friend played by freshman Drew Scrivner) colorful attire.
But the costumes themselves were not alone in their ability to impress. Ariel's costume changes were so fast it had some of the audience murmuring in amazement at how she had made such a speedy turn around.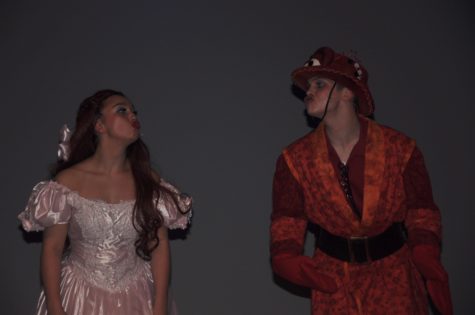 Paired with the characters incredible attires was intricate and brilliant hair and makeup. The eels' scaly faces, Ursula's striped hair, and King Triton's wrinkles were detailed and artistic ways the show made its audience a part of their world.
The group of performers, which included many CHS students, embraced the show with elaborate displays of character and confident sailing voices as they danced and sang the night away.
"The audience really pumped up their energy," choreographer Whitney Bollinger said. "They really took ahold of it and made it their own."
Follow Amelia @ameliavanyo
Video by Amelia Vanyo.
About the Writer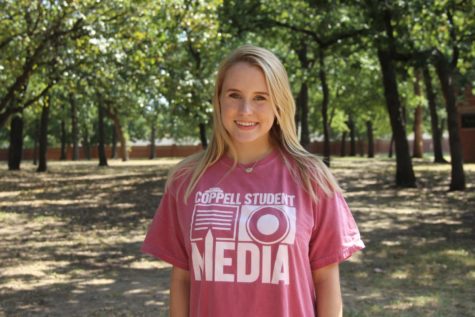 Amelia Vanyo, Editor-In-Chief, Executive News Editor
Amelia is a senior and has been a part of The Sidekick for two years. This year she is serving as the paper's Editor-In-Chief and Executive News Editor....