Undersized defensive players shine as cohesive unit in third consecutive district romp
ADDISON – The largest man in its linebacking corps is a mere 6 feet 1 inch, 200 pounds. The average height of its defensive line is right around 6 feet tall. But the Coppell defense does not show it.
Unrelenting pursuing the ball carrier all night long, the Cowboys (5-2 overall, 3-1 District 9-6A) played much bigger than their size, thrashing W.T. White for a 40-16 victory (2-5, 1-2) at Loos Stadium.
Allowing only 198 total yards to the Longhorns' offense, this defensive unit played sound in all facets of the game. In the ground game, W.T. White only racked up 3.7 yards per carry, and through the air, the Cowboys picked off two passes and allowed 113 passing yards.
"We're really working well together, team unity is the biggest factor in our defense," senior outside linebacker Ryan Jones said. "Even though we're small and our defensive line is young, we're really working well together."
This unity that has carried the team through the last several weeks of play was on full display, especially with the return of senior outside linebacker Rodrigo De la Garza.
"They want to play hard for each other," Coppell coach Mike DeWitt said. "When you have kids that want to do that, you've got a good group."
With De la Garza back in the lineup, the outside linebacking corps was able to rotate their key three players to keep their legs rested for the entirety of the game.
"That helped us a lot," Jones said. "It kept us from being tired and helped our freshness. Us having a three-man rotation in the outside linebackers helps a lot."
On offense, the Cowboys kept their white-hot district play rolling, as junior quarterback Brady McBride threw for 162 yards and a touchdown and ran for two more. McBride continued to do what he has done well all year, making plays with his feet and throwing on the run..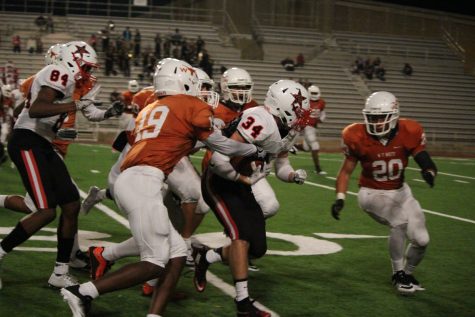 As a group, this offensive unit has, for the third week in a row, moved at will over three District 9-6A defenses. As it has progressed throughout this season, the play of the offensive line has improved on a weekly basis.
"A couple weeks ago, we really challenged the o-line," McBride said. "They really responded well. That's really been the deciding factor on our success."
As the Cowboys move deeper into district play next week at home against Richardson Berkner, this high-motor offense paired with a defense that plays together will be a force in District 9-6A.
Leave a Comment
About the Contributor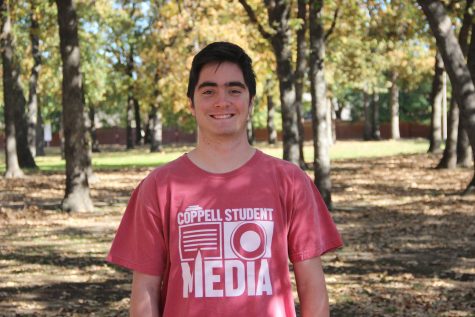 Marcus Krum, Executive Sports Editor
Marcus Krum is a senior at Coppell High School. In his third year on staff, he is the sports executive editor. In his years on staff, he focuses mainly...