Evans wittles more than an ordinary pen
Drilling holes, carving wood and handling brass are just some of the things that you would find Coppell High School junior Emily Evans doing in her free time, in order to make her own handcrafted wooden pens.
In July, Evans was gifted a lathe from her parents for her 16th birthday. A lathe is a device that is used to shape wood (or metal) from tools that spins on a rotating axis.
She primarily wanted a lathe was because of MythBusters host Adam Savage and his YouTube channel, Tested. The channel highlights Savage and his partners making various gadgets out of a lathe in a woodshop.
"I was really inspired by that [YouTube channel] and I wanted to make things and this seemed like the easiest to understand for me," Evans said. "I'm just very glad that my parents got me that lathe."
Although her parents gifted the lathe to her, they still had some concerns.
"Safety was my first concern. I was reluctant at first, but have always encouraged Emily to approach new endeavors with courage and enthusiasm," mother Brenda Evans said. "I decided to take my own advice and not let my fear stand in the way of Emily's creativity."
The process of making a pen can be tedious. First, Evans obtains blanks of different types of wood, about the size of a pen. Then she drills a hole in the middle of each one and glues a brass tube so the pen kit can fit in there later on. The only part of the pen she does not make is the pen set, which are the metal and ink parts of the pen.
"I'm always happy and I try to stay humble. It makes me want to make more pens and better pens," Evans said.
Evans has recently started adding lines to the pens. She carves them in using a skew and then burns the lines into the wood using a wire tool which she makes herself from the rings of a spiral journal.
"I was surprised. It was a lot easier than I thought it would be but as I add new techniques I have to spend more time to learn," Evans said.
Another YouTube channel, Peter Brown, has been a source of her inspiration. He does wood projects that require the use of a lathe.
"I see her passion in how proud she is to tell people about how she made the pens," friend Jade Njo said. "Each pen is so beautifully crafted that I can tell she put a lot of time and effort into making them."
The time it takes for Evans to completely finish a pen can range from 20 minutes to an hour, depending on if she is experimenting on the type of pen or if she has already made the same type previously before.
Google is her main source for how to make the pens. Art I would be the closest form of class that she took related to pen-making, but that did not touch the surface of pen-making, so it was completely self-taught for her.
"This hobby has given her an appreciation for the potential to be found in even the most humble scraps of wood," Mrs. Evans said. "I believe that making pens is helping her to appreciate the true potential to be found in nature and in herself."
Evans would love to see her pen-making sprout into a future business, but at this moment she does not see it as her main career.
"Emily is very creative, as she grows and learns more about her lathe and the world of wood she will make many more beautiful things," father Tom Evans said. "As she goes through college and later in life, she most likely will use this skill to supplement her income selling pens along with other items."
Her two main supporters from the very beginning have been her mother and father.
"[She] has always had a creative streak and this interest has given her a very satisfying way to demonstrate her talents," Mr. Evans said. "It's one more thing that brings confidence and happiness which we all want. Who would have thought a pen could do so much."
The pens she makes can have different finishes like copper or gold and different types of wood like poplar and rosewood.
"I'm always happy and I try to stay humble [when someone compliments my pens]. It makes me want to make more pens and better pens," Evans said.
Along with making them, she also sells them to her friends and family.
"The reason why I sell them is because I want to make more, this is something that I really like doing and I want to improve on," Evans said.
She hopes to make a website soon so people can purchase them online. As of now, she simply asks people and carries her pens around everywhere she goes. The prices of her pens range from $10 to $15.
"It was kind of surreal, at first. I had hoped that she would be pleased with the quality of her work, but had no idea that she would enjoy making pens so much and be able to sell them," Mrs. Evans said. "I am very proud of her."
If you are interested in buying a pen, contact her at [email protected] or [email protected].
About the Writer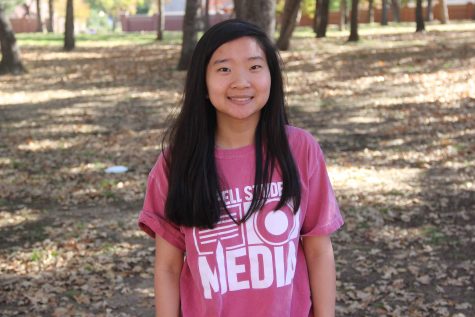 Gracie Blackwell, Business Manager, Social Media Manager
Gracie is a senior and third year staffer for The Sidekick newspaper. In her free time, she enjoys hanging out with friends, watching movies and traveling. With...