By Gabby Sahm
Staff Writer
@gabbysahm
The grounds of Andy Brown Park East were filled with music, food, crafts and even a zip line on Saturday as the City of Coppell hosted the yearly fall time community gathering Oak Fest.
The festival celebrates the diversity of Coppell, while showing off some local band's, and having Professor Brainius host a science show for children. Oak Fest also had a arts and crafts tent where do it yourself (DIY) crafters, and homemade bakers could show off their goods to perspective buyers.  
Morgan Crumm, owner of the Crumm Cakes, had a booth set up in the tent to show off her organic and naturally made tea cakes, cake balls and cupcakes for the first time.
"We saw that Oak Fest was taking applications for vendors," Crumm said. "We thought that this would a good chance to see if people respond well to our stuff."
Crumm was anxious to introduce her creations to the community and to spend so quality time with her family.
"It is a great environment and [my family] was excited about coming here and playing and possibly helping," Crumm said. "You also get to see all the cool people in Coppell and see faces that you don't normally see."  
If the cakes were not enough into a food craze, Oak Fest also had an assortment of food trucks that decided to stop by and dish out some savory treats.
Rocco Sofiio, owner of food truck Pizza Cones, decided to bring his unique twist on pizza to the festival. He has always loved to people of Coppell, and wanted to give them the chance to enjoy his food while they walked around and saw everything Oak Fest was offering.
"The people and the families make it really fun," Sofiio said. "I really enjoy them coming to us and experiencing Pizza Cones.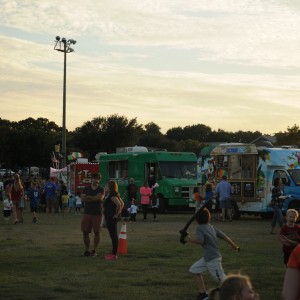 While some attended for the food and live music, children had more adventurous things in mind. This year Oak Fest incorporated a zip line, along with other various bounce houses, face painting and a popular photo booth.
Jessica Moss brought her family to Oak Fest for the third time this year. Though she does not live in Coppell, she still likes bringing her family here to see fun times Oak Fest can offer.
"[Oak Fest] is something fun to do with the kids, and just hang out as a family," Moss said. "Plus the kids were very excited about the zip line this year."