By Tuulia Koponen
Business/Public Relations Manager
@tuulipia
DENVER – "I wasn't a smarter guy."
Just a few sentences into his speech for the session entitled "Good journalism can be good business", 5280 Publishing founder, president and editor-in chief Daniel Brogan had me hooked.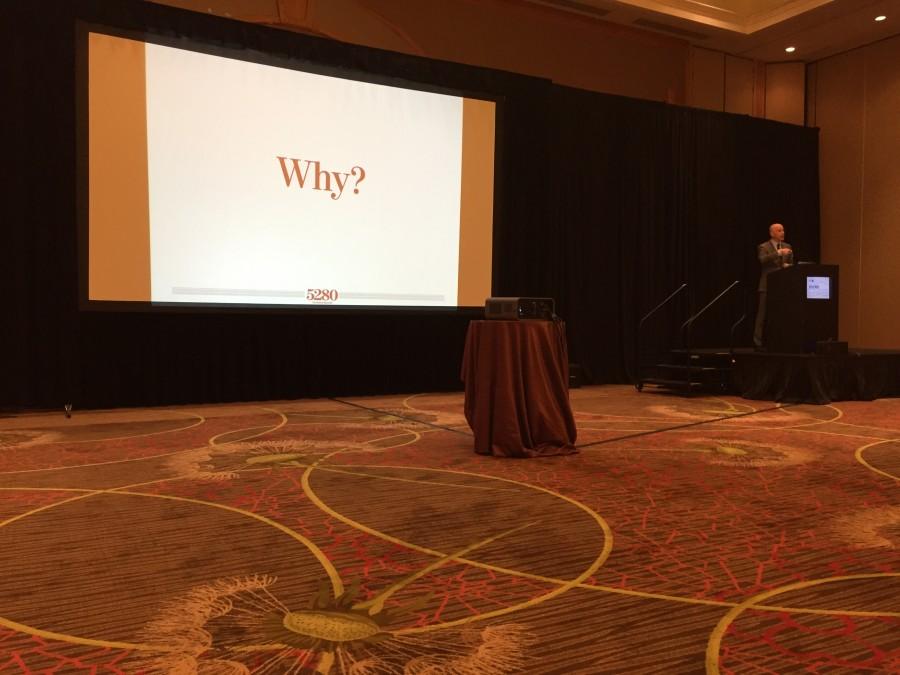 "I became kind of obsessed."
And the statement that followed could have been the exact words coming out of my mouth describing how I came to be a journalist.
In a sense, like Brogan when he started his magazine 5280, I wasn't a smarter guy. I dove into a field which, like the Los Angeles Times investigative reporter Zahira Torres claimed in her keynote speech, is not a job you take if you want to make money.
But, as Torres mentioned right after making the claim that you do not go into journalism if you want to make money, those that do this would not want to do anything else.
And that's where the obsession rolls in.
As I recalled to freshmen EXCEL Business & Industry classes in January, ever since I have been able to master the English language, I have loved writing. I have loved stringing words together to convey something beautiful – whether that is completely heart-breaking, heart-wrenching or heart-warming.
That love for writing matured from forming simple sentences to writing terribly lame little short stories, even going so far as to try and create a series of stories and make cover art for them. It grew to keeping a journal to write down any passionate thoughts and philosophies on life I happened to develop in the spur of the moment.
I took a chance on taking a journalism class my freshman year because I loved writing. I applied for the school newspaper, I got in. And I never looked back.
But, that would be a lie. I did look back. I looked back so many times. I looked back with tears and apprehension and angst and fear and the want to quit – so many times.
All of these emotions sparked from my fear of failure. I was afraid of writing a poor story, of going about an interview the wrong way, of sounding too nervous, being too over-friendly. I was afraid of doing something wrong in regards to journalism whether somebody declared I was or whether it was my own silly, little horror.
But, this horror was so very real to me that it drew me to the edge so many times. It made me want to cry so many times. And I did cry so many times. I struggled to become a journalist because I was afraid of doing something wrong. But, somehow from that struggle I became one.
This is where Brogan's second statement that caught my attention comes in. I grew to become a journalist because I became obsessed with the idea of journalism. I became obsessed with the idea of telling stories, telling stories that matter and the possibility of making a difference whether it is for me, those I write about, or the readers.
I learned that I am not a bad journalist if I show emotion. I learned that it is OK as a journalist to show my excitement when people tell me about their passions, about something they have created from their own two hands. I learned that I have to dig to find the good stuff. And sometimes I can create the good stuff by working with what I have got to make something extraordinary.
I have learned the best way to learn is by doing and that in order to be a good – no, rather great – journalist, as Pulitzer Prize winning journalist Dave Phillipps stated in the keynote speech last night, you have to get a lot of work under your belt.
And over my time on The Sidekick, I certainly have gotten some work under my belt. I have got some stories I am proud of. I have got some interviews that just stick out at me as being great, even though I never interviewed someone famous or notable, but someone that exuded a passion for something.
So if Austin-based writer and reporter Bobby Hawthorne were to ask me "what was the moment?" I would say this:
The 'moment' for me was a dark, stormy Thursday night in April last year when my mother drove me, in spite of severe weather warnings, to the William T. Cozby Public Library in Coppell where I was to interview a librarian about the upcoming programs for the spring that turned out to be the best interview I ever had simply because the two individuals I interviewed were passionate, grateful and the conversation could have been one between three best friends.
That was the moment I recognized for myself the beauty that is journalism and that furthermore confirmed my belief that, whether it be through public relations or full-fledged reporting:
I so want to do this as my career, even if it doesn't bring the big bucks, because let's face it; I do not want to do anything else – ever.