After winning duals, Murillo lone champion for Coppell in Santa Slam Individuals
By Alex Nicoll
Editor-in-Chief
@NicollMac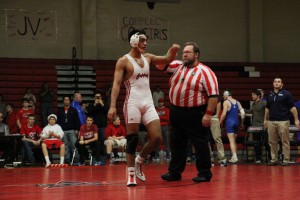 While the lights were dimmed and all eyes on the mat at center stage, applause erupted from all sides as each finalist was called out Saturday during the Knockout Sportswear Santa Slam Individuals at Coppell High School.
When Coppell senior David Murillo was called by coach Chip Lowery a booming sound resonated around the gym as the host team cheered him on.
The gym was even louder after he won the championship.
Murillo was the lone finalist for Coppell on both the boys and girls side and placed the highest after winning the 160 pound weight class. Overall, the Cowboys had seven wrestlers place: four for boys and three for girls.
"Overall I would have liked for us to better as a team but that would have meant that someone would have to achieve more than they were projected to do," Lowery said. "You see the tournament is based on criteria and we did not have that many high seeds."
Seniors Devin Wilson (132) and captain Jesse McPherson (126) placed 4th in their respective weight classes. Senior Nick McIntosh (220), who entered the tournament unseeded, placed 3rd.
"I definitely expected to place, but I expected to place 3rd not 4th," Wilson said.
Lowery was more impressed with McIntosh's finish.
"This is a real breakthrough tournament for [McIntosh]," Lowery said.
Senior Anna Woo (102) placed 2nd in her weight class to be the highest finisher on the girls side. Senior Heli Dave (128) and junior Koa Moe (185) placed 3rd.
Murillo's journey to the podium started fast enough after quickly pinning his first two opponents. In his semi-final match, he faced his toughest opponent in McKinney North's Mylin Mosley. Mosley took him to all three rounds with Murillo narrowly winning 5-4.
"I was behind by one and needed a takedown to win it," Murillo said. "You just have to keep conditioned so that you can keep going even when you're both tired."
In the championship, Murillo regained his composure, defeating Frisco Centennial's Ishon Smith in three rounds.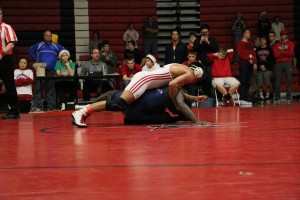 "We expect to win, and we expect [Murillo] to win," Lowery said. "It's what we train to do. The tournament this year is the most difficult it has been in 10 years. The way [Murillo] dominated like that in the finals just shows he's on the right track with his goals to getting back at the state tournament and placing or winning there."
Reigning Class 4A champion Frisco Centennial, had the most impressive showing at the tournament having seven finalists on the boys side alone.
While the individuals may not have turned out quite how Lowery would have liked, it did provide Coppell with an opportunity to face teams across the state like San Antonio Winston Churchill and Houston Westside.
"They're not in our district, they're not in our region, so we want to get the toughest competition we can get," Lowery said. "In this sport, we say everything is practice for the postseason.