CHS athletics upgraded to new Class 6A
By John Loop
Sports Editor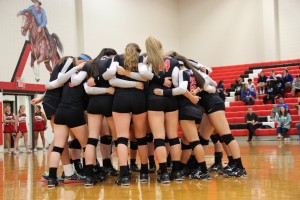 Coppell High School has moved from Class 5A to the new Class 6A after the University Interscholastic League released the conference cutoff numbers for the 2014-2016 reclassification and realignment on Dec. 2. With current enrollment at 3057 students and counting, CHS will join some of the biggest schools in the state in the new conference.
Enrollment numbers for next year's alignment were reported to the UIL by athletic directors across the state on the Oct. 25 "Snapshot Day". The announcement of the student population cutoffs for the five (now six) conferences came early. This information has typically been released in the spring.
"[The UIL] can't comment on how all other states classify and align schools, but Texas does reclassification and realignment every two years in part because Texas is a growing state," UIL Media Coordinator Kate Hector said. "Each year, new schools are added and existing schools grow, so reevaluating every two years is important."
The increase in student body size has prompted a 45-year climb in classification for Coppell athletics after they began in Class 1A in 1968.
In corresponding with head baseball coach Kendall Clark, head football coach Joe McBride and wrestling coach Chip Lowery, they confirmed this process, which happens every two years, is nothing more than a name change.
However, Coppell resident Kim Dicken was surprised that the reclassification was going to occur. As parent of volleyball senior Kate and football/basketball freshman Zach, Dicken is heavily involved in the athletic scene at CHS.
"I didn't even know it was still going to happen," Dicken said.
The most pertinent impact the change has on Dicken and many other Coppell parents is driving distance. The possible trek to game locations in the Allen and Plano areas will increase travel time for CHS fans to athletic events.
"I am definitely worried about the driving," Dicken said. "Just thinking that even though Kate is graduating this year, we still have to go through three more years of this with Zach."
While the jump in classification may not have an impact on the competition level the Cowboys and Cowgirls will face in season, this type of move is a big deal for other area schools.
The McKinney schools will have the most weight lifted off their shoulders. The McKinney High School Lions currently boast one of the state's smallest 5A enrollments (2,076 students). Now, in the new Class 5A, which is technically the old Class 4A, the Lions will play teams with student enrollment between 1,060 to 2,099, instead of twice or three times that size.
"Honestly, I would be glad about it if that was me," sophomore wide receiver Josh Fink said. "Take Denton Ryan [for example]. They dominated 4A for years and then come to 5A and struggle. It makes a big difference."
The move also questions the hierarchy of prestige in each of the conferences and how colleges will handle recruiting with the new cutoffs. Some coaches, however, have already taken their stances.
"It does not affect recruiting," McBride said. "Recruiters recruit talent. They don't care what "A" [a] kid plays in."
In terms of the athletes, the in-game routine will be the same. The reclassification will have some effect on who they face at game time, but not on much else.
"It shouldn't affect us much," Fink said. "Mainly just who we will be playing and which teams are in certain districts."
Certain sports are also affected more than others in this system. Because finding brighter lights on a football field in Texas is near impossible, there are larger stakes for the schools in the higher conferences. Current 5A teams such as Allen, DeSoto, Cedar Hill and Coppell all fit into this category where there is added motivation to succeed on the football field.
Though the stakes are higher, the new system does not alter the path to earning a state title.
"The addition of a conference does not change the postseason in any way," Hector said. "The UIL will not be crowning any additional state champions with the addition of Conference 6A, because music, volleyball, softball and baseball will still compete in 5 conferences."
Overall, the clustering of schools based on their enrollment has fostered an increase in competition. With this new reclassification, fans should expect an unprecedented rise in on-field rivalries. This perspective alludes to the possible existence of super-conferences in the UIL Class system, comparable to the SEC or the Big 12 in college sports.
"I mean, Texas football is like the SEC of college football," Fink said. "6A will just be the top of the top."