Allen QB Murray 'too much' for Coppell defense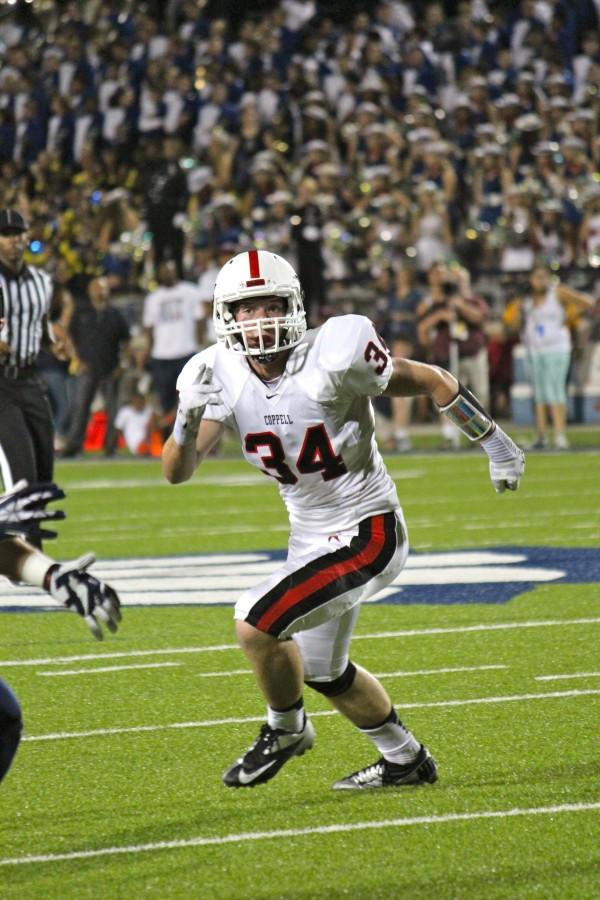 By John Loop
Sports Editor
Allen junior quarterback Kyler Murray is even quicker in person.
So it would make sense why Murray has fielded offers from The University of Texas-Austin, Texas A&M University, and Ohio State University, among others, in his list of potential college suitors.
Murray's speed and precision passing proved to be a big obstacle for the Coppell Cowboys defense. The junior was force to be reckoned with, throwing for 212 yards and a touchdown while also running for 49 and one score in Allen's 31-10 grudge match
"We are a young team," senior linebacker Collins Okotcha said. "We still have guys moving around to different positions. This was just a big learning experience."
Despite what Coppell did to prepare their players for Murray's skillset, it was not enough to keep him contained, which was made very clear by the coaches throughout the week to be a key to winning the rematch of last year's 27-24 Coppell victory.
After junior running back Charles West lost a handle on the ball on his first carry of the game, Allen converted a chip shot field goal on the leg of senior kicker Carlos Arochi. After the next Coppell drive stalled, Murray marched Allen into the end zone in just two plays, the second of which was a 39-yard pitch and catch to senior receiver Josh Pettijohn.
Allowing 10 points to be scored on Allen's fist two offensive possessions was uncharacteristic of the Coppell defense, which is viewed by many as one of the best in the state.
"We started to poorly," head coach Joe McBride said. "You can't start poorly and expect to beat anybody, much less the No. 1 team in the state.
A week off this week will allow time for the Cowboys to let this loss sink behind them and prepare for the start of district play against Hebron on Oct. 11.
"[Allen] ain't our Super Bowl," McBride said. "We are going to get focused on Hebron and prepare to defend our district championship."