Rematch looms with Texas' top team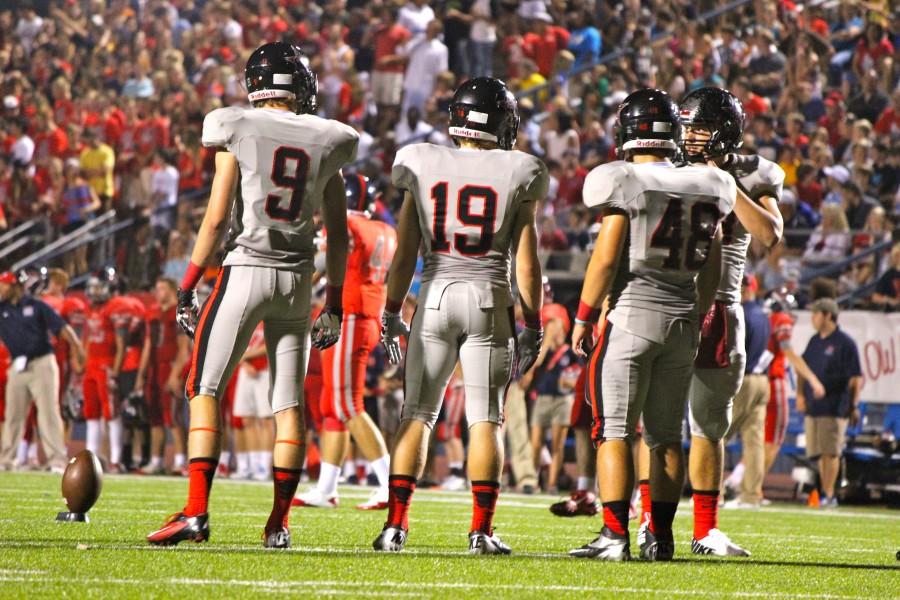 By John Loop
Sports Editor
Almost one year ago Friday, Buddy Echols Field was filled with crazed Coppell Cowboys fans, basking in the glory of a thrilling 27-24 overtime defeat of the top-ranked Allen Eagles.
Tomorrow night, the Cowboys (3-0) will once again find themselves heading into hostile territory at Eagle Stadium on Friday night to take on District 10-5A's talented birds of prey. Coppell is 1-1 at Eagle Stadium in the last two years.
Allen (4-0) has not skipped a beat since taking the Class 5A state title from Houston Lamar last year. Southlake Carroll, Cedar Hill, Richardson and Hebron struggled to bottle up junior quarterback Kyler Murray and the Eagles' high octane offensive attack.
Murray stepped in for Oliver Pierce, the Eagles' senior signal caller last year, at halftime of last year's legendary game and has been the starter ever since. The junior will be hard to catch, as he leads the team in passing (1016 yards, 10 TDs) and rushing (46 carries, 281 yards, 6 TDs).
Stopping the Eagles' Murray will be the main job of the Coppell front seven, anchored by senior defensive end Solomon Thomas. Thomas and fellow senior linemate John Herubin will have their hands full trying to contain Allen's main offensive weapon.
"[Kyler]'s athletic and can keep plays alive," junior quarterback Skyler Bonneau said. "He should be a good challenge for our defense."
Coppell, on the other hand, should be well-rested and well-focused after their game against the Garland Owls last Thursday was cancelled due to inclement weather after just over one quarter of play.
Junior running back Charles West should again key the Cowboys offensive game plan. West has stepped into the feature back role and has adapted very well, finding the pylon six times this season on the ground alone.
The Cowboys also have to put a lot more responsibility in Bonneau's hands. Bonneau (20 of 34, 397 yards, 3 TDs) has established a pattern of hot and cold games. Of the 16 snaps Coppell managed to fit in before the rain poured on Thursday, Bonneau looked right in rhythm, completing five of seven passes for 84 yards and a touchdown toss to West.
"Every time you add a big threat, it opens up everything else," senior running back Gavin McDaniel said. "[Charles'] production is drawing attention to him and anytime attention goes elsewhere, it's leaving somewhere else open."
However, Allen's secondary unit, led by senior Arizona State commitment Chad Allen is the toughest in the area and close to tops in the state.
The only weakness for both teams are mental mistakes. The Eagles were penalized 12 times for 101 yards against Hebron last week. Coppell was flagged three times for 30 yards in their 68-20 drubbing of Rockwall on Sept. 13.
If all does go well for both teams regardless, then Texas high school football could be looking at another one for the ages.