Garland vs. Coppell preview
By Alex Nicoll
Staff Writer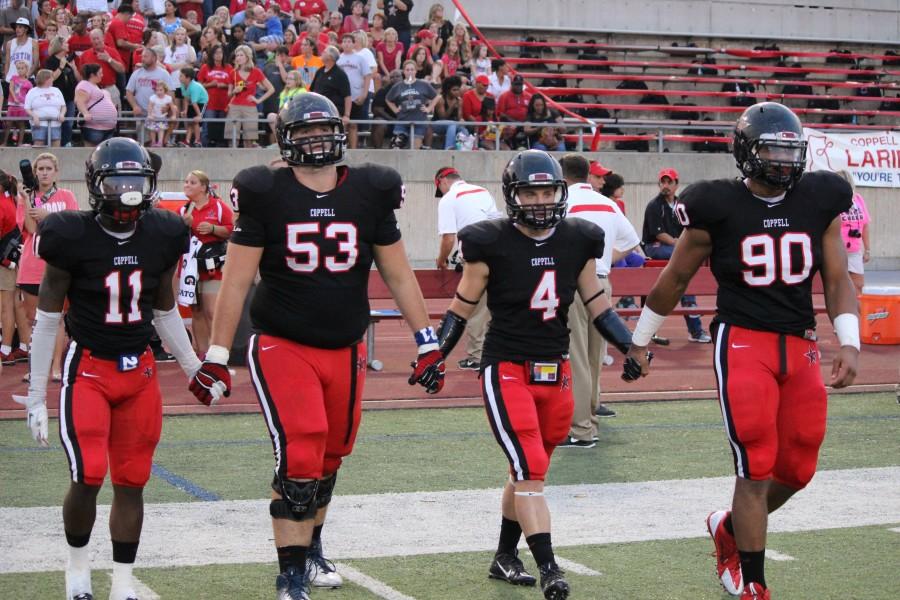 Coming off a 68-20 win over the Rockwall Yellow Jackets, Coppell will come into Thursday's game with a flawless record at 3-0 against the Garland Owls.
The Owls opened the season with a close game against Plano East but falling to them 28-20. The next two games they suffered major losses from Mesquite Horn, 35-7, and McKinney Boyd, 51-9.
One reason for the poor scores is an inefficient offense. So far this year, they have only scored five touchdowns. All of them have been on the ground as well, indicating a less-to-be-desired passing attack. Junior quarterback Luther Kirk has only thrown for 158 yards offensively.
With the way the Coppell defensive secondary has been playing in the past two games, forcing interceptions and knocking down passes, Garland will more than likely be forced to put the ball on the ground.
Garland's running attack is based around Kirk, who leads the team in rushing yards and touchdowns. Coppell has struggled with containing scrambling quarterbacks this season. When facing McKinney Boyd's quarterback Curtis Ladd, they gave up 85 yards and two touchdowns.
Although Coppell won the game, Ladd exposed a hole in the defense.  A majority of Ladd's runs were a result of broken plays, that the Cowboys defense forced. This matchup will prove interesting to watch as the game progresses.
Coppell, too, will look towards its running backs to carry the workload on offense. Combined senior running back Gavin McDaniel and junior running back Charles West have combined for twelve touchdowns and 761 yards rushing. They are partly responsible for Coppell's high scoring attack on offense this year.
In all three games this year, Coppell eclipsed the 30-point mark all three times. The part that makes the Cowboys offense difficult to stop is that it is not necessary for them to score. The defense and special teams can make game-changing plays,as evidenced in senior defensive back Chris Adkins' interception return for a touchdown last week against Rockwall.
Junior quarterback Skyler Bonneau has struggled to assert himself as a major contributor and team leader. He has only thrown for two touchdowns this year and rushed for one more. However, with Garland's poor defense, Bonneau could have a record night passing.
The three quarterbacks who have faced the Owls secondary in the past three weeks threw for a total of six touchdowns against the Garland secondary. With targets such as Baylor-commit senior tight-end Blake Mahon, Bonneau could pick this team apart and take large strides in making this team his.
The Cowboys defense, solid so far in games, should gain more practice and experience in preparation for Coppell's game against the Allen Eagles next week.