Bonneau flawless in win over Boyd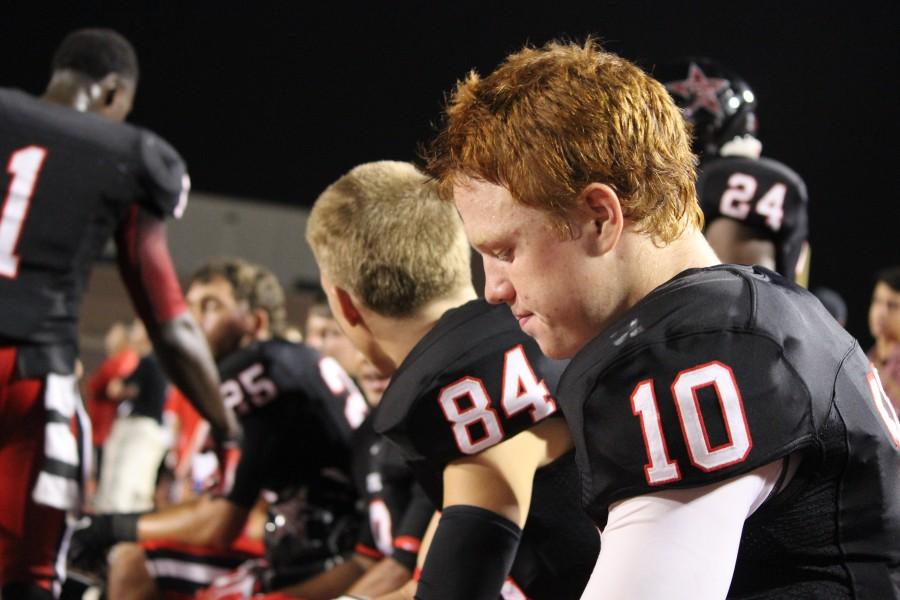 By John Loop
Sports Editor
The Skyler Bonneau that the Cowboys had hoped for this season picked the perfect moment to  make an appearance at McKinney's Ron Poe Stadium in Friday night's victory over the McKinney Boyd Broncos, 49-24.
The New Tech junior signal caller shook off last week's rookie mistakes to put on a flawless performance, completing all eight of his passes for a total of 189 yards and two scores. Bonneau also rushed seven times for 26 yards.
"I felt like the first week, we just wanted him not to feel like he had to try to win", head coach Joe McBride said, speaking of Bonneau's breakout game. "Tonight, you know, our plan was to do some things to create the balance we need, and I feel great about how the offense performed."
Bonneau had his moment with 32 seconds left in the first half, when he hit Coppell sophomore wide receiver Josh Fink in stride on a 23-yard deep post route in the end zone. The pass was Bonneau's first passing score as a varsity athlete.
"It was exhilarating," Bonneau said. "I have not felt that before, but it was pretty cool."
Then, for the first time this season, Bonneau celebrated. The quarterback found McBride on the sidelines and went up for a body bump. Apparently, Bonneau can take a hit as well as he can throw a perfect spiral.
The mid-air collision sent the head coach sprawling to the turf. McBride could only laugh about it afterwards.
"In my mind, I still think I am pretty stealthy and athletic, but I am really pretty pitiful," McBride said.
After a somewhat lackluster performance in last week's Tom Landry Classic, in which Bonneau dropped back 12 times but completed just three passes, this rebound was a good sign of things to come for the Coppell offense, which faces a hard-headed Rockwall defense next week at home.
"There is a lot of growth from Week 1 to Week 2," Bonneau said. "There were some mistakes that were made last week, but we got them fixed in practice and it showed out here today."