Rangers Ballpark introduces new Texas-size foods for 2013 season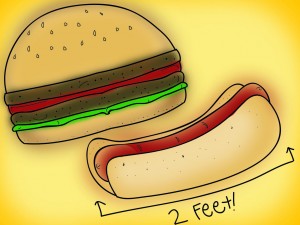 By Kristen Shepard
Staff Writer
To CHS students, the Rangers Ballpark in Arlington has always made for a fun night out at the Rangers game, but this year, the stadium is getting attention for its new "texas sized foods". Last year, the ballpark unveiled the two feet long hotdog, appropriately named the Champion Dog, also known as the Boomstick. On a two-foot hotdog bun, a two-foot long hotdog is topped with sautéed onions, shredded cheese, and Texas-style chili. This delicious dog can be all yours, if you are willing to hand over $26.
This year, the Champion Dog will be accompanied by  The Beltre Buster, a Nolan Ryan beef  patty covered in a half-pound of  bacon, grilled onions and Monterey jack cheese, served on a pretzel bun. This burger will cost you $26. For what may seem like outrageous prices, it is important to remember that the amount of food is proportional to the price increase.
Finally, the third new food that Rangers Ballpark will be introducing is the Rio Grande steak sandwich, which is topped with bistro sauce, grilled onions and chimichurri sauce, served on a toasted Ciabatta roll. This baseball season, the Rangers will make sure you do not go hungry when your friends or family take you out to the Ballpark.