Cowgirls pounce on Panthers, advance in playoffs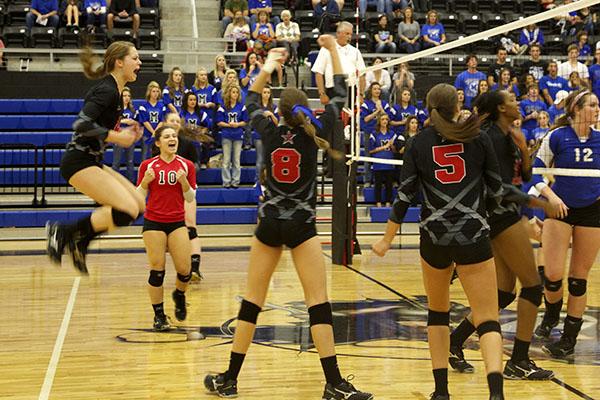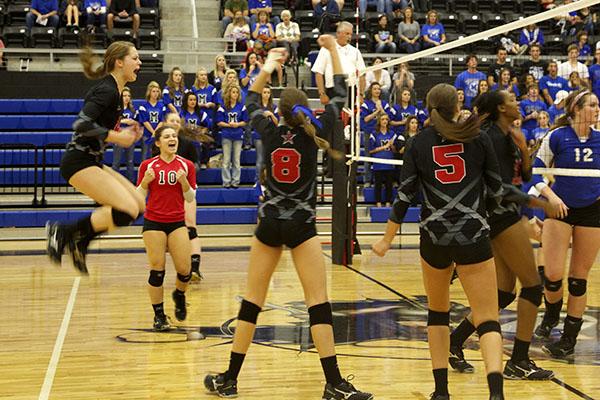 By Tanner McCord
Sports Writer
Tonight, the Cowgirls took on the Midlothian Panther volleyball team in the second round of the playoffs. Last week, the Girls took on Grapevine and put on a dominant performance taking them down in the minimum three games and did the same thing tonight.
With our proud student section behind them, standout players Mary Kate Marshall, a junior, and Chiaka Ogbogu, a senior, as well as the rest of the squad held the Panthers below 20 points each game, only allowing them half of the points it takes to win in their highest scoring set.
In the first, the girls came out strong, sending senior Cassidy Pickrell out to serve to get the ball rolling.
Coppell quickly earned a three to nothing lead when the Girls had an unforced error, allowing Midlothian the ball. However, Midlothian was unable to capitalize on their opportunity, giving the ball right back to Coppell as senior Erica Bohannon tipped the ball over the net to regain the serve.
The trend continued throughout the first set, with Coppell making runs of typically three to four points at a time before Midlothian scored once. At the end of the first set, Coppell came out victorious with a dominant 25-13 win.
As the second set began and the teams switched sides, the start was all Coppell yet again as they earned the serve due to a kill by Mary Kate Marshall. Marshall then continued to serve seven straight times, assisting in the first eight points of the set. Midlothian finally was able to serve again, however one point later the Cowgirls again were serving.
After the incredible start, the trend of consistent three to four point runs began again, with Coppell eventually coming away with a 25-9 win, not even allowing Midlothian to get into double digits. In fact, Midlothian did not even score a point for themselves the entire second set.
The third and final game rolled around and Pickrell was back up to serve. Things were looking close to start, however the Girls quickly pulled away from the Panthers, eventually winning five straight points to take the set, 25-10. With this final set, Coppell continued on in their playoff run in dominant fashion, outscoring their opponents for the night 75-32.
"We're working on becoming consistent and forcing runs," head coach Julie Green said. "We we going to have to hang in those long rallies and finish and overall, we did that."
Consistency and runs were the story of tonight's match. The girls have now finished off both of their playoff match ups in three games and tonight the points that they did allow were very few and typically just one at a time.
"We're getting better and better every week," senior Chiaka Ogbogu said. "We just have to take it a game at a time."
Tonight's performance was impressive to say the least and a second state title may very well be on the horizon.