Friday's win caps emotional week for community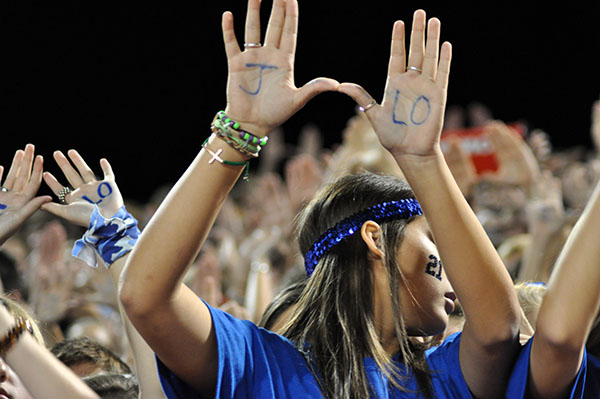 By Alex Nicoll
Sports Writer
"Jacob Logan!" "Jacob Logan!"
These chants from the Coppell student section that sum up what Friday night's game was all about. After a week filled with tragedy, with the loss of senior defensive back and wide receiver Jacob Logan, Coppell and Flower Mound both honored him during last night's game.
As emotions ran high for the Cowboys, they showed their love and support for Jacob by wearing a 21 on the side of each helmet large enough to be seen from the crowd. Senior wide receiver Jason Lister traded out his usual number 16 jersey and wore Logan's number for the night as he tried to fill the hole Logan left on the team.
"It is honestly the biggest honor I could ever possibly get. He was the whole team. Everybody respected him, everybody loved him, and he was our best player without a doubt," Lister said. "He had college offers from everywhere but his biggest scholarship offer was from God and I know that he took that one. It just shows what kind of person he is. I love him."
The Coppell student section, organized by senior Coleman Armes, came to the game an hour early to practice cheers to honor Logan. Before the game, Logan's sister, Jordan, wore the number 21 jersey and walked with the captains to mid-field to participate in the coin toss. Jordan also led cheers with the student section causing them to be even more rowdy than they already where.
The student section did not need much motivation to cheer though.
"We chanted his name, we wore blue, and most importantly we remembered how awesome he was," Arms said. "If you did not have a reason to be fired up tonight, then you were not breathing. The students made Jacob so proud."
Even the Silver Spurs did their own thing to remember Logan. They steered away from their usual number of push-ups after Coppell scores and did 21. The Silver Spurs also remembered one of their own who passed this week, senior Silver Spur Jonah Blackwell by reserving his spot on the pushup line, leaving a gap where he usually was.
During pre-game, Flower Mound showed their support for Coppell by making signs for Logan and Blackwell and presenting them to the Coppell community.
After the national anthem, both sides observed a moment of silence to pray for Coppell's losses and to remember how great these boys were.
Signs flourished along the sides of the Coppell bleachers that showcased their support for the Cowboys. 'The Hybrid', 'The Legend', and 'The Guardian Angel' were just some featured headlines on the posters.
The tension and emotions for the Cowboys was enhanced when senior running back Luke Jenner scored the game-clinching touchdown, almost as if it were a scene from Remember the Titans. Shouts and cheers erupted from the sideline and even tears were shed by coaches and players who were close to Logan.
After the game, Flower Mound and Coppell both partook in singing Coppell's alma mater. After it ended, the teams gathered at midfield where junior defensive end Solomon Thomas and junior running back Gavin McDaniel led the group in a word of prayer. Coach Joe McBride even commended the Flower Mound players for their respect and professionalism.
"This win shows the testimonial fortitude of a bunch of kids who have had their hearts ripped out and coaches who have had their hearts ripped out," McBride said.