Varsity soccer sets goal to 'kick it up' a notch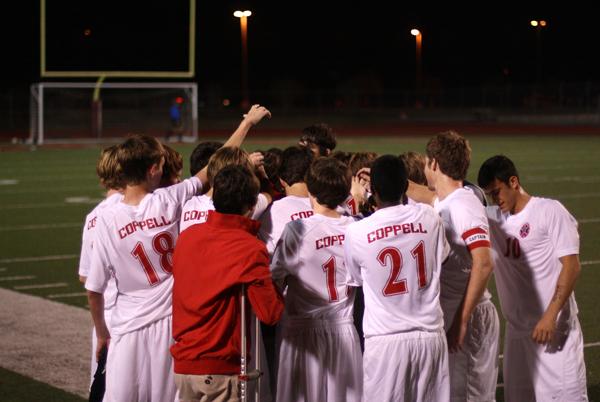 By John Loop
Staff Writer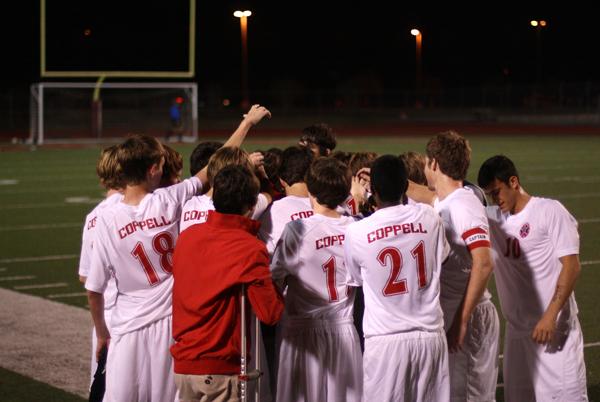 Soccer balls will surely be meeting the back of the net this season. With the addition of new boys coach Chad Rakestraw, the Cowboys varsity soccer team will certainly be scoring.
After a disappointing loss against Hebron in last year's first round of the Class-5A playoffs, the Cowboys will look to get off on the right foot.
"The program has nearly transformed in only a year," senior goalkeeper Phillip Ellis said. "We all knew that things needed to change drastically if we wanted to succeed in the next year."
The hiring of Rakestraw from district rival Justin Northwest means going back to square one. But the new coach has an expansive soccer background and should be a good fit for the Coppell program.
"I grew up playing club [soccer] around the area for a competitive club called the Hawks that is now Texans," Rakestraw said. "I played in a couple Dallas Cups and then in a couple state tournaments for high school."
Rakestraw then went on to play college ball at Midwestern State University in Wichita Falls, competing in two national tournaments in his first two years.
Between his sophomore and junior year, Rakestraw ventured to British Columbia, Canada to play for the semi-professional soccer club, the Okanagan Challenge.  After graduating from Midwestern State in the fall of 2006, Rakestraw contacted the soccer program at Denton Guyer High School about getting a coaching job. Guyer hired him on the spot.
For the next three years, Rakestraw would work the sidelines as an assistant varsity coach for the Wildcats. Then he changed schools, moving to Northwest for two more years, this time as the head coach. He has more than enough experience to bring home a championship.
"We use the scrimmages as kind of a starting point," Rakestraw said. "Obviously, getting two shutouts, knowing that we are going to be solid defensively, and we were able score some goals against some pretty competitive teams."
Playing in a tough district, Coppell looks to have the advantage early, sweeping two of last year's playoff teams, Plano Wildcats and Flower Mound, by scores of 1-0 and 5-0, in scrimmages last week.
"I know for a fact that we can win our district if we stay focused and disciplined throughout the season," Ellis said.
Coppell has always been a topic of conversation when it comes to playoffs.
"Not making playoffs would be an extreme letdown," sophomore outside forward Chris Madden said.
The Cowboys soccer team has experienced postseason success, including winning a 5A state title in 2004, reaching the state finals in 2006 and notching 11 consecutive appearances since moving districts.
Recently, those postseason hopes seem to have hit a snag. In the past five seasons, Coppell has advanced past the first round of the playoffs just once.
With last year's playoff loss to Hebron fresh on their minds, the Cowboys are anxious to start the season. Come April, the boys from Coppell hope to be competing for a state championship.
"Obviously, our expectation is to compete for a district championship, so that's our goal and that is kind of our starting point," Rakestraw said. "After we win our district championship, then we can move on to that next step, but we are taking it game by game."