Larson takes over as quarterback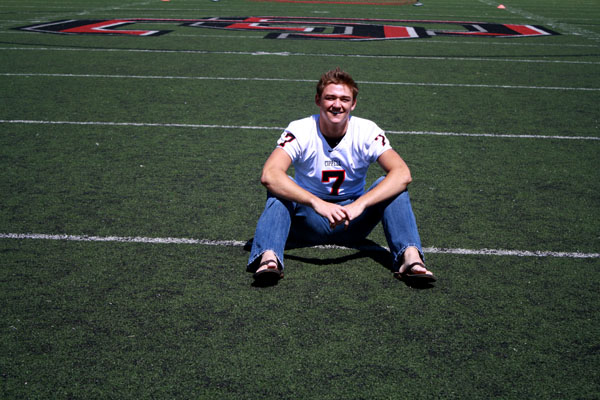 By Chase Porter
Staff Writer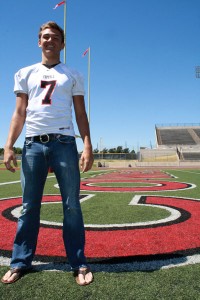 For the past couple of years, the Coppell Cowboys football team has been a major force within the North Texas football community. Already three games into the season, the Cowboys have been able to uphold that reputation with new starters, including a new quarterback.
Senior Jake Larson started his quarterback career as far back as 8-year-old peewee football and has been gaining experience ever since. Now, Larson has adopted the position as our starting quarterback after being placed as last years back up behind CHS 2011 graduate Joe Minden.
"Jake knows all the same stuff as Joe did he just didn't get as many reps," head football coach Joe McBride said. "He still has to grow and gain experience like any other quarterback has to."
McBride and Larson agree the quarterback transition has been extremely smooth. With Larson's experience in a few of the games during last years season and having the chance to watch the past quarterbacks in games and practice, has given Larson the confidence he needs to perform well this season.
"I have been working all my life for the privilege to be the starting quarterback, and the transition that the team has had to make from last year to this has been made a lot easier by having a great team and a great offensive line," Larson said.
Only three games into the season Larson has been performing well for his first season at starting quarterback. Already 586 passing yards with an almost 70 percent completion percentage he has already begun proving himself and still has the majority of the season to play.
"I want to make sure that I prove myself as a player and make sure that my performance speaks for itself," Larson said.
In practice, Larson is trying to lead by example and vocally to promote the best team the Cowboys possibly can.
"I try to lead and prepare the team by making sure that we are going fast on every single play that we run in practice," Larson said. "I try and make sure that we are going fast on every single drill so that we stay ready for the games to come physically and mentally."
Larson not only brings leadership and experience to the team from playing on the varsity level last year, but he also brings a dedication to the game. He has been playing football since he was 8 and made a commitment to be the best he can be.
"Jakes biggest attribute that he brings to this team is his dedication to the game and that's what real football players are all about," McBride said.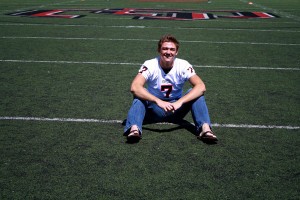 Not only has Larson had to step up to the starting quarterback spot, but many other seniors have had to make the big transition from junior varsity to the "Friday night lights" team. Many players are also trying to put their mark on the team and high school football by trying to prove themselves not only to the Cowboys but the college scouts.
"A bunch of the guys are trying to get scholarships to the next level because they love playing the sport and getting a scholarship for some of these guys is how they are going to get into some of these better colleges," senior inside linebacker Ethan Evans said.
For Larson, being the starting quarterback for the Cowboys has given him exposer to colleges looking for another quarterback. He has received college looks from many schools with top 25 rankings in the nation for college football including, the Missouri, Baylor, Texas Tech, Nevada, UCLA and potentially many more if he can keep up his winning record.
"There are a lot of schools already looking at him from before this season because of recruiting camps and things like that," McBride said. "This season is his time to earn that scholarship."
For now, Larson is trying to focus on his senior year and this season more than anything else.
"I try to keep my mind off of recruiting so I can focus on the season," Larson said.
Only three games into the season Larson has been playing very well for a quarterback who had spent last year in the shadows. The Cowboys are hoping they can come together and continue their current winning streak.