With cast members rehearsing lines, crew members building sets and stage managers overseeing it all, "Harvey" rehearsals are in full swing.
"Harvey" is Coppell Theatre Company's fall production from Oct. 6-8 in the Coppell High School Black Box.
"Harvey" rehearsals are on a tight schedule of six weeks. Auditions took place on Aug. 21, and rehearsals are currently taking place through Oct. 5. Rehearsals often start with announcements and warmups, followed by individual character work and rehearsing lines. 
"It's challenging to manage because it requires that we have to memorize a lot in a very short amount of time, and juggle that with school too," said junior Sanjana Sreemushta, who is cast as Veta Simmons. "I do think it's better in the long run though because there won't be an overlap with this production, and the musical later this year."
"Harvey" is the tale of two siblings, Veta Simmons and Elwood Dowd, as well as Elwood's imaginary best friend, a six-foot rabbit named Harvey. Head director Lisa Stucker selected this play as it fits the cast's personal strengths and opportunity for growth. Due to the play's comedic nature, there are many opportunities for improv, which is a major skill that the cast is working on this year. 
"We pick a show based on what we think we can do, and what would be a challenge for us," Stucker said. "I personally wanted them to focus on not only existing as their own character, but having their character react to what's happening in the circumstances they're in, and react to the other characters on stage, which you can do a lot of in 'Harvey."
Sreemushta taps into her character by working off of the cast and crew around her. She focuses on her personal reactions to the other actors on stage, and cites the importance of knowing the cast the best that she can to aid in her artistic process.
Many of the cast think bonding with the other members of the production helps rehearsals go most effectively, and allows better communication with cast and crew.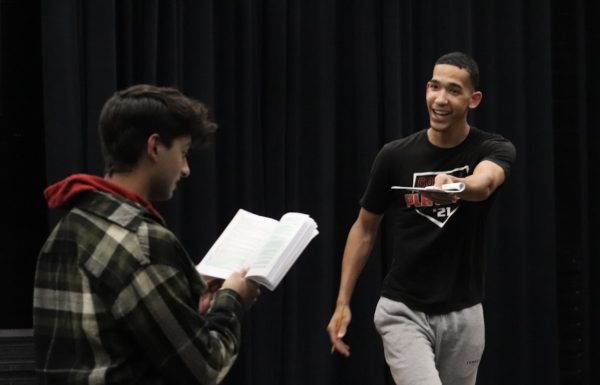 "Everyone collectively understands how difficult it is to learn lines, so we all help each other in ways such as by saying each other's lines, so that really helps in the rehearsal process," Sreemushta said. 
Cast members rely on their peers to help in memorization, acting strategies and more. They believe creating everlasting bonds with the people they rehearse with accentuates their performance even more. Every rehearsal is filled with communal energy, laughter, and collaboration.
"Rehearsals are such an intimate place to bond with the people in the theater department,"  New Tech High @ Coppell junior  Sarvin Narang said. "It's so cool being able to create something  with everyone as a team."
Behind the actors will be a set created by new leadership. All sets and backdrops will be designed by junior scenic designer Alizah Adil.  
"The sets are going to look absolutely amazing. Our new set designers' mockups and sketches look amazing, so I'm excited to see that," said junior Ellie Reese, who is cast as Myrtle Mae Simmons.
Stucker thinks this cast wants to create a final production with a story and big picture that creates an enjoyable experience for the audience.
"I have a really solid group of students who all want to do really well in the role that they are in," Stucker said. "Since they all have a common goal in mind, it motivates them to put in the work." 
Follow @anvita_bondada and @CHSCampusNews on X.