Last ride for long-time tennis coach
Mixed doubles duo takes third as Foster heads into retirement
After opening the door to the tennis room, a bittersweet ambiance floods out: feelings of triumph, loss, and kin sprinkled throughout the room. At the entrance of this building lies the room of Coppell High School tennis coach Rich Foster, the room where memories were built for almost 30 years, the place where the backbone of the CHS team resides. The room that will soon become another's. 
April 26 was the last time that Foster would coach at a match, one of the biggest matches in Coppell tennis history. CHS junior Lindsay Patton and CHS senior Vinay Patel competed in the mixed doubles Class 6A UIL Tennis State Tournament, placing third, the highest a mixed doubles team at Coppell has ever placed. 
Patton and Patel placed first in District 6-6A and second in Class
6A Region I, advancing them to state. In state, they made it to semifinals, where they split the first two rounds but fell short in the third round to the League City Clear Springs team. The tandem placed third over all, a monumental moment for Coppell tennis, an even more impressive moment for senior player Patel.
"I knew going into that that this is going to be my last time to compete, and I was really, really excited for it," Patel said. "The fact that I didn't just get out at regionals, I got another chance, another tournament was pretty huge. I got a chance to really play to the best of my abilities. In the moment, it felt like we could have gone to the finals, but putting in perspective, third place at state, I really couldn't ask for more."
This moment was also one to remember by Patton, a junior already placing at state.
"I was happy: I mean, we work so hard," Patton said "And my goal at the end of the year was just to make it to state, so placing third, I will take that any day. I was really excited and super happy, especially for Vinay: it was his final year."
And of course, this moment was a tremendous moment for Foster, a distinguished way to end his coaching career.
"When we have a team, to get to go is big, but it was a real special year," Foster said. "I'm retiring at the end of this year; I never put that on the kids, I never said anything to the kids about it, but in the back of my mind, I was thinking, 'you know, one more trip to state sure would be nice'. And, so for me personally, it was a good way for me to go out on my career by making one more trip to state."
"
Relationships with my players and my parents are more important than the X's and O's"
— Coppell coach Rich Foster
Reminiscing over his 29 years coaching at CHS, Foster speaks with fulfillment as he acknowledges his impact on the 3,000 and more athletes he has coached, but he has finally decided it was time to leave. His impact on his students, however, is everlasting.
"Relationships with my players and my parents are more important than the X's and O's," Foster said. "When we went to state, we walked into a Panda Express in Austin and as we were leaving, I'm walking out the door and a young man's walking in and he said, 'Coach Foster is that you?' and I said, 'Yeah, Landon?' It was Landon Slater, who had played for me decades ago and we just happened to bump into him in, of all places, Austin, Texas, and he lived there and he showed me the picture of his son."
Throughout his time coaching at CHS, many have found Foster to be like a second father, one who cares more about his tennis kids than anything else.
"People over players," Patel said. "What I mean by that is he really values us. When I think of Foster, I think of how he treated us, and he really treated us as people and humans over just tennis players on his roster. I can't thank him enough for that."
This kinder relationship was felt by many.
"Me and Vinay both had our fair share of coaches, so we know how to spot a good one," Patton said. "He really wanted what was best for us and that was the most helpful thing that he's done for us. I'm so thankful and grateful that he kept putting us first even before the tennis itself." 
With his coaching career coming to an end, Foster opens up a new chapter in his life as he has earned enough points to apply for teacher retirement. He plans to work a second job for financial purposes.
"I've got a wonderful job here," Foster said. "I work with the best kids on campus, I work for the best administrators, I work with the finest educators in the state of Texas. I really did not want to leave here, but it just made more sense financially for me to start drawing some of that retirement fund and get a second job."
Foster leaves CHS with a content heart, with memories full of love. He is ready to embark on a new path of his life, offering parting words to his students.
"Keep working hard and whoever comes in to replace me, give them your all," Foster said. "Don't look backwards, always look forward to embrace change and whoever comes in here, and work hard for Coppell ISD and Coppell High School."
Follow Sri Achanta (@sriachanta_) and @SidekickSports on Twitter.
Leave a Comment
About the Contributor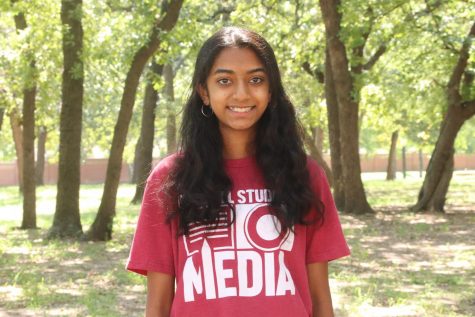 Sri Achanta, News Editor
Sri Achanta is a junior and the executive news editor for The Sidekick. In her free time, she enjoys hanging out with friends, reading fantasy novels and...