Setting the pace
Sidekick staff collects honors during Saturday's NSPA awards ceremony
Saturday's National Scholastic Press Association Awards brought about great success for The Sidekick/Coppell Student Media, highlighted by an Online Pacemaker Award.
 This is Coppell Student Media's fifth Pacemaker win, and the third consecutive for the program. Additionally, individual staffers placed in four individual Best of Show award categories.
Typically, the entire staff would be invited to travel to convention with their advisers. However, due to COVID-19-related air travel restrictions in Coppell ISD when the trip was planned in February, only KCBY-TV adviser Irma Lazos-Kennedy and The Sidekick adviser Chase Wofford attended the convention.
"Other than exciting, it felt bittersweet," Wofford said of the convention. "Because I was watching other schools with their staff run up in excitement and celebration to pick up their awards. But in this case it was just me, so it was bittersweet in that regard. It is always good to see great work that we see in our newsroom respected and recognized by people outside."
"
We see all of the effort that goes into writing a story, producing a newspaper, putting together a podcast, and we see the editing and the revisions where people on the outside only see the finished product, so to see them respect and admire and in this case reward it as quality work, it's satisfying and I hope that that's the feeling that people on staff feel as well.
— The Sidekick adviser Chase Wofford
The Sidekick placed fourth in the NSPA Best of Show Website competition, and KCBY placed fourth as well in Broadcast Best of Show. The Sidekick is led by senior executive editor-in-chief Anjali Krishna, who will leave the program with Pacemakers in all three years on staff. 
"I was thrilled to hear we won and also very nervous waiting for the announcement," Krishna said. "I knew we had a group that was capable of doing it. But there's been a lot of struggles through this year, a lot of unprecedented things happening as we came back in person that had me worrying. That makes it even more of a special thing to me now: we learned and we grew so much that our staff absolutely deserved this as a culmination of their work."
The Sidekick sophomore staff writer Anushree De placed first in Best of Show Blog Writing for her column, Let's cancel "cancel culture."
"To be honest, it was the last thing I'd ever expected," De said. "I actually got the news from [former Sidekick senior executive news editor] Akhila Gunturu. She texted me saying "CONGRATS". And I was like, 'huh?!?' The funniest part was I thought it was a complete mistake. I've been writing a majority of coverage stories, and I was like none of these stories remotely resemble a blog. I was thinking maybe NSPA just made a big typo, which would be ironic considering they're the National Scholastic Press Association. And then I remembered that one piece I wrote about cancel culture. And suddenly, it all came together. In utter shock, I ran down to tell my parents, and they were just as baffled as me."
"
But, it was great. Absolutely amazing.
— The Sidekick sophomore staff writer Anushree De
The Sidekick senior student life editor Anette Varghese, junior visual media editor Angelina Liu and Gunturu placed second in Best of Show Podcast for their episode, From George Coppell to… college applications from the educators' perspective.
"I was in the car with my parents outside of Walmart when I saw the thread in [the Sidekick workspace on] Slack blowing up," Varghese said. "I opened it up and saw my name and was absolutely shocked. I am glad that the podcast episode on college applications was recognized, because more students will understand the process better."
Liu edited the winning podcast episode.
"While it was surprising, I felt like it made sense that it won," Liu said. "I am so proud of Anette and Akhila. I remember editing the podcast, and the interviews that they did were great and it was very engaging to listen to. They worked really hard on it and I'm happy to see that it paid off."
Co-hosting the episode with Varghese was Gunturu.
"I actually wasn't expecting it [to place second in the Best of Show Podcast category] at all," Gunturu said. "I had completely forgotten that this time of year is when we usually announce Best of Show and Pacemaker awards. Anette actually texted me a screenshot telling me that we had placed second, and I was super shocked. Overall, I'm absolutely thrilled and happy for Anette and Angelina, and also for Anushree and [senior executive editorial page editor Sreeja Mudumby] for their wins."
Mudumby and Liu placed first in the Best of Show Social Justice Writing category for their in-depth story: Making a new home, featured in The Sidekick's second issue this year.
"I didn't expect it at all," Mudumby said. "It feels so surreal to me that I won a national award. It really showed me that what I do matters and my work has merit."
"
I also feel very proud that my South Asian story won because as a South Asian myself, having that representation really matters and seeing that these issues are being heard means a lot to me.
— The Sidekick senior executive editorial page editor Sreeja Mudumby
Liu was the photographer for Mudumby's winning story.
"I found out about it when Sreeja texted me," Liu said. "I was so shocked I didn't believe her so I even checked Slack to verify. Anjali Krishna was a big contributor to the visual media for the centerspread as she helped come up with the idea and found sources for each photo, so I would say that she deserves to have her name on there as well. I think a large part that people often overlook with photography is the planning aspect of it and they only see the final product, so I want to make sure that people know that even though I took the photo, Anjali was a big reason why it turned out the way that it did."
At the virtual fall national high school journalism convention in November, Coppell High School 2021 graduate and former Sidekick executive design editor Samantha Freeman and Sidekick staff writer Tracy Tran's centerspread on social studies curriculum was named 2021 Design of the Year.
"I was beyond proud to be chosen as Design of the Year, and it was truly a dream come true for any Sidekick design editor, which I don't take lightly," Freeman said. "It wouldn't have happened without the creative tenacity of The Sidekick editor team working hard on designing, editing, re-editing and just coming together as a team to make this spread. It's such a joy to have had this wonderful experience as part of The Sidekick and being in the newsroom."
"
And now months later I'm still getting to celebrate the accomplishments of the 2020-21 staff, even as we are miles apart. It's just so special.
— Coppell High School 2021 graduate and former Sidekick executive design editor Samantha Freeman
Tran, who was the photographer for Freeman's spread, is a page designer for this year's staff. 
"I was so glad that we, both Samantha and I, were able to receive the award for 2021 Design of the Year," Tran said. "It was  an honor for me personally because I never expected it. Some of the visual media elements for those pages were actually taken as a last-minute call. I was having a lot of things going on that day but I saw that Samantha was working really hard on the design for centerspread so I decided to help her with getting the photos that would make the design become better. I want to say thank you to Samantha for working so hard to design that centerspread, as well as Akhila Gunturu for writing such a detailed and outstanding story. Without any of their work, the final product would not be as great as it is now."
Follow Anjali (@anjuvishwanath) and @CHSCampusNews on Twitter for more.
Leave a Comment
About the Contributors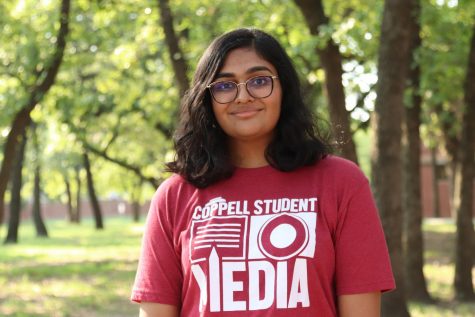 Anjali Vishwanath, Daily News/Assignment Editor
Anjali is a senior at Coppell High School, second-year staff writer and designer and the 2021-22 daily news/assignment editor for The Sidekick. She is...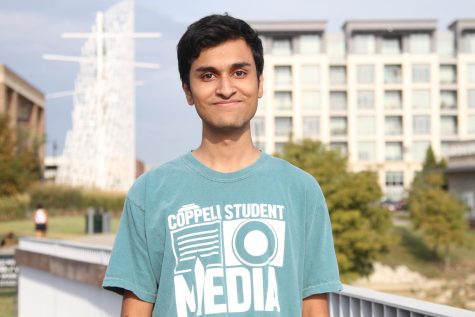 Srihari Yechangunja, Executive Design/Interactive Editor
Srihari Yechangunja is a senior and the Executive Design/Interactive Editor for The Sidekick. In his free time, Srihari enjoys producing YouTube videos...